HONOLULU Magazine Wins National and Local Awards
Our team recently took home awards from CRMA and Hawai'i SPJ for work done in 2021. Revisit the winning stories here.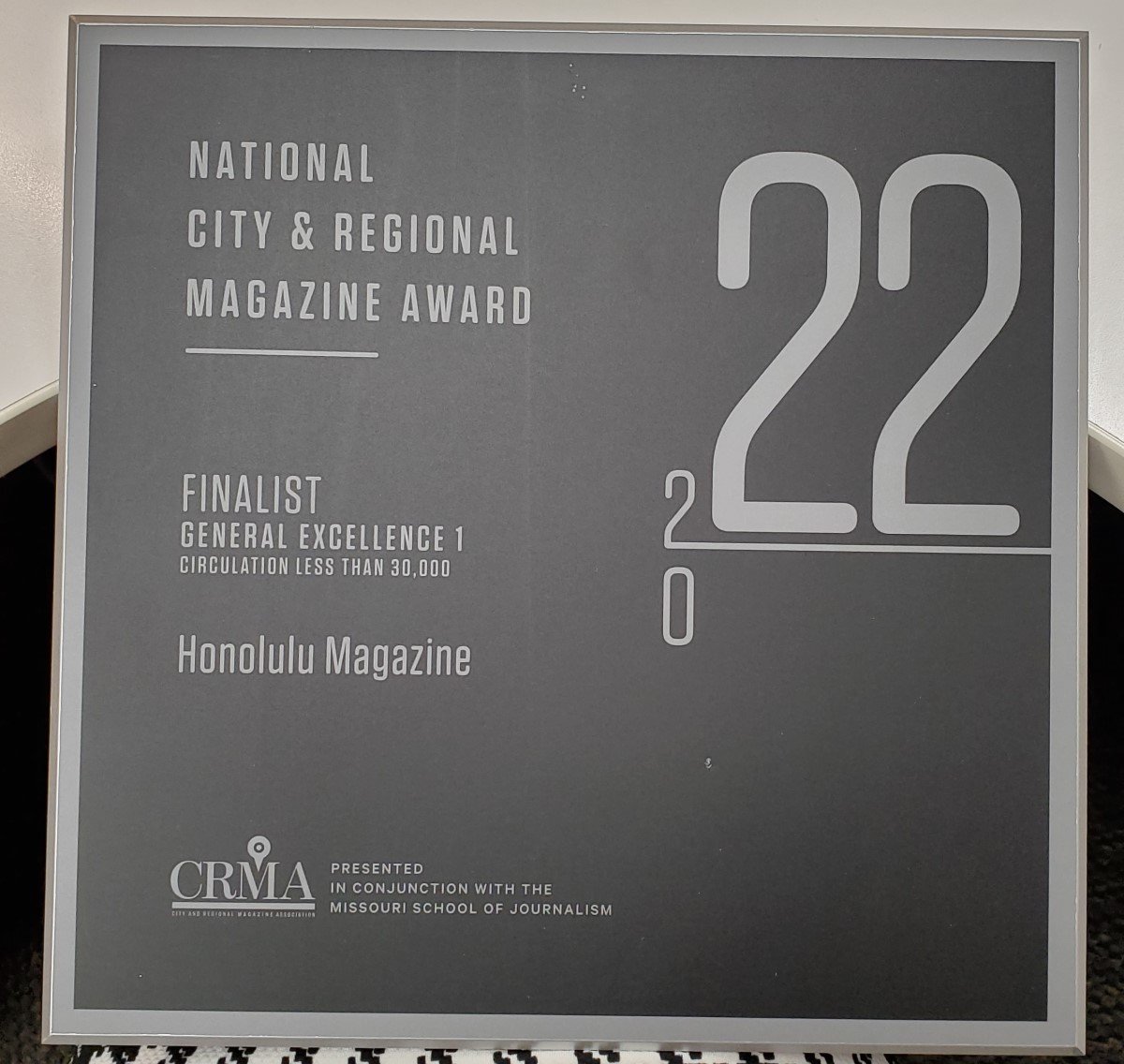 The year 2021 is still kind of a blur, especially for those of us who try to predict what will be relevant to readers months later in order to get you the stories you want to read in every issue. It's a challenge at the best of times, and we all know 2021 was not the best of times. And that's why it feels even more rewarding to announce that HONOLULU Magazine recently took home both national and local awards for work we produced in 2021.
We thoughtfully and passionately tell the stories you deserve to know in ways only our small local team can, from an in-depth look at how COVID-19 impacted the Islands to spotlighting some of our oldest restaurants that are still going strong. And when up against other magazines across the country, large and small, HONOLULU stands out as a publication "very much ABOUT and OF the community," according to one critic.
We love what we do, and though our target audience is you, our readers, we hope you'll indulge us and join in celebrating what judges have deemed some of our best work last year. And please continue to reach out to us with your feedback so we can give you more of the stories you'd like to see in our pages, both in print and across our digital platforms.
City and Regional Magazine Association
CRMA is a national association with 78 members in 39 states and Washington, D.C. Awards were announced at the 37th annual competition in St. Louis, Missouri, in May. HONOLULU took home three prizes.
Food or Dining Writing
First Place. "Martha Cheng dug into subjects with gusto and infectious passion," according to CRMA's press release. The award was based on our submission of Hawai'i's New General Store from May 2021, Into the Boba-Verse from July/August 2021, and When Danny Met Jonny from September 2021.
Profile
First Place. Carissa's World by Don Wallace is "a suspenseful competition narrative (that) weaves a nuanced look at a sport and the compelling personal story of one of surfing's most tenacious
competitors," says the press release, and it received the top award in Profile in our circulation category. Find it in our December 2021/January 2022 issue.
General Excellence
Finalist. An in-depth critique of our April, May, and October issues compared to other magazines in our circulation category gave us a 10/10 on our mission. "The stories feel full of local flavor, words, and culture. This is a magazine that could only be produced in Honolulu; it doesn't feel like a publication that set out to mimic other magazines and then slapped some Hawaiian flavor on top. It is endemically of its place, through and through. And while it includes local resources, it doesn't feel like a tourist guide or a publication aimed only at the wealthy of the community—as many regional magazines tend to do. This feels of and for the everyday folks who live here," the critique says. We also received especially high scores on the quality of the covers and design.
Society of Professional Journalists Hawai'i Chapter
In August, winners of the Hawai'i SPJ Excellence in Journalism Contest were announced over Zoom, and HONOLULU took home awards in both the Magazine and All Media categories.
All Media
Health Reporting
Second Place. Can We Talk? by Robbie Dingeman, May 2021
Best Explanatory Journalism
First Place. What Just Happened? by Don Wallace, March 2021
Judge's comments: "Balanced reporting … The writing style carried the reader along …"
Special Section
First Place. 2021 All-Island Restaurant Guide by HONOLULU Magazine staff, June 2021
Judge's comments: "Mouth-watering!"
Second Place. Still 'Ono After All These Years by Martha Cheng, Mari Taketa, Christi Young; design by James Nakamura; photos by Aaron K. Yoshino; November 2021
Magazines
Business Reporting
Third Place. What Just Happened? by Don Wallace, March 2021
Industry or Trade Reporting
Second Place. Food & Dining by Martha Cheng
Profile
First Place. Carissa's World by Don Wallace, December 2021/January 2022
Judge's comments: "The writing gets out of the way of an incredible woman's story and lets readers into her world with authenticity."
Body of Work, Single Writer
Second Place. Martha Cheng
Third Place. Robbie Dingeman
Overall Page Design
First Place. Design by Janelle Kalawe-Ching, Christine Labrador, James Nakamura, Kayla Rivera
Judge's comments: "Very attractive layouts in many ways. Every page is sharp. News, features, photos, and ads all look great. Nice work."
Best Single Feature Layout
Second Place. The 2020 Sour Poi Awards Present: The Day That Never Ends, designed by Janelle Kalawe-Ching, February 2021
Third Place. All the Fall Feels, designed by Christine Labrador, September 2021