2021 Hale 'Aina Award Winners: Danny Kaaialii and Jonny Vasquez of Encore Saloon, The Daley and Pizza Mamo Win Restaurateurs of the Year
They're not household names or dominating personalities in Hawai'i's food scene, but our 2021 Restaurateurs of the Year have a knack for knowing what we want to eat and serving it with a thoughtfulness that has earned them the respect of the industry veterans and eaters alike.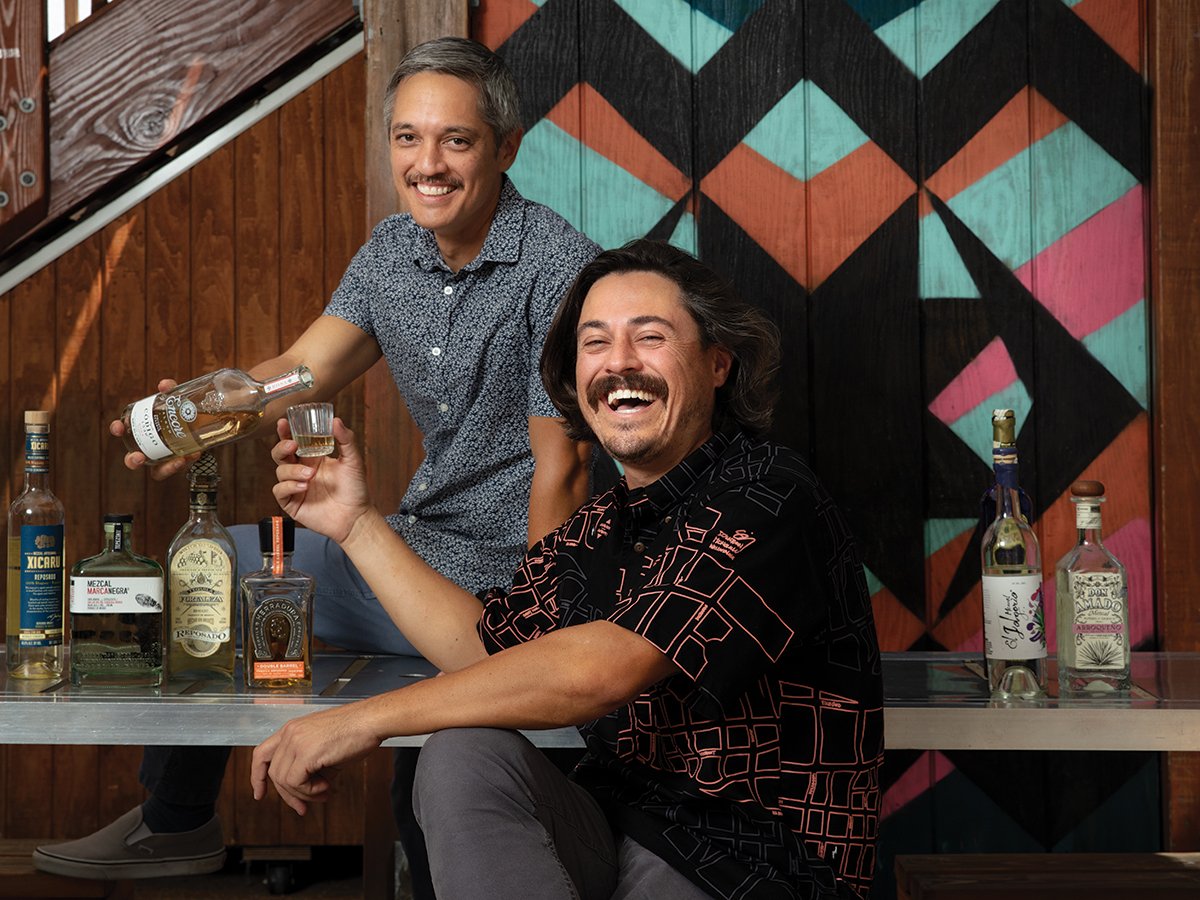 Most likely, you've never heard of Danny Kaaialii or Jonny Vasquez. That's partly intentional: Some years ago, Kaaialii, bucking the trend of chef-driven restaurants, decided his eateries would not ride on the personality of any one person; Vasquez tends to shun publicity and has a full-time job outside of the industry (ironically, in printing promotional materials for other businesses). But you might know their restaurants—Encore Saloon, The Daley and Pizza Mamo (the latter a partnership with Matthew Resich of Brick Fire Tavern). All three occupy a 135-year-old building in Chinatown where together they serve a trifecta of comfort foods: tacos, burgers, pizza. The spaces feel timeless in their design, from the brick walls and concrete bar running the long and narrow length of Encore to the black-and-white and compact The Daley, as spare as its five-item letterboard menu of smash burgers. They are the sort of places that have slotted so neatly into our work lunch and pau hana routines that it's easy to forget not so many years ago, the same building housed featureless dark bars where perhaps the less you saw and remembered, the better.
But those in the restaurant industry know of Kaaialii and Vasquez. Together, they have worked more than 35 years in bars and restaurants. The duo's attention to detail in everything from logos to operations inspires chef Mark Noguchi, who tells me that when he feels stuck in his own business, he'll sit at their restaurants to observe how they're run, noting the careful efficiencies that are invisible to the average diner but key to the dining experience.
Kaaialii and Vasquez met at a bar. Kaaialii opened Salt Kitchen & Tasting Bar in Kaimukī in 2011, and Vasquez, a recent transplant to the neighborhood from Chicago, and for whom "the best seat in the restaurant is at the bar," made Salt his watering hole. Kaaialii would always say, "What if one day we did something together?" The usual stuff friends say when they've been drinking.
SEE ALSO: 2021 Hale 'Aina Award Winners: Hau Tree Restaurant at the Kaimana Beach Hotel Wins Gold for Best Outdoor Dining in Hawai'i
After three years at Salt, Kaaialii left to open various iterations of Cocina in Kaka'ako. And then he was offered a space in the Encore Saloon building. It was a "rat's nest" at the time, he remembers, the trash—including drugs hidden in the walls and even preserved snakes in a jar—filling 16 commercial dumpsters. But Kaaialii saw what it could be.
He called Vasquez and asked, "Hey, do you want to do this or what?"
Vasquez said, "I guess so. Let's do it."
_____
"I moved to Hawai'i to get out of the bar and restaurant industry," says Vasquez. He started working in bars in Santa Barbara the week he turned 21. He then spent five years in Chicago, working positions from barbacking to bartending to stocking inventory to managing a bar next to Wrigley Field, mastering the necessary skill of anchoring 10 Bud Lights with one arm to relieve them of their bottle caps in a single pass (a skill he says he's since lost). And then, a complete 180: His father, who owned a franchise in printing and promotional products, told him about a similar business opportunity in Hawai'i. Returning to bars would always be an option, reasoned Vasquez, but moving to Hawai'i might not. So he moved. He switched to a 9-to-5 job. And then he met Kaaialii.
Vasquez, Kaaialii and I meet at Encore on a weekday at noon. At first glance, Vasquez seems like the more laid-back of the duo. With a slight drawl, though he's originally from the San Francisco Bay Area, and his hair and mustache grown out to almost unruly lengths during the pandemic, he could play the part of the owner who whiles away the afternoon at the bar with you as the more clean-cut Kaaialii is in the back doing the books and human resources. But Vasquez is the one obsessing over inches at the bar, inset outlets for appliances and the logo placement on the black pizza boxes he's ordering for Pizza Mamo. You can see it in the way Vasquez designed shelves at home specifically to display his unopened 300-bottle whiskey collection.
If anything, their partnership is less a yin and yang dynamic than one of shared sensibilities. The two introverts, both also only children, are drawn to restaurants' ability to forge connections, including their own. "People look at my collection and are like, 'Jesus, he really likes alcohol,'" Vasquez says. "Obviously, I enjoy booze. But a lot of that stems from if you go to any country in the world, I'm always impressed by how much alcohol tends to bring people together." As if to underscore the point, Dave Newman of Pint + Jigger, who has just come into Encore for lunch with other bartenders, sends over a round of whiskey shots.
_____
_____
Kaaialii grew up in two different worlds. He was born in Hawai'i but moved to Texas with his mom when he was 6. He spent winters there and summers with his father on the family homestead in Nānākuli. The contrast between the families was stark: His maternal grandfather was a base commander at Hickam Air Force Base and Kaaialii grew up with his mom in "a pretty white conservative area in Dallas," he says. "Then my dad's side of the family was 13 uncles and aunts and tons of cousins, and just a different family dynamic—big, loud, full-on country Nānākuli." The result, he thinks, is "a better understanding of different perspectives."
While attending the University of Texas at Austin, he waited tables at Jeffrey's, a fine-dining institution dating back to 1975. He watched as others left to open their own restaurants: "They put a lot on the line to try and open concepts that resonated with people, and that's where I got the bug, like 'Hey, this is something I want to do.'"
In 2008, he moved back to Hawai'i and worked his way up from busser to wine buyer at Du Vin, and then as a bartender and front-of-house manager at 12th Ave Grill. He partnered with Kevin Hanney to open Salt Kitchen & Tasting Bar, bringing on Quinten Frye ("one of the most talented people I've ever worked with and still a dear friend") to helm the kitchen and Julian Walstrom the bar, both of whom he met while working at Jeffrey's.
SEE ALSO: 2021 Hale 'Aina Award Winners: The Best Restaurants in Hawai'i
Noguchi, who worked with Kaaialii during the days of Taste in Kaka'ako, says one of Kaaialii's greatest skills is identifying talent. Kaaialii seems to remember the name of every person—whether chef, manager, designer or developer—he's ever worked with or admired in his career. A conversation with him is like walking back through Honolulu's dining landscape of the past 10 years, of neighborhoods like Kaka'ako and Chinatown in transition, of all the young chefs and ambitious developers hoping to make their mark in shifting sands.
Of the many names that pepper our conversation, there's Lee Anne Wong, who consulted on Encore's menu; Robynne Mai'i, "the best chef in Hawai'i, in my humble opinion"; Ray German, who works at both Encore and The Daley and is developing his own tortilla business; Quinn Mears, a mezcal expert and "a big part of what Encore is today"; architect Rachel Pfister, who designed Encore; Gavin Murai, responsible for the logos for Encore, The Daley and Pizza Mamo; and, of course, Vasquez, "a mastermind" at visualizing workflows and layouts and design. A conversation with Kaaialii is also a reminder that a restaurant is a collaborative project, not the single-minded vision of a star chef, as we often see and portray it these days.
_____
Encore, The Daley and Pizza Mamo are departures from Kaaialii's previous ventures. When Kaaialii and Frye began Cocina, growing it from a pop-up at Taste in Kaka'ako to its own space, its brand had been centered around Frye. When Frye married and moved away, Kaaialii ran Cocina for another year. It was a hard year and Kaaialii lost money, but he wasn't willing to close until he could square his debts to distributors. In a town as small as Honolulu, you'd think this would be a given, and yet the industry is littered with stories of relationships soured by those who left bills unpaid.
As Kaaialii was winding down Cocina, Ron McElroy, who was renovating the Encore Saloon building, offered him a space. This time Kaaialii knew he didn't want a chef- or personality-driven restaurant. "I'm not a chef, for one, and I think it's a little presumptuous for me to think that starting a business with so-and-so chef or so-and-so sommelier that that person is going to be in the business forever. People choose to start their own business or to spend more time with their family. That's understandable. … It's my job as an operator/restaurateur to make sure that the business can stay alive and can be successful."
So Kaaialii and Vasquez's restaurants are concept-driven and dictated by the space. For Encore, it was tacos and a mezcal bar—at one time pouring more than 70 different mezcals—a relatively novel idea across the country at the time. The bar is the focus here, running the length of the space and opening into one of Chinatown's most inviting outdoor spaces. For the Daley, just 500 square feet, they knew only an extremely focused menu would work. They homed in on smash burgers, "a dirty, grimy-ass burger," Kaaialii says, the antithesis of a gourmet burger. The Daley's is a simple, slim thing—a beef patty smashed into chopped onions and clarified butter on a griddle, then topped with sauce and cheese between a soft potato bun.
SEE ALSO: 2021 Hale 'Aina Awards: 4 Great Drink Crawls on O'ahu
Then there's Pizza Mamo, born out of the pandemic. Resich, the owner of Brick Fire Tavern, was struggling: Neapolitan pizzas wilted in takeout boxes and the space was difficult for social distancing. Profits were elusive. Kaaialii and Vasquez offered a new solution, two pizza styles that traveled better: Brooklyn, like a sturdier version of a Neapolitan; and Detroit, a square-pan pizza characterized by a blackened, crispy cheese crust crowning the edges. And they would even offer their own delivery by electric bike. Pizza could reach Kaka'ako from Pizza Mamo, fronting Hotel Street—a bike and bus only thoroughfare—in just eight minutes.
Outsiders of the restaurant industry (and even some of those in it) take the most interest in menus and food, but Kaaialii and Vasquez spend equal time obsessing over details in flow, timing, space constraints. Now, five years into their partnership and "after surviving a pandemic with two restaurants and opening a third during it, we like to think we're on to something," Vasquez says. They're looking to open more restaurants, more Pizza Mamo or The Daley locations, perhaps, in other neighborhoods from Kaimukī to Hawai'i Kai. And there's something else in the works they're not ready to talk about publicly. But they're itching to grow. During the pandemic, they also grew their families, Vasquez with his first child and Kaaialii with his second—and partway through our conversation at Encore, Kaaialii's entire family stops by. "Having my kids coming in is pretty special," he says. "This year and a half has been really fucking stressful. Like, really, really, really stressful. But I feel like we've turned a corner. I think we'll be OK, moving forward. That's a big moment. I think we're here for the long haul."