Leading Wāhine: These 5 Local Surfers Are Blue Crushing It
There's no shortage of incredible women in Hawai'i—wāhine who work tirelessly on behalf of others, blaze trails for women and lead by example, even when that means standing up against deeply rooted injustices.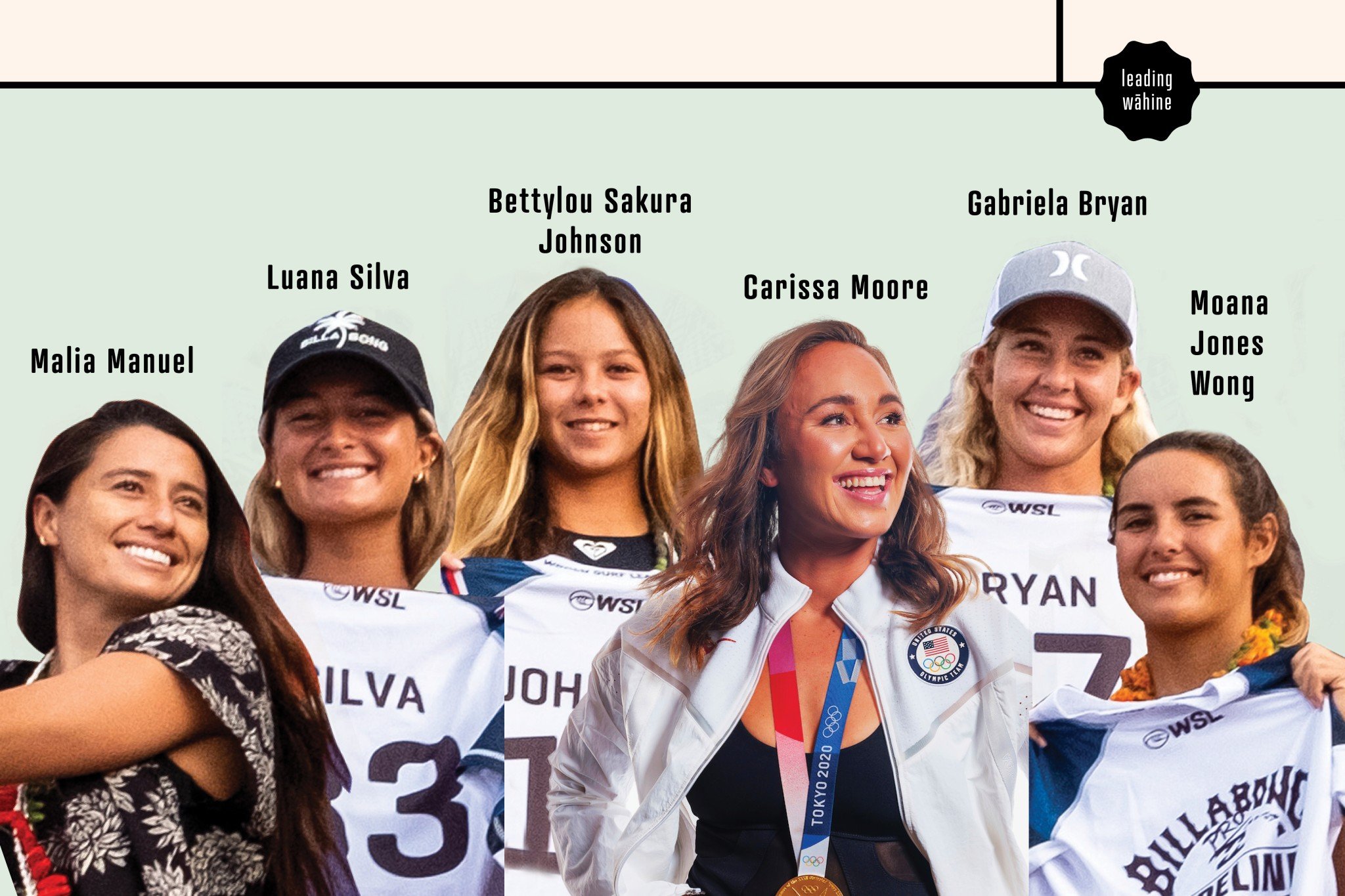 After decades of pressure, politicking and feats of raw courage by pioneering women, this year's pro surf tour has an unprecedented five women from Hawai'i—plus the wild card who turned the rankings upside down.
You don't earn the sobriquet "Queen of Pipeline" by lying on a beach towel taking selfies. But 22-year-old Moana Jones Wong hadn't made the World Surf League tour in five tries. The past four years she'd focused on becoming the first student to get a degree in applied sciences in Hawaiian and Indigenous health and healing at UH West O'ahu. "It's a track for going to medical school," she explains. "A couple weeks ago I was babysitting, I had a couple housecleaning jobs, I was giving surf lessons."
All that changed in 48 hours in February. Taking advantage of a wild-card invitation, Wong charged through heat after heat of the Billabong Pro Pipeline, exuberantly mastering large tube rides in dangerous waves until only five-time world and Olympic champion Carissa Moore stood between her and what is perhaps the most prestigious single contest title.
SEE ALSO: Carissa's World: How a Self-Effacing Girl from Kaimukī Surfed Her Way to Olympic Gold
It was the first time women had even been allowed to compete on the same world tour Pipeline stage as men. Unfazed, Wong locked up the win with a good 10 minutes to go. In addition to seizing the No. 1 WSL women's ranking—a tour she isn't even on yet—she took home the same prize money, $80,000, as the GOAT, Kelly Slater.
Wong didn't blow through the surf ceiling alone. Pioneers like Keala Kennelly, the WSL women's big wave champion, laid down tracks going back decades. "I don't think this generation will ever understand what it was like," Kennelly says. "In the late '90s and early 2000s, we had guys burn us on every wave and tell us that 'women can't surf Pipe, beat it, go in.'"
Kennelly, Rochelle Ballard and others carried the fight from the water to land, campaigning to increase women's prize money. Founding the Committee for Equity in Women's Surfing in 2016 with Bianca Valenti, Paige Alms, Andrea Moller, Sabrina Brennan and Karen Tynan, she used California public access law to compel the opening up of competitions, then used that to push the WSL, which, to its credit, has gone all-in. "I then focused my efforts on changing the permitting system in Hawai'i at the city and county level," Kennelly says, "so that contest organizers would stop excluding women from all the professional surfing competitions on the North Shore like they had been doing for the last decade." With the help of Betty Depolito, Carol Philips and others, they were able to work with City Councilmembers Heidi Tsuneyoshi and Kym Pine on a resolution that became a bill.
SEE ALSO: North Shore's Surf Row: Where The Pro Surfers Live
A wave of change soon followed. At the WSL's opening event this season, the Hale'iwa Challenger, 16-year-old Bettylou Sakura Johnson bested Moore to qualify for the tour. Approaching Pipe, though, Kennelly was worried. "I've been so emotional watching the women get to compete at Pipeline for the first time" in a world championship event, she says. But competing wasn't enough. "It was really important to me that they perform well to justify getting these events for them."
An entire generation charged large and dangerous surf, from Moore, 29, and Malia Manuel, 28, to two other first-time Hawai'i qualifiers: Gabriela Bryan, 19, and Luana Silva, 17. Even Kaua'i wild-card Bethany Hamilton, 32, got into the act; the mother of three and shark attack survivor took on some of the biggest waves.
Wong's February win iced the cake. Kennelly's reaction? "I think with every women's heat you saw the athletes gaining confidence, taking off deeper, getting braver, working on barrel-riding technique. It was like watching the progression of women's surfing at Pipe happening in real time. It was amazing."
Wong knows what she saw: "I think this was the greatest moment in women's surfing."