Leading Wāhine: Debbi Eleneki Paves the Way for First Responders
Inspiring current and future generations of female firefighters.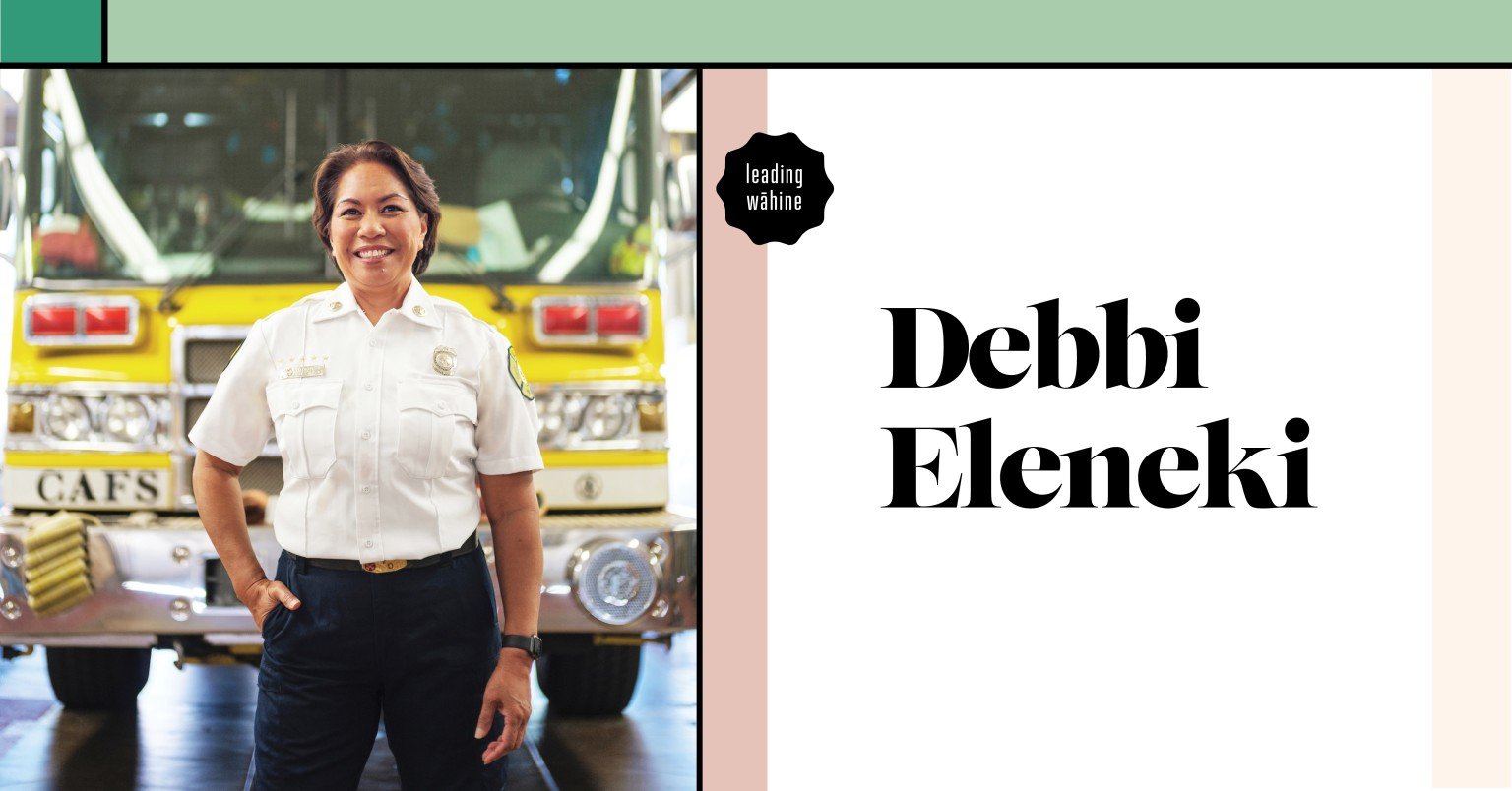 There's no shortage of incredible women in Hawai'i—wāhine who work tirelessly on behalf of others, blaze trails for women and lead by example, even when that means standing up against deeply rooted injustices. Meet 15 who inspire and push Honolulu forward in everything from arts to government and restaurants to sports. Here's Debbi Eleneki, 54, retired battalion chief, Honolulu Fire Dept. 
"Even when she wasn't around, she was always available," says Honolulu Fire Department Capt. Kiana Kam of retired battalion chief Debbi Eleneki. "I regularly knocked on her door when I started as captain. She'd listen, encourage me to think of my own solutions. She pushes people to be, and do, their best." Kam is one of 24 wāhine in the department today, out of 1,127 firefighters. Thirty-five years ago, there was only one: Eleneki.
Eleneki's fire to serve the community came from her dad, Peter Akiona, a retired rescue firefighter. He never expected her to follow in his footsteps; instead he instilled in her the values of respecting others, giving back and keeping your word. Those ethics prepared her to enter the firehouse in 1987 with heart, humility and hard work.
"One of my first calls was a fire on a hill and I had to carry 40-pound hoses down. I put a hose on each shoulder. This big Hawaiian firefighter said, 'What, you trying to show off?' I responded, 'No, I just too lazy to go back up,'" Eleneki says with a laugh. He became one of her biggest advocates and a good friend.
SEE ALSO: What It's Like Being a First Responder During the Pandemic
"We're all family. We trust one another. Creating, and keeping, strong relationships," she says, has been key to her success. And her distinguished résumé is something she never blows smoke about. "Remove the titles and we all have the same responsibility, to keep people safe."
Over the years, as the number of female firefighters rose, so did Eleneki's rank: She became the first female captain and the first female battalion chief in Honolulu. One incident still leaves her choked up. "We got a call that a crane was on fire at Pier 39; it was holding a 5,000-gallon propane tank. Basically, we're heading into a potential explosion that could cause catastrophic damage a mile out. I told my captain, if anyone on your team wants to go hug their families, let them. I had 10 seconds to call home and say 'I love you.'" She pauses for a moment. "That's the only time in 28 years I've made a call like that." With Eleneki at the helm, more than 40 firefighters contained the blaze.
"Remove the titles and we all have the same responsibility, to keep people safe."
Fire Chief Kalani Sheldon Hao says, "Chief Eleneki is a trailblazer for females and males alike, and her leadership, competence, commitment and the respect she commands are second to none."
SEE ALSO: What It's Like Being a Police Captain and Father During the Pandemic
Though she retired four years ago, those admirable traits carry over to her most important role: mom to son Ka'aha, 24, and daughter Makana, 20. "I believe motherhood is a privilege, lifetime commitment and the most important responsibility to be had. One's devotion and time should reflect that."
When her son was struggling in his calculus course in Colorado, they'd Zoom and review each problem at 6 a.m. his time, which was 2 a.m. here. He passed, received his diploma and later turned down a job offer in mechanical engineering. Why? As his 7-year-old self wrote in an assignment, "I want to be a firefighter like my mom." This summer, he's expected to graduate from the HFD academy. "Going through my training, I realize how many things she juggled," he says. "I still look up to her, now in different ways."