Ultimate Guide to O'ahu's 11 Best Musubi Shops
Whether it's Spam with ume and shiso, mentaiko mayo or even cheeseburger, these are the shops we go to when we're craving a musubi.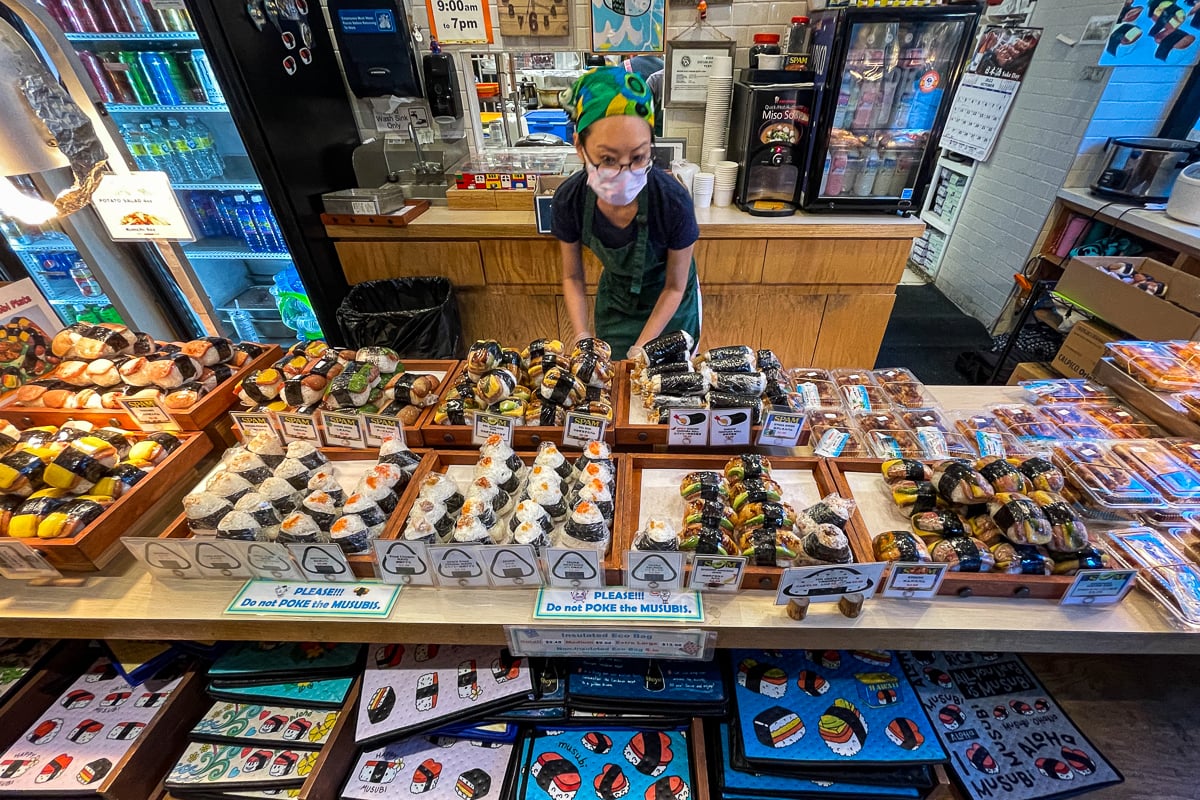 Onigiri, or musubi as we love to call them, are a dietary pillar for many of us on the go. The locals' version of an energy bar, but way more fun and oishii, rice balls often add up to more than the sum of their parts. They're the quick snack between meetings, a trip down memory lane or just a simple indulgence we don't have to break the bank to enjoy. You can pick up musubi at convenience stores, supermarkets and okazuya delis, but here we're talking about specialists.
Musubi are so popular, O'ahu is home to 11 shops dedicated to the craft of pairing freshly cooked rice with salty, pickled and sweet toppings and wrapping them up in nori.
Got'z Grindz
Location: 45-726 Kamehameha Highway, Kāne'ohe
Instagram: @gotzgrindz
Hours: Tuesday to Saturday, 6 a.m. to 2 p.m.
Musubi varieties: 35+
Price range: $1.95 to $5.25 each
Specialty: 20+ Spam musubi variations
My pick: Butter garlic corn musubi and red hot dog musubi
You have to be on the "right" side of Kamehameha Highway if you want to get to this Kāne'ohe hidden gem. Got'z Grindz is worth the hassle, though, especially for their myriad musubi choices. The rice-to-topping ratio is ideal: You get more flavor in each bite. I also recommend picking up side dishes like garlic noodles, and the poke bowls are excellent.
---
SEE ALSO: Hidden Gem: Got'z Grindz Musubis in Kāne'ohe
---
Higoto Japanese Eatery
Location: 3221 Waialae Ave. # A4, Kaimukī
Hours: Wednesday to Sunday, 11 a.m. to 4 p.m. or sold out
Instagram: @higoto_japanese_eatery
Musubi varieties: 20 (10 types, with two rice options)
Price range: $2.60 to $2.95 each
Specialty: Large, filling musubi generously stuffed with toppings
Other menu items of note: Bento and donburi
My pick: Karaage chicken musubi and cheeseburger musubi
I'm always shocked by the line that forms outside Higoto Japanese Eatery in Kaimukī. Are there even enough parking stalls at this small shopping center? But every time I bite into a cheeseburger musubi, I'm reminded of why. These fistfuls of rice and generously portioned toppings are sublime and enough to fill a grown man in one go.
---
---
Komedokoro M's
Location: 438 Hobron Lane, Suite 107, Waikīkī
Hours: Monday to Saturday, 10 a.m. to 2 p.m. or sold out
Instagram: @komedokoro.ms
Musubi varieties: 11
Price range: $2.40 to $3.85 each
Specialty: Musubi made with Hokkaido Nanatsuboshi rice that's milled fresh in-store each day
Other menu items of note: Chicken karaage, Japanese beef curry and 'ahi poke bowls
My pick: Spam and egg onigirazu, shiso with ume musubi and mentai-mayo musubi
In places like Waikīkī, especially the corner of Hobron Lane and Ena Road which many Japanese expats call home, it pays to go off the beaten path. I'm talking about Komedokoro M's, a teensy shop that teems with business from open to close, where shelves are barren in the first half-hour because housewives and gourmands have claimed their musubi for the day. It's here that I've found the best rice, Hokkaido Nanatsuboshi, which comes in brown rice form from The Rice Factory and is milled fresh daily at Komedokoro. From the first bite to last, these are the musubi I dream about.
---
Mai Musubi
Location: 1010 University Ave., Mō'ili'ili
Hours: Wednesday to Monday, 6 a.m to 1 p.m. or sold out
Instagram: @maimusubi
Musubi varieties: 25+
Price range: $2.55 to $3.75 each
Other menu items of note: Bento
My pick: Crunchy ume musubi and tuna mayo musubi
Mai recently relocated from Liliha to just off University Avenue in the former Bubbies Ice Cream shop. Loads of space, parking and a larger menu (with online ordering) are the results. The musubi keep well and are generous on toppings with a good ratio of rice to match. Reasonably priced bento and curry bowls are just as popular.
---
Mana Musubi (Mana Bu's)
Location: 1618 S. King St., McCully
Hours: Monday to Saturday, 6:30 a.m. to 12:30 p.m. or sold out
Instagram: @manamusubihi
Musubi varieties: 32
Price range: $1.55 to $2.50 each
Specialty: Uniform musubi made with a wide variety of toppings with California and Japanese Koshihikari, pilaf and mixed-grain rice
Other menu items of note: Coffee jelly and custard pudding
My pick: Beef sukiyaki musubi with Japanese Koshihikari rice and chicken shiitake pilaf musubi
Manabu and Fumiyo Asaoka opened what was known as Mana Bu's in 2008. If you're looking for the OG musubi folks in Honolulu, they're it—they literally wrote the book on musubi. Although they've explored third-party operators in the past, they returned to oversee operations in 2020 and increased the shop's offerings and output. Mana Musubi is also the only musubi shop with staff in chef coats, which says all you need to know about these premium onigiri.
---
SEE ALSO: Best Fancy-Kine Spam Musubi: Our Top 5
---
Ma'ona Musubi
Location: 921 Alakea St., Downtown; 1920 Ala Moana Blvd., Waikīkī; various farmers markets
Hours: Monday to Saturday, 6:30 a.m. to 12:30 p.m. or sold out
Instagram: @maonamusubi, @maonamusushi_express
Musubi varieties: 30
Price range: $1.55 to $2.50 each
Specialty: Onigirazu (rice sandwiches)
Other menu items of note: Donburi rice bowls
Onigirazu are large, square musubi that resemble sandwiches, only they're made with rice. Ma'ona sells onigirazu by the half, so you can get a variety of flavors without committing to a full one. It's perfect to pick up before heading to the office Downtown, or you can find them at the Kapi'olani Community College, Kaka'ako and Pearlridge farmers markets. In early October, they expanded to Waikīkī at Inn on the Park, where they sell a limited selection of onigirazu.
---
Musubi Café Iyasume
Location: 6 locations (Ala Moana to Kāhala)
Hours: Vary by location
Instagram: @musubi_cafe_iyasume
Musubi varieties: 39*
Price range: $1.98 to $4.98
Specialty: Spam musubi in dozens of variations from shiso and ume to deluxe versions with avocado, bacon and shrimp tempura
Other menu items of note: Bento, tonjiru pork belly miso soup, fried chicken
My pick: Shiso Spam musubi, chicken karaage mayo onigiri, shrimp tempura roll
Another OG in the musubi game, Musubi Cafe Iyasume is likely the shop everyone knows best. With up to seven locations at one time, it is pretty much where most people get their onigiri. What I love most about Iyasume isn't that you can find them from Kāhala to Ala Moana, but that they have the most options, best prices and are fairly consistent across the board. When I work at the mall, they're my first choice and I always get the same thing: a shiso Spam musubi, a chicken karaage mayo musubi, potato salad and an Aloha Maid Iced Tea.
---
SEE ALSO: Iyasume Makes Up to 23 Kinds of Spam Musubi
---
Musubistro
Location: 61-676 Kamehameha Highway, Hale'iwa
Hours: Saturday and Sunday, 10 a.m. to 4 p.m.
Instagram: @musubistro_
Musubi varieties: 3
Price range: $3 to $8 each
Specialty: Fresh-caught fish katsu musubi with teri sauce
Local, fresh-caught 'ahi is filleted and turned into crispy blocks of katsu that Musubistro serves from a cute trailer outside Kawailoa Ranch. They also have the original Spam musubi, poke bowls and rotating specials. Truth be told, I haven't had a chance to visit Musubistro, but it's first on my list the next time I'm in Hale'iwa.
---
Palolo Factory pop-up at Fishcake (closed)
Location: Fishcake, 307 Kamani St., Kaka'ako
Hours: Saturdays, 11 a.m. to 3 p.m. or sold out
Instagram: @palolofactory
Musubi varieties: 8
Price range: $4 each
Specialty: Made-to-order musubi and sets with side dishes
Other menu items of note: Side dishes like potato salad and gobo kimpira
My Pick: Portuguese sausage musubi and tuna mayo musubi
When Palolo Factory began popping up in Kaka'ako earlier this year, I wished that Hikari Takahashi and Kevin Kuroda were accepting adoption applications so they could feed me every day. I was only half-joking; you can get the same experience every Saturday at Fishcake. Takahashi, a self-taught home cook, delicately prepares musubi to order along with a trio of side dishes and miso soup while Kuroda tends to each table. They often travel, so it's best to check their Instagram for updated menus and schedules.
---
Paradise Poke
Location: 1613 Nu'uanu Ave., Nu'uanu
Hours: Monday to Saturday, 6 a.m. to sold out
Instagram: @paradisepokehi
Musubi varieties: 8
Price range: $2.35 to $3
Specialty: Salmon and ikura onigiri with crispy nori
Other menu items of note: Poke bowls, garlic shrimp plates and baked salmon
My pick: Goteborg musubi
There are two types of Paradise Poke customers: those that go for poke and plate lunches and the occasional boiled peanuts, and those that go straight for the morning onigiri. I've been both. Paradise is the slight exception to my criteria that these shops be musubi specialists—it lays out rows of onigiri every morning that are snatched up by folks on their way to work and school faster than you can say "poke." This is also the only shop that serves onigiri with crispy nori, a huge standout if you ask me.
---
SEE ALSO: Garlic Shrimp, Musubi, Lemongrass Kalbi: There's Way More than Fish at Paradise Poke
---
Pork Tamago Onigiri
Location: Waikīkī Food Hall, 2301 Kalākaua Ave., Suite C311-C, Waikīkī
Hours: Monday to Sunday, 11:30 a.m. to 8 p.m.
Instagram: @pork_tamago_onigiri
Musubi varieties: 8
Price range: $5 to $11 each
Specialty: Okinawa-style Spam and egg rice sandwiches
Other menu items of note: Miso soup
My pick: Double shrimp PoTama and goya tempura PoTama
Affectionately known as PoTama, Pork Tamago Onigiri is an Okinawa-based chain of musubi shops specializing in Spam, egg and rice foldover sandwiches—whether for efficiency or aesthetics, I'll never know. But, I do know that these are freaking delicious, especially when the Spam is slathered with sweet abura miso paste or layered with bitter melon and katsuobushi flakes to make a play on goya champuru. I've been to PoTama shops in Okinawa and Fukuoka to compare, and their local cousins are just as good.
---
SEE ALSO: Waikiki Food Hall grand opens at Royal Hawaiian Center
---