Best Fancy-Kine Spam Musubi: Our Top 5
Da bestest non-traditional Spam musubi on O'ahu.
Hawai'i local people kinda snooty when it comes to their Spam musubi. Da oddah year I seen online how Disneyland wuz featuring one jasmine rice Spam musubi for $8. I reposted da picture on my Facebook and da general consensus wuz doubt. "Can you even make jasmine rice stick together?" is what couple people were wondering. Local people who wuz visiting Disneyland at da time said, "$8!! Ah, not worth."
So den naturally when da Billionaire Musubi, one $250 gold leaf Spam musubi in Seattle with wagyu beef, king crab and caviar started floating around da internets, da reaction wuz swift for condemn it as continental people messing around with our cuisine. Akin to what's been going on with da poke bowl. But if you dug deeper you would've discovered that da place making 'em wuz partially owned by Sam Choy and he get planny local street cred.
I knew I wuz going have hard time with this piece and most leads people gave me nevah pan out. Cuz lotta local people's idea of fancy is teriyaki Spam musubi. Lol. My cousin-in-law Donald Yanagi said I should try Tanioka's inverted Spam musubi with furikake rice and instead of da Spam being on da top, stay hidden inside. I tried 'em, but da ting nevah impress me as being all that different. Some people told me for try couple Korean places, cuz they thought had one Korean take on Spam musubi. Come to find out those places had Korean sushi and Spam musubi, but no Korean Spam musubi. I know 7-Eleven used to have one mean kim chee Spam musubi, but that one wuz only for one limited time.
For this Top 5, I put more emphasis on creative ingredients or preparation rather than shape. Cuz even if one Spam musubi is shaped like Mickey Mouse's head, it still taste like one regular Spam musubi, no?
P.S. I wrote this before Potama had their pop-up here in Hawai'i. These Okinawa guys had so many inventive kine from their goya bitter melon Spam musubi to even one loco moco Spam musubi, which sold out so I nevah get for try! When they open their real store at da Royal Hawaiian Center, das going totally change da local Spam musubi landscape. Garanz.
See also: Okinawa's Potama Spam Musubi Sandwiches Are Coming to Waikīkī
Anyhows, on to da Top 5 fancy-kine Spam musubi!
Runner up: Kozo Sushi

My wife suggested this "Spam Hand Roll" for $1.80. At first I wuz all like, WHY? Den she pointed out how it's da only place she could think of that has Spam musubi with CRISPY nori. Technically this is one roll, but it still met my criteria of having da three main ingre-da-ments of Spam, rice and nori. Crispy nori makes one big difference. Their nori is even crispier than when I make my own FRESH Spam musubi at home! I never dreamed I would consider crispy nori for be funky, but I gotta say, no argue with da boss. You would think I would've learned by now.
Various locations 
---
No. 5: Kansai Yamato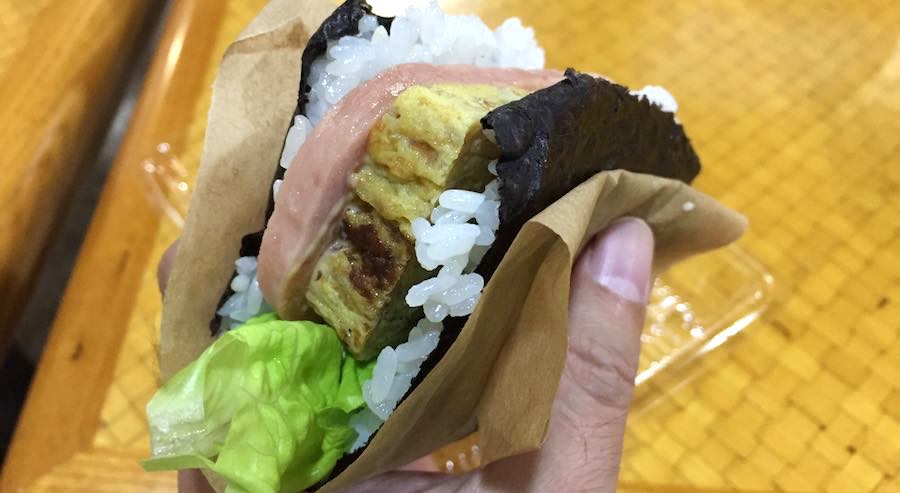 This one kinda reminds me of Okinawa's Tamago Onigiri in terms of its lookings, how it has da Spam and egg and it's kinda just folded in half. This particular one get lettuce too. According to da internet, this style of Spam musubi's been blowing it up recently all over social media in Asia.
Kansai Yamato guys is more known for their mochi, so when I seen their sign "Mochi Musubi," I had for ask, "What da heck is dat?" Da lady said it's 25% mochi rice and 75% regular rice. I managed to catch da creator man there and he said if this one sells well, in da future he'd like to make more variations of these Mochi Musubis. Like even one with Spam, egg and kinpira gobo! For one slightly stickier Spam musubi experience, try chance this one for $2.59 each.
1151 Māpunapuna St. • Moanalua • (808) 838-1355 
---
No. 4: Da Kitchen
These guys are one of da earliest of da innovators with their popular "Fried Spam Musubi." Several years ago I went Maui for one day trip. Da only thing I really, really, really wanted for sample wuz this, cuz my Maui friend Scott Yamasaki wuz raving about 'em. He said O'ahu get bettah kine lots of stuff, but not when it came to Spam musubi. Small kine pricey cuz it's essentially one musubi cut into four pieces, but it's Oh, soooo good.
My colleague Kelli Shiroma found out that Da Kitchen opened up one location in Kaka'ako last year, but their signature Spam musubi wuz one secret menu item ($6.50 for one musubi, four pieces). She had to ask for 'em!  At da time of its creation, da idea for dunk one Spam musubi in panko batter and deep fry da whole thing wuz really quite revolutionary. (Ironically when I researched this, I found out da whole reason this even exists is cuz it wuz created special for da Travel Channel's Bizarre Foods show. So once again, created with da continent in mind. Lol.)
651 Ilalo St. • Kaka'ako • (808) 888-3488 
See also: Deep-Fried Spam Musubi is Back on O'ahu
No. 3: Genki Sushi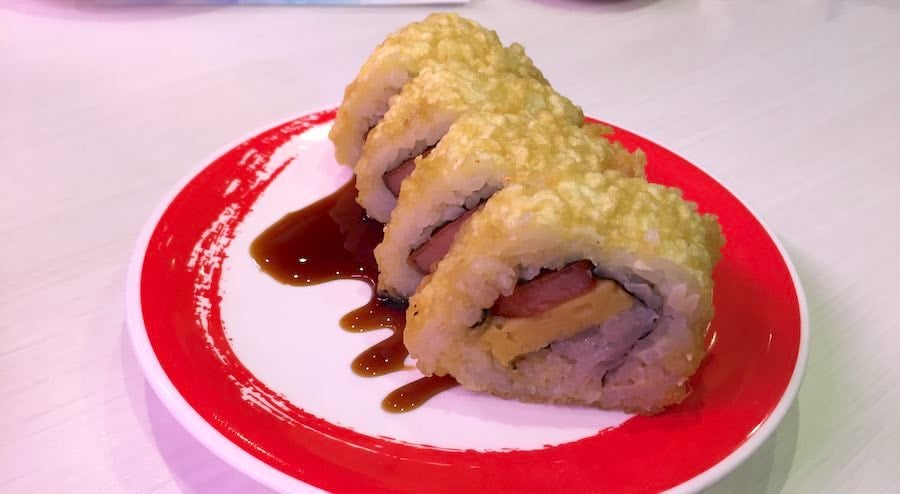 This "Spam and Tamago Tempura Roll" ($3.95) is similar in theory to Da Kitchen's one, but this one's more of one deep-fried roll das fried in one airy, tempura-type batter. I think this one wuz created with kids in mind. My childrens spotted this one on da menu first, but us adults love it too. Lol.
Various locations
No. 2: Musubi Cafe Iyasume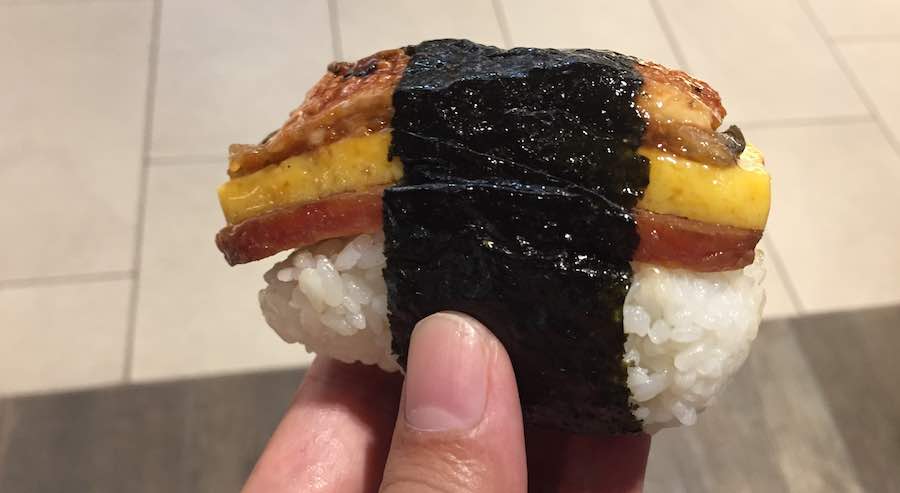 Spam musubi with egg and unagi ($3.88). I love da audacity. For combine Japanese highbrow (eel) and local lowbrow (Spam) together in one musubi. 7-Eleven does a lotta musubi variations, but I think Musubi Cafe Iyasume is da most cutting edge in terms of Spam variations. They have one like this one, but with da addition of avocado. That's even more crazy. I wanna chance that one next!
Various locations
No. 1: MW Restaurant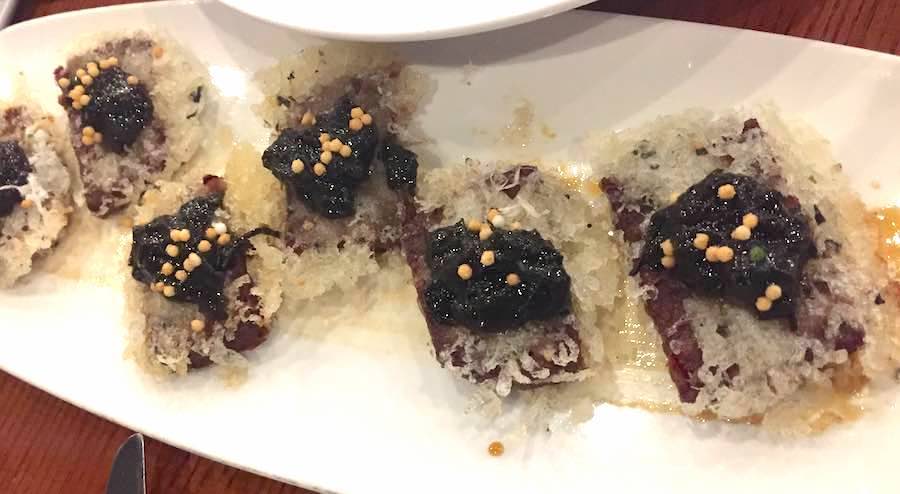 This one is da funkiest hands down. This Spam musubi ($5 for small plate with two pieces during happy hour) is described as "one mochi-crusted smoked-pork-arabiki-meatloaf." Everything about this dish stay deconstructed and reimagined. Instead of Spam, they get their own house-made "Spam." Instead of rice, they use flaked mochi as one batter for fry 'em up. And instead of nori, they use what looks to be tsukudani, seaweed that wuz cooked with shoyu and mirin for create lots of umami. So creative and I betchoo taste mo' bettah than da kine da billionaires on top da continent eat.
1538 Kapi'olani Blvd. • Ala Moana • (808) 955-6505
See also: Da Spam Power Rankings