Hidden Gem: Got'z Grindz Musubis in Kāne'ohe
Hidden gem in Kaneohe cranks out fancy musubi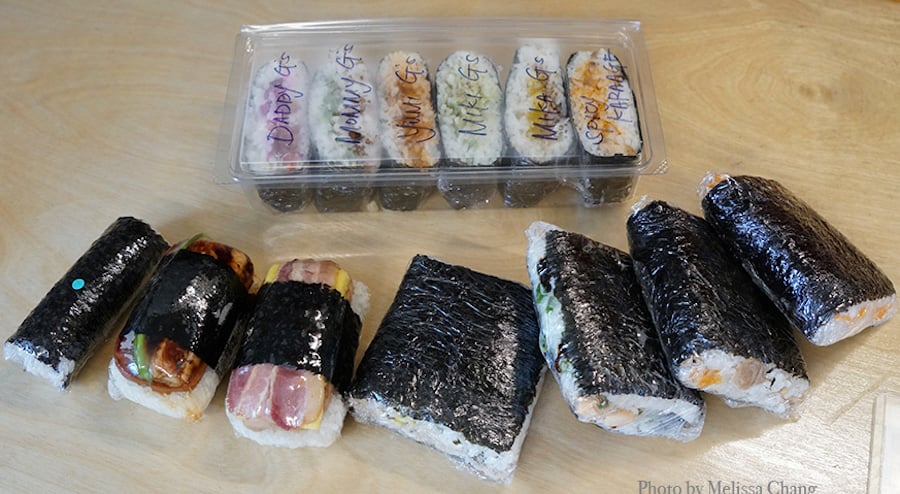 I swear I don't have a thing for Kāne'ohe, and I'm not on an all-carb diet. But ever since I blogged about Ono2Guys, people in the know have been nagging me to check out Got'z Grindz, which is just across Kamehameha Highway from the bakery. But being a townie, it just took me a while to get there, since I had to drive a bit down the highway and find a place to make a U-turn just to get across the street. Hey, I'm an impatient townie, what can I say?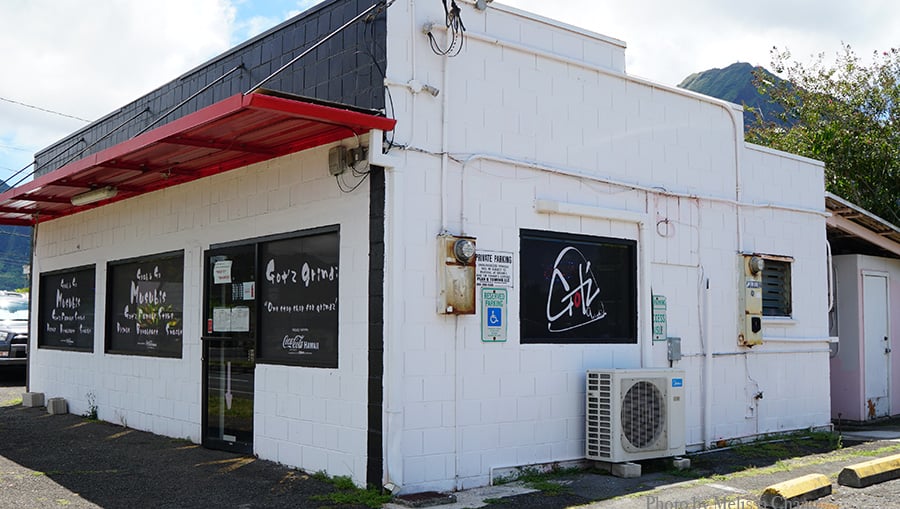 I finally had a work meeting out in Kāne'ohe, which put me on the correct side of the street, so I dragged my coworkers Mark Soeda and Crystal Yamasaki to Got'z Grindz to help me eat. What a cute spot! Now I know why everyone wanted me to go there.
---
SEE ALSO: Oodles of Unusual Noodles at Adela's Country Eatery
---
Got'z Grindz is still new, as it only opened in February, but it already has a loyal following. It's made for takeout only, so you won't find any tables or chairs. The building was originally a store, so the zoning doesn't allow for any seats, not even a bench outside. However, if you're a hungry Melissa Chang, you can make house atop a freezer in the corner and eat standing up.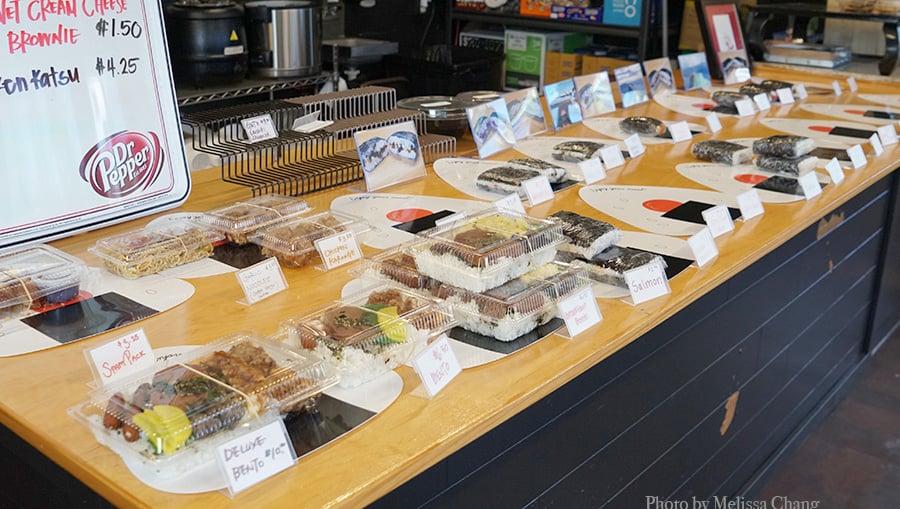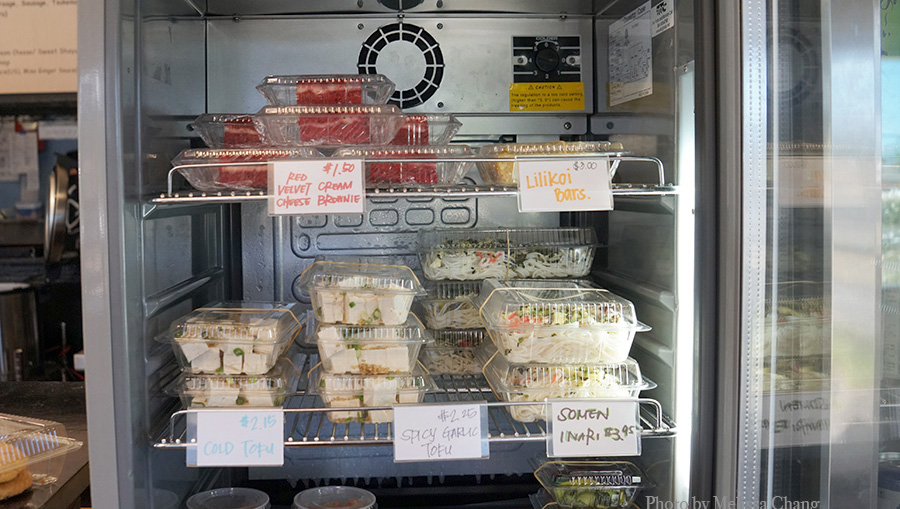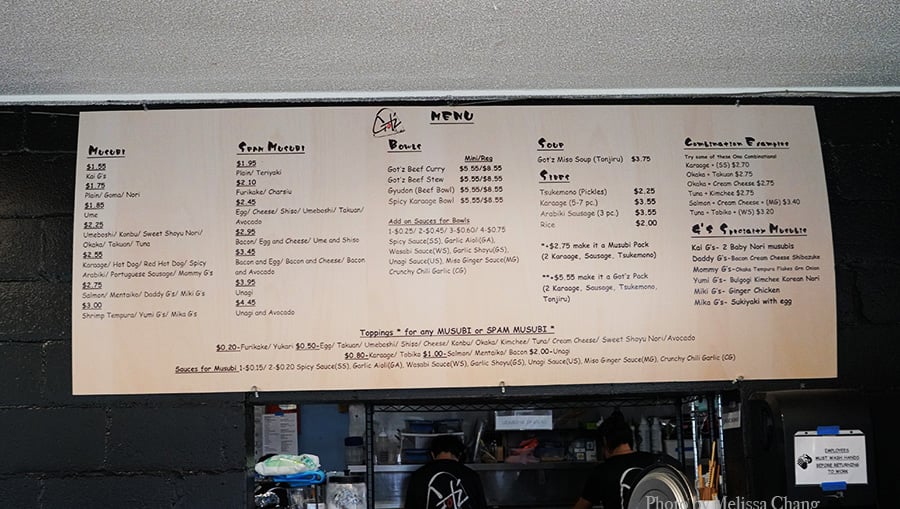 Although most of the popular musubis are displayed and replenished during the day, you can always order anything you don't see on the counter—and you can create your own custom musubi, which they'll make fresh for you. Like anywhere else, though, I'd recommend going early to ensure they have what you want!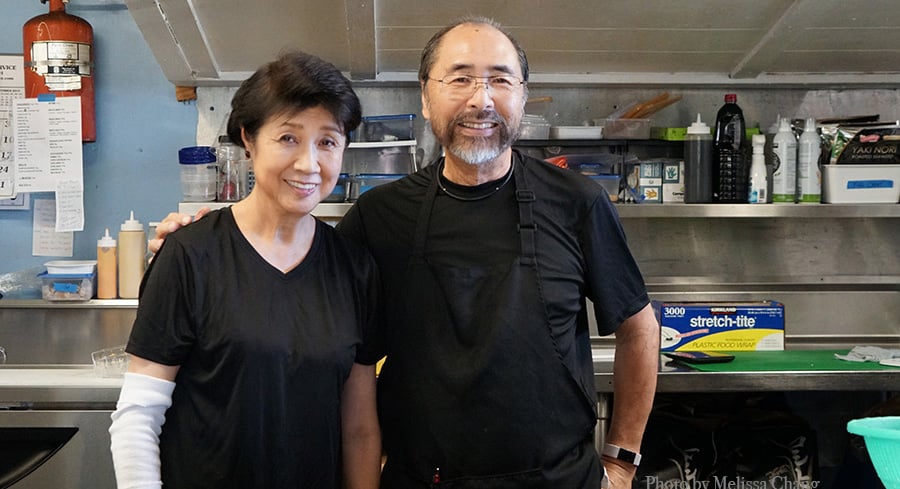 Got'z Grindz is owned by Masumi and Tetsuya Goto, and their three daughters—Mika, Miki and Yumi—help with the business. Masumi's musubi skill comes from her time with Musubi Cafe Iyasume, and the combinations of flavors and textures in every rice pocket are weirdly craveable. There are classic combinations, but the special musubis are named after each member of the family: Daddy G's, with bacon, cream cheese and shibazuke; Mommy G's, with okaka (smoked tuna), tempura flakes and green onion; Yumi G's, with bulgogi, kim chee and Korean nori; Miki G's, with ginger chicken; and Mika G's, with sukiyaki and egg.
---
SEE ALSO: Kawaii! Honolulu Has a New Musubi Shop
---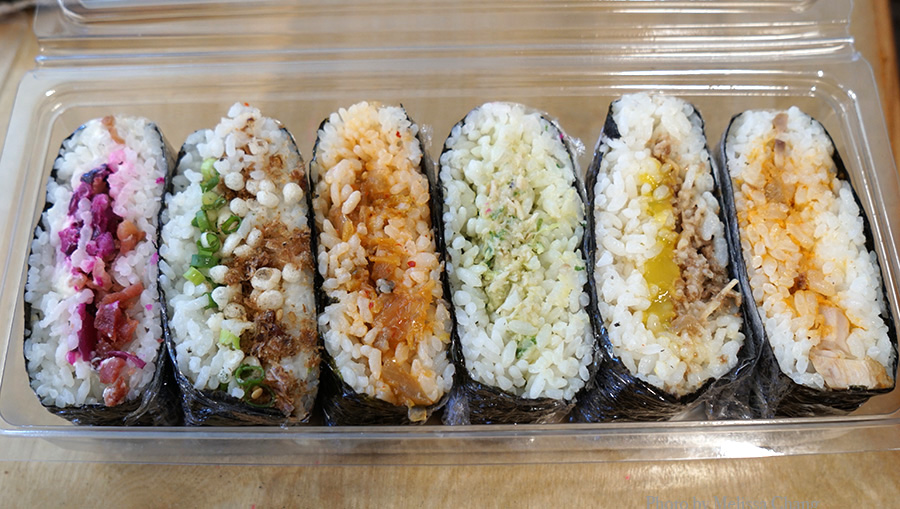 If you go early enough, they have pre-packed musubi sampler boxes for grab-and-go. If they're out of these, you have to order two at a time, because each musubi is made like a sandwich and has to be cut in half. This is the specialty sampler, which includes, from left, Daddy G's, Mommy G's, Yumi G's, Miki G's, Mika G's, and spicy karaage. One of my favorites is the ginger chicken, but it's not much farther ahead of the others in this box. These are so good, I'd drive out of my way to get this so I can have it on my next long plane ride.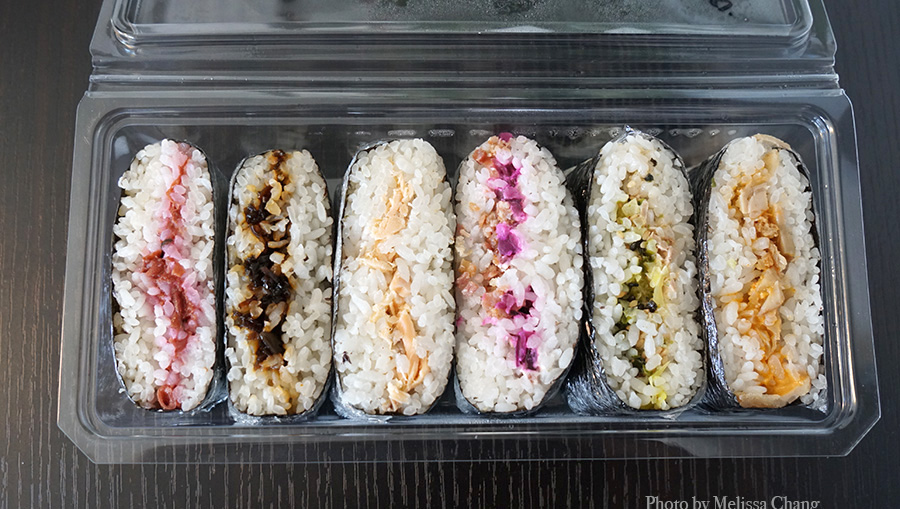 The standard sampler includes, from left, umeboshi, konbu, salmon, Daddy G's, tuna with takuan and furikake, and spicy karaage. This one sells out faster than the specialty box, but I'm not sure if it's because of the price or because it's simpler. My favorite here is the tuna with takuan and furikake, since the saltiness and crunchiness make it interesting.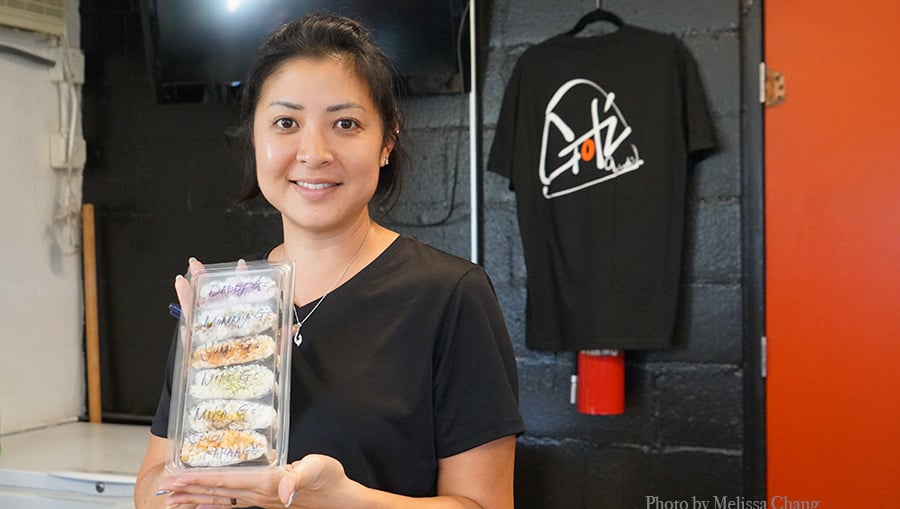 At first, I thought the place was pronounced like "Got Grinds," but daughter Miki said Got'z is pronounced like "goats" because in local style, that was the Goto girls' nicknames when they were growing up. Of course!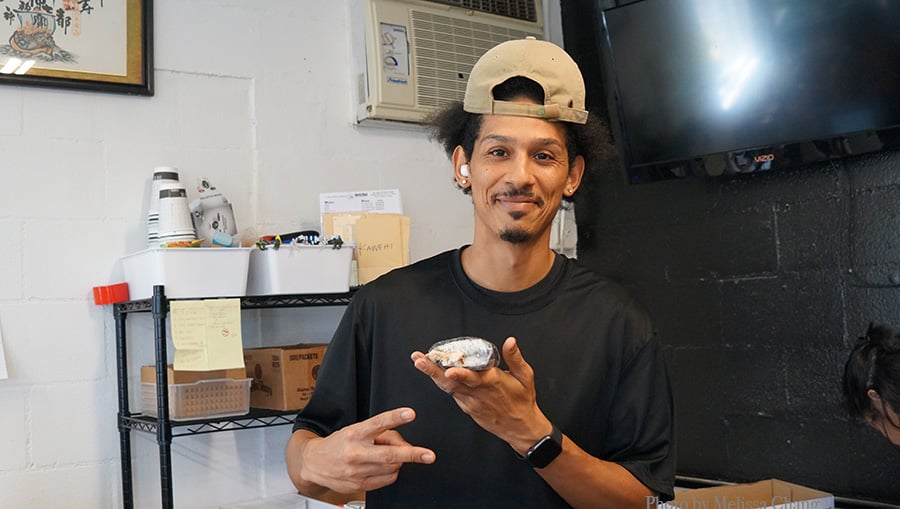 One of their employees made his own custom musubi, filled with salmon, konbu and green onions. I liked it! It's got some of the sweet-salty going on, plus some crunch and bite from the green onions. They haven't named it Mikey G's yet, though.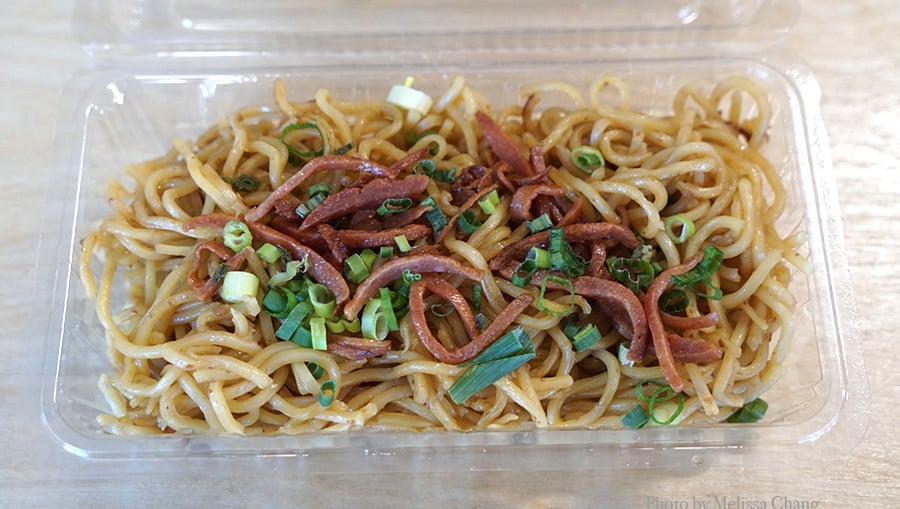 On a whim, we bought a container of the garlic noodles, which are tossed in a sweet shoyu butter. Winnahs! This yakisoba style dish is perfectly balanced in flavor and the noodles are just firm enough. I personally didn't think they were too garlicky, but my coworkers felt it warranted taking a mint before our next meeting.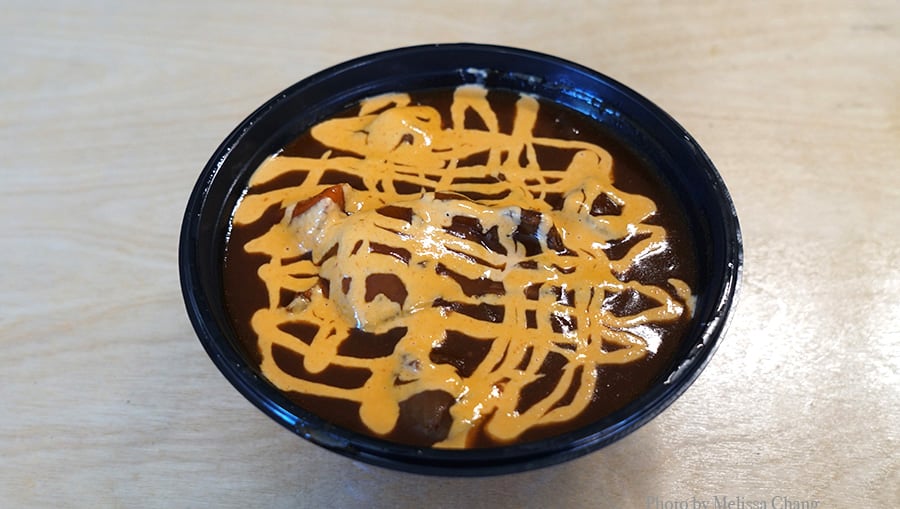 Most local beef stew is too tomato-ey for me, but at Got'z Grindz, it's more tomato soup based, so the consistency is smooth and there's a slight sweetness. They also top it with a spicy aioli, which isn't too strong—it gives the stew gravy a nice spike on the palate.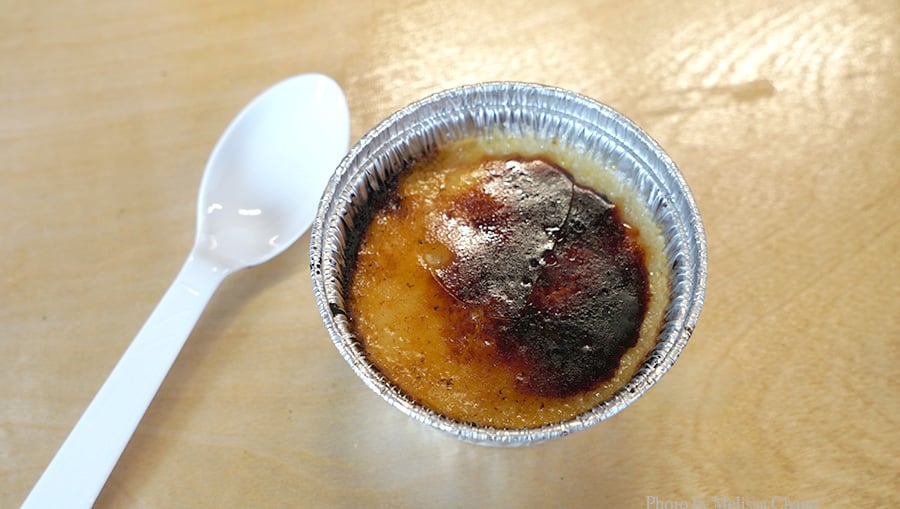 One of the more sought-after items is Got'z Grindz frozen creme brulee, which is made in-house. You can get individual servings like this, or a pan to share. It's exactly what the name says: basically a frozen custard with a torched sugar crust, very rich and thick.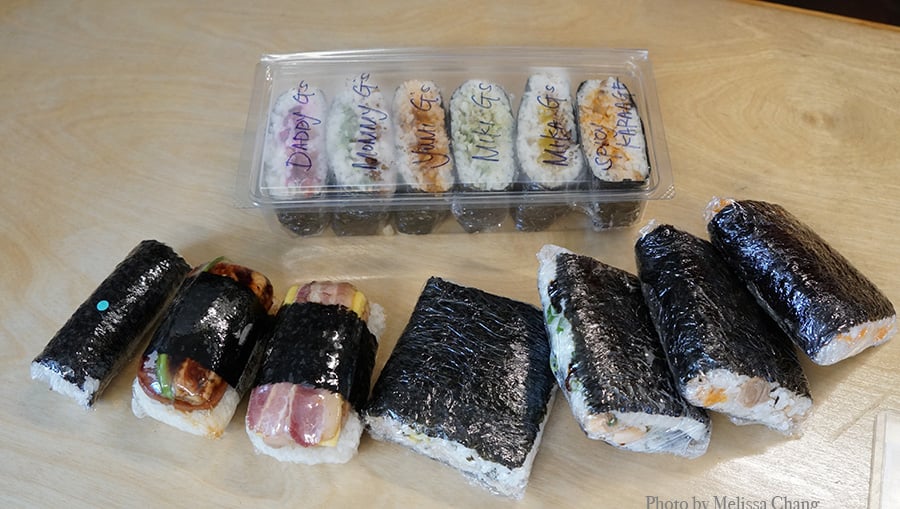 We ended up trying a variety of items, from hand rolls to Spam musubis with additional toppings (my favorite was the spam with unagi and avocado) to musubi sandwiches. They were all super tasty with a generous amount of filling. Miki added that they use a higher grade of rice than most local places, and their customers have commented that they can tell the difference. Is it worth the drive from town? I've already gone a few times. Heck, I have clients that make the trek from Central Oahu because they're craving these musubis!
---
SEE ALSO: CIY Video: Sunny Side Spam Musubi
---
Got'z Grindz is open Tuesday through Saturday from 6 a.m. to 3 p.m. If you're a townie, use your GPS and slow down as you approach them, because their parking lot is just before their building.

45-726 Kamehameha Hwy., (808) 234-0818, @gotzgrinds