New Higoto brings elevated bento, musubi to Kaimuki
Just opened May 14, this one's a hidden gem waiting to be discovered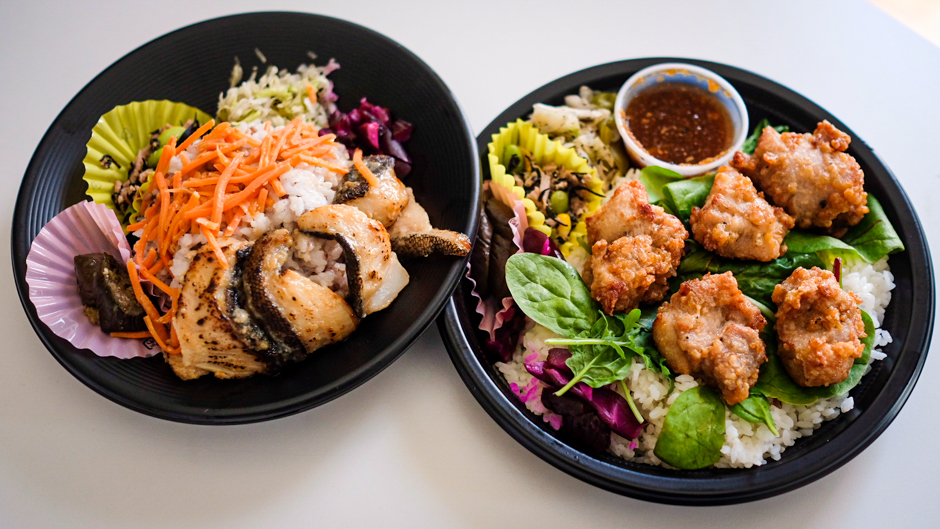 Higoto Japanese Eatery opened May 14, at a time when takeout is the only option for restaurants open during the pandemic. Luckily, takeout is exactly what Nobu Kurokawa, former owner of Kona Kai Sushi up the hill on the same stretch of Waialae Avenue, had in mind for his lineup of elevated bento bowls, musubi, cup sushi, salads and inari cone sushi pockets. This spot next to Times Supermarket in Kaimuki Shopping Center is a little gem waiting to be discovered.
See also: Essential eats: These sushi spots are calling to you
Step inside the modern, wood-clad shop and choose between white or multigrain rice with your bento bowl or musubi. Options for bento bowls include karaage chicken, grilled steak, yakitori chicken, miso butterfish, shoyu garlic salmon and more. Cup sushi are smaller sushi bowls topped with fresh ahi or salmon and ikura. Side dishes change daily. The shop isn't taking cash right now — only credit and debit card and contactless payment methods are accepted at this time.
See also: Iyasume makes up to 23 kinds of Spam musubi
Higoto is situated between Hawaii Sushi at Market City and Musubi Cafe Iyasume at Kahala Mall and like these, it offers small, medium and full-meal choices for all appetites. It's easy to see stopping in for a quick snack or takeout meal after grocery shopping or an appointment. And especially given the relative scarcity of Japanese eateries and of restaurants in general at this end of Waialae Avenue, Higoto is a welcome add to the Kaimuki food scene.
Higoto Japanese Eatery
3221 Waialae Ave.
Kaimuki
Soft-opening hours
Tue-Sat 11 a.m.-6 p.m.
Sun 11 a.m.-4 p.m.