Local Author R. Kikuo Johnson Talks About His New Graphic Novel, No One Else
Sixteen years after releasing his first book, Night Fisher, Johnson is back. And while his characters mourn, readers rejoice.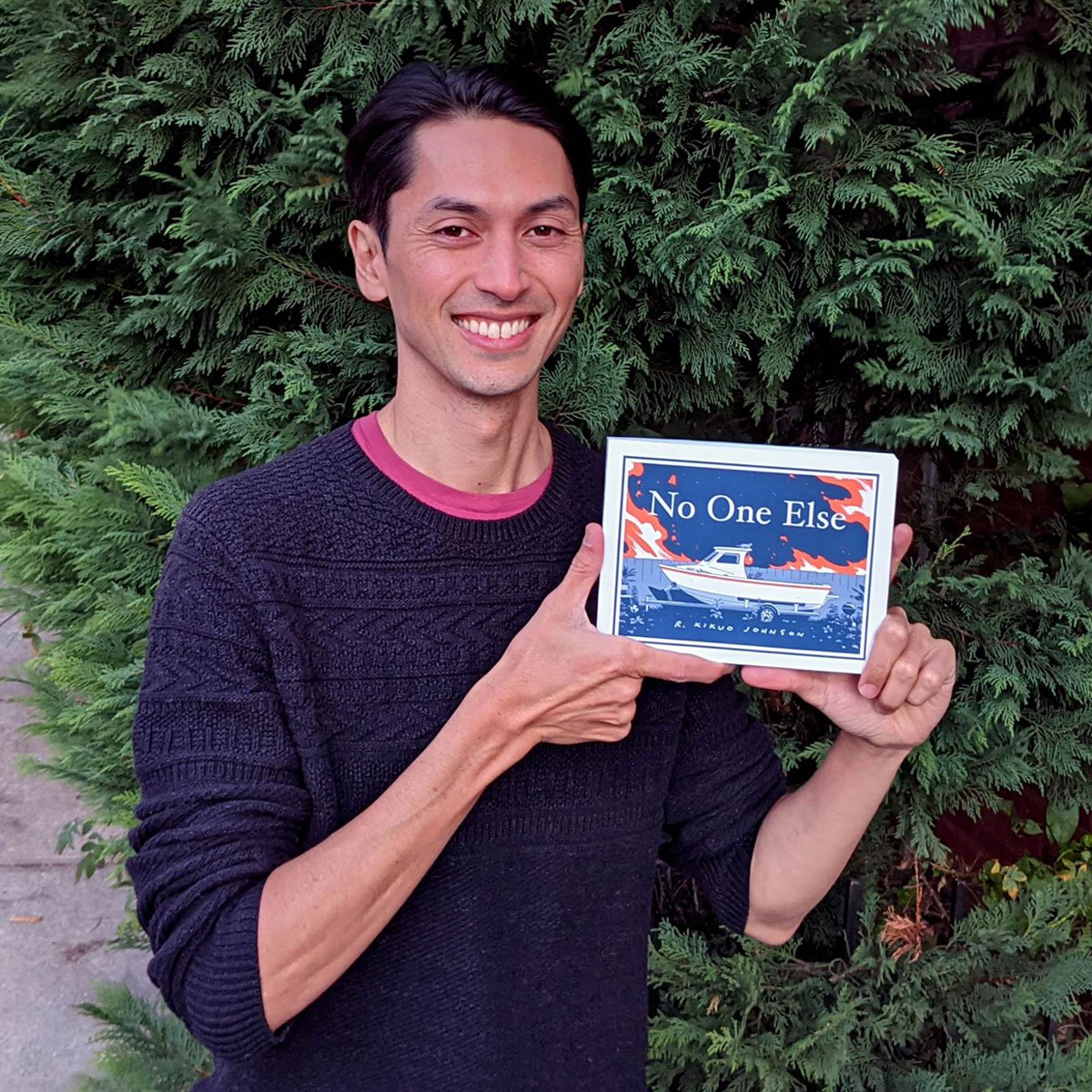 Da book that put R. Kikuo Johnson on da map wuz his 2005 graphic novel debut, Night Fisher, which got him da Russ Manning Newcomer Award and da Harvey Award for Best New Talent. Since den, dis Maui boy currently living in Brooklyn has been supa-busy parlaying his graphic novel success into da field of commercial illustration. His client list includes notables like Apple, The Atlantic, Coca-Cola, CNN, ESPN, Newsweek, The New Yorker, The New York Times, Nickelodeon, Nike, Puma, Time, Vanity Fair, Volkswagen, The Wall Street Journal and planny oddah big-time companies. In 2012, he did one slight detour and released one graphic novel for children, The Shark King. An'den aftah ukubillion years and a day, his fans finally rejoice as Fantagraphics released one special 15th anniversary edition of Night Fisher, plus his much anticipated new graphic novel, No One Else.
---
HONOLULU Magazine: Braddah Kikuo, congra-choo-ma-lations on No One Else! I like know, what school you went, what year you grad? What's your ethnic backgrounds? An'den try tell us about your family and growing up in upcountry Makawao.
R. Kikuo Johnson: High school was Seabury Hall, graduated class of '99. My mom is mixed Filipino/Japanese and my dad is Haole. My dad was an accountant and my mom is a high school drama teacher, first at Maui High and then at King Kekaulike. You know, up in Makawao it just rained all the time and so I'd be stuck at home with my dad's printer paper and I would just draw indoors. Or I'd go boogie board down the yard when the rain was super high. (Laughs.)
SEE ALSO: 7 Hawai'i Books to Give 'Em Something to Talk About this Holiday Season
HM: Da harvesting of sugar cane during its last days provides one backdrop to da story in No One Else. J'like how wen happen in real life, da story depicts anti-cane peoples protesting about da smoke. How you feel about da demise of sugar cane in Hawai'i? You happy? Or you sad? You get any cane memories?
RKJ: Growing up on Maui, I remember being on the playground and the ash, you know Hawaiian snow, would be raining down on us. It was so fun and we'd pinch it and it would turn into dust, yeah. I couldn't imagine Maui without Pu'unene Mill in the center and the entire valley being covered in sugar cane. So, when I heard the last harvest was coming—it was right at that same time I was developing the idea for the book—I was filled with sadness. Even though I fully understand how destructive the sugar cane was to the watershed, it was just hard for me to imagine a Maui without sugar cane. So that feeling of mourning something that I never necessarily loved, kind of became a theme of the book and translated into the human characters as well.
View this post on Instagram
HM: Da story in No One Else stay about how one family copes with da loss of one loved one. But you make it so your readers really gotta observe for follow da story. Try talk about your method, your graphic novel philosophy.
RKJ: I love reading a comic that really requires you to look very closely at the drawings and experience the story through the drawings as much as through the text. That's one reason I wanted to write a comic about a kid because a lot of times kids, they're not as verbal as adults so they don't necessarily say what they feel. Actually, none of the characters in the book ever actually say what they feel directly, so I try to use the drawings to be the subtext or imply the actual conflict that's going on inside of all of them.
SEE ALSO: A New Book Highlights Hawai'i's History Through the Stories of Those Who Lived and Made It
HM: Get so many character moments in No One Else that we no can help but chuckle at cuz of their truth. Probably my mostest favorite page stay page 51. On top that page da uncle who returns to Maui aftah one long absence gets all bent when one truck cuts him off and ironically da truck has one Live Aloha bumper sticker. I like how his critique of da slogan hints at da reason how come he left Maui in da first place. An'den you get da perfect punchline to da page when da smiley tourists in their Mustang convertible honk at him cuz he nevah notice da light wen turn green, so den he snaps, "Relax, Brah! This ain't the mainland!" Do you find 'em hard for do humor in one serious story?
RKJ: You know what's funny, when I conceived of this story originally it was all a comedy to me. The whole thing was a full dark comedy. And then as I worked on it and fell in love with the characters and the characters became real to me, instead of telling the jokes as jokes, I just started writing it as flat as possible and making it as dry as possible. Pretty soon I was writing an extremely serious story. It's funny because a lot of the reviews so far have talked about the emotional rawness and the realism and I'm grateful that you point out the humor because that was important to me!
View this post on Instagram
One of Johnson's cartoons for The New Yorker.
HM: Your second graphic novel, The Shark King (Toon Books, 2012), wuz for early readers. Wuz it your idea for do your take on dis Hawaiian legend? An'den did you get any kinda criticism for dat one? Like did anybody say dey should have one Hawaiian artist tell dis Hawaiian story?
RKJ: That's a great question. That is published by Francoise Mouly; she's the art director for The New Yorker. That's her publishing company and she designs books so that kids can read comics to themselves as opposed to children's books, which are designed for parents to read to kids. When she asked me to do one of those books she said to come up with whatever ideas you have and make one of them based on a myth. Nanaue's a story I grew up with. It was always one of my favorite stories. That was back in 2010 when I wrote it. America has since then gone through a racial reckoning and the way America thinks about race and the way I think about race has shifted. No one has ever said anything to me; in fact I've gotten really positive feedback. But I wonder the same question. Am I the right person to tell that story? Now I look at it and I'm not sure. I asked myself the same question when I was doing a [New Yorker] cover on Asian American violence. As a hapa man, am I Asian enough to talk about this? And also being from Hawai'i is a different thing than being Japanese American or any kind of Asian American in the mainland. So yeah, it's a big question and I think about it a lot. I'm always nervous to speak for other people. I try to speak from my most authentic self as much as possible.
HM: Not only your new book came out, but your publisher wen also release da special 15th anniversary hardcover edition of Night Fisher too! I tink you told me you wen redo some of da panels or someting. Is da ending still ambiguous? Because of wea you chose for end da story we no get for see da consequences. All we know is da main character's friend Shane does batu, and in da end he gets accepted to MIT. But da story ends before da court date so we dunno if he still gets for go to MIT or what. I curious if anybody gave you flak for glorifying da use of crystal meth?
RKJ: No one has ever given me that flak for glorifying crystal meth. In fact, it's the opposite; the flak that I usually get is this is a cliche story that tells people not to do crystal meth. That always bothers me because I don't think that's what this book is about. I personally think your reading [that it is ambiguous] is more accurate. But when you sit down to read a coming-of-age story that deals with drugs, I think people bring a lot of their own ideas into it.
HM: Your books read like movies. Is it your dream for one of your books to get turned into one movie one day?
RKJ: You know what I hope for is the money. The best possible scenario for me is someone options it and tries to make it for 50 years and every year they pay me more money and it never gets made. That would be my dream. To me the books are the story.
---
"Da Pidgin Guerrilla" Lee A. Tonouchi's works written in Hawai'i Creole have gained national recognitions. His Pidgin poetry collection Significant Moments in da Life of Oriental Faddah and Son won da Association for Asian-American Studies book award. His Pidgin children's picture book Okinawan Princess: Da Legend of Hajichi Tattoos won one Skipping Stones Honor Award. An' den his Pidgin play Three Year Swim Club wuz one Los Angeles Times Critic's Choice Selection.
Read Tonouchi's pidgin 102 series forHONOLULU: "How Hawai'i's Unique Language Got Its Start," "Should Pidgin be Standardized in Writing?," "Who Should Be Allowed to Speak Pidgin in Hawai'i?" and " Da Future of Hawaiian Pidgin."