7 Hawai'i Books to Give 'Em Something to Talk About this Holiday Season
Extraordinary times, Exceptional titles.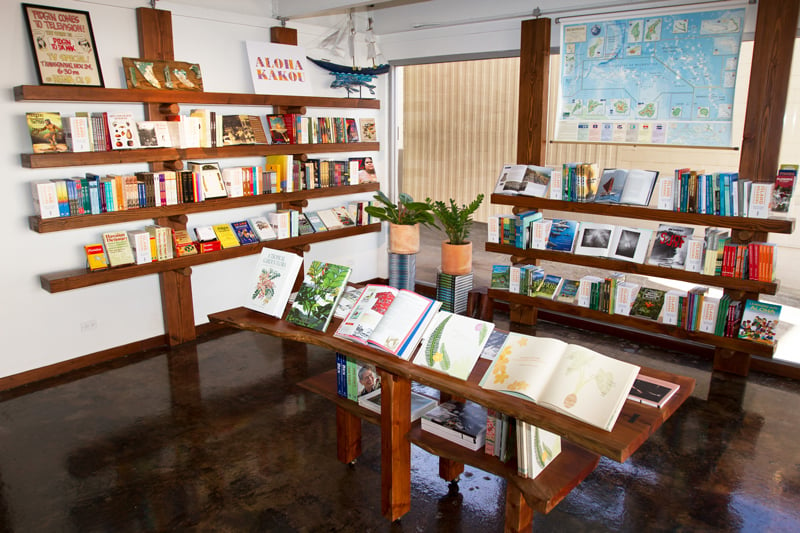 Bookstores right now are one of the happiest, umami-rich environments around, thanks to all the gaily bedecked, bookish moles and voles and foxes lured out of their burrows for their annual splurge. The stores themselves aren't too shabby either, vibrating with holiday energy. Making stops at a couple last week was like popping in on a cozy tea with guests drawn from a Dickens-Hobbit-Potter (Beatrix and Harry) bestiary.
My warm and fuzzy reverie was rudely broken, however, when a red-haired mother ran past through the stacks chasing her teenage daughter, giving a full-throated cry: "But you'll LOVE The Lord of the Flies!" My kind of mom.
The fact is, everyone seemed to be on a treasure hunt, scanning shelves and reading pages, giving themselves the pleasure of reading or rereading before making the decision. So let's join in:
The Mailbox Conspiracy
by Alexander Silvert
One brand-new title eagerly sought and bought as soon as it was in stock is The Mailbox Conspiracy, former public defender Alexander Silvert's story of how he and his client, the falsely charged Gerard Puana, took down the Honolulu chief of police, Louis Kealoha, his deputy prosecutor wife (and Puana's niece), Katherine, and their elite "dark squad" of detectives. Even if you think you know the story (as I did), you have a treat in store. Because we had no idea. So strange and convoluted and disturbing a conspiracy yields a twisty tale that's like an entire season of Law & Order somehow set in Honolulu. One thing's for sure: That mailbox deserves to go down in the annals of great weird legal turning points the way a hollow pumpkin did for Russian spy Whittaker Chambers in the 1940s.
Silvert's story of dogged ethical pursuit against an entire local justice system that was stacked against him to protect its corrupt leaders—our so-called public servants—is innately inspiring. He's a good guy fighting for the powerless and for us, but also a crisp storyteller, not in the least egotistical, i.e., not interested in painting himself as a hero. Just decent. The story moves at a page-turning pace without gimmickry or heavy-handed plot devices. Who needs melodrama when you have the Kealohas? He even underplays details like the knife plunged in the center of a lawn, omniscient police shadows and Silvert getting pulled over in heavy traffic en route to the opening day of trial.
Silvert's grasp of telling details, knowledge of both city and federal justice systems, and a trial lawyer's mastery of psychological profiling and portraiture make for a work we all can benefit from. It seems we may need it as a guide to what's really going on behind the headlines in the future, too.
In a chilling late chapter titled "Voldemort," Silvert talks of the shadowy organized crime figure lurking behind the Kealohas, unnamed but recognizable. He and his office have faced threats and retaliation from those in law enforcement as well as from business and political leaders who still feel he should never have taken Puana's unjust arrest to trial and then to the FBI. (Even though the case was by then with the FBI, a civil suit by the Kealohas against Puana resulted in a judgement against him for $680,000, including $108,000 of attorney's fees; the judge, Virginia Crandall, would retire shortly after.)
In fact, the Kealoha case had a lot to do with the fact that the public defender's office underwent a shake-up after the trial. If you're thinking, wait a second, wasn't the Police Department supposed to be the one to go through the shake-up?—welcome to the club. Seeing the writing on the wall, Silvert chose to retire gracefully.
Normally, public service heroes are showered with accolades and declarations and get their pictures in society pages being feted at charity auctions and so forth. Shouldn't Silvert be somebody's Man of the Year? He's mine.
Anyway, it may be fun to make a list of all the people you know who should get a copy for Christmas, to discuss over fruitcake and eggnog and bowl games.
The Mailbox Conspiracy: The Inside Story of the Greatest Corruption Case in Hawai'i History by Alexander Silvert (Watermark Publishing, $19.95), bookshawaii.net. Read an excerpt that appeared in HONOLULU here.
Plague Doctors
by Dr. Jonathan Dworkin
Did somebody in November 2019 wish life were more interesting? If so we'd like to have a word with that person. Because along with the Kealohas we've had to rediscover all for ourselves the hard truths and disillusionments of the 1660s as written about by Daniel Defoe in A Journal of the Plague Year. Future generations in Hawai'i will be able to thank Plague Doctors by Jonathan Dworkin, a Queen's Medical Center physician when the pandemic reached Hawai'i, for an exciting, scientifically and medically impeccable barnburner of a book about how our state struggled and then successfully—yes, successfully, from a doctor's perspective—handled its fifth epidemic. (Not sure how the next wave of COVID-19 will play out, of course.)
In the same way that Silvert's book about the Kealoha case is an entertaining primer on how the justice system works (or doesn't) on O'ahu, Dworkin's story is a clear and concise day-by-day march through a state's many medical systems and how they did and didn't mesh as an infectious Category 5 hurricane came ashore. It reads like one of Michael Crichton's scientific thrillers or even the book that spawned the genre, which its title alludes to, Microbe Hunters. Put it on your shelf for the next time. Or next week.
Plague Doctors: How Hawai'i Battled the Pandemic by Dr. Jonathan Dworkin (Watermark Publishing, $19.95), bookshawaii.net.
Red Dirt
by Scott Kikkawa
A perfect fictional match for The Mailbox Conspiracy for the crime buffs on your list? According to Lani Lee, inventory maestro at Da Shop: Books + Curiosities in Kaimukī, the hottest-selling book there this season has been Scott Kikkawa's second noir crime novel, Red Dirt.
I'm not surprised. When Kikkawa debuted Kona Winds, the first of his projected multi-book series on Hawai'i in the territorial years, my review said, among other nice things: "There's nothing like it in local literature. … What drives the story and its tarnished knight, detective Francis 'Sheik' Yoshikawa, is the private inferno of his trauma fighting in Italy in World War II—and the outrage at a society that has put his and other men's sacrifices aside in pursuit of money, sex, and power." This still holds true for book No. 2.
My only worry was that sophomore ennui might overcome Yoshikawa, and in a way it does come to pass when "Sheik" goes sweet on spunky reporter Ellen Park. You just have to cringe and brace yourself for a fall. Well, Kikkawa anticipated me and arranges quite a set of falling dominoes, all surprises. The twists are historically based, too, and take this story into the most-avoided subject of those oft-overlooked years: communism. People today still squirm at the idea. They're shocked—shocked!—that yes, it took a bunch of "Reds" and "Pinkos" to stand up to the Pinkertons and plantation thugs and the racist National Guard.
Well, look. If you give people only one system and it manifestly doesn't work for them, they'll listen to alternatives. Kikkawa, himself an active player on the law enforcement team as a senior federal customs agent, explores the uncomfortable predicament this puts Sheik in with candor and subtlety. He also shows how the specter of communism amid Hawai'i's labor strife triggered Red Scare bounty hunters from the House Un-American Activities Committee to come hunting for victims, with the eager connivance of local newspapers. This all happened, pretty much as he tells it. And we should all know about it.
But Red Dirt doesn't preach, nor does it take sides so much as dish out the dirt, and the betrayals, and the long-simmering outrage in wildly entertaining scenes and riffs. Kikkawa also shows a real talent for the kind of character-driven comedy that makes watching or reading the great noirs of the 1930s, such as The Maltese Falcon and The Big Sleep, so enjoyable. All of which makes this the perfect multigenerational gift to spur that dinner table question: "What did your daddy do during the strike, Grandpa?"
Red Dirt by Scott Kikkawa (Bamboo Ridge Press, $20), dashophnl.com.
Leaving Our Shadows Behind Us
by Elmer Omar Bascos Pizo
In the poetry aisle at Barnes & Noble Ala Moana a young woman said she was looking for a gift for a friend who liked poetry but … She waved at the numerous titles and looked a question. Secretly thrilled to be asked (that's one life ambition checked off the list) but also aware of my responsibility not to name something predictable or shallow or boring, I said I was glad to recommend Elmer Omar Bascos Pizo's Leaving Our Shadows Behind Us as something unusual, local and genuine.
Pizo's poems are a distillation of a Dickensian lifetime of personal testimony into crystalline images. A child of the rural Philippines, its villages and farms and rivers, Pizo struggles to understand a traditional but oppressive society and family structure in all its contradictions, the beauty, the community, the interplay with nature—and the bitter realities. Forced by economic circumstances to seek his fortune overseas, he's lured to take a contract job that ends up as virtual enslavement. You could call it "12 Years a Poet—and Then Some." After he regains his freedom, a damaged and traumatized Pizo immigrates to Hawai'i and rebuilds his life on the fringes (perhaps one reason he includes a deeply compassionate section about animals is he knows what it's like to be treated as a beast of burden—and also to be raised up by kindness). His book is a power source for the powerless, a rebuke to the mighty, and a piece of plainsong that feels deeply spiritual.
I couldn't more than hint at this to the young woman, of course. But she hunkered down and started. A half hour later she saw me and waved: "I'm getting it!" and smiled that smile of a reader's shared excitement over a new find, which is what good books give us.
Leaving Our Shadows Behind Us by Elmer Omar Bascos Pizo (Bamboo Ridge Press, $18), dashophnl.com.
Pipe Dreams
by John Madinger
Like many in the Islands, I've heard a lot about the 1931 Massie case from the books of David Stannard and John Rosa and reading Dennis Carroll's long-suppressed play based on the trial testimony. Most recently and evocatively, the renshi (linked) poem What We Must Remember by four local poets refreshed the story from original and imaginative perspectives. Now in Pipe Dreams we have an excellent novelistic re-creation of Honolulu and Hawai'i's most notorious modern crime—wait, let's make that "crime." It springs a new interpretation thanks to a crucial hidden detail about the victim-turned-perp, Thalia Massie: She was an opium addict well-known in dens of Honolulu.
This crucial missing perspective is supplied by author John Madinger's old friend Billy Kāne Wells, a local federal officer who spent his entire career pursuing opium rings, smugglers and smokers and their assorted gangsters and corrupt enablers. Turns out everyone on the opium beat knew about Thalia Massie.
As we all know, five local men were put on trial thanks to a false Massie accusation hyped by a zealous white-officer faction in the Honolulu Police Department; after their acquittal, one of the men, Joseph Kahahawai, was kidnapped and murdered by the family of the accusers. They were caught in the act, convicted and immediately released through the intervention of a racist U.S. Navy admiral and complaisant territorial governor, Lawrence Judd.
Reading Pipe Dreams I was unprepared for the flair, detail and flavor that Madinger, a 30-year law enforcement veteran, now retired, brings to the story—but also the balanced perspective that comes from telling the story through the eyes of a new local member of the police force. He replicates the venom and tyrannical power wielded by Rear Adm. Yates Stirling Jr. and the Massie's monstrous mother, Grace Fortescue, and traces the political and business pressures placed on every participant by the Dillinghams.
Madinger even places Judd's reprehensible actions, letting Kahahawai's killers walk after a one-hour sentence, into a context of his dealing with the same racist military's threat to put the Islands under martial law. When the military finally got its chance in WWII, it didn't hesitate to rule with a harsh and inflexible hand—and claimed it had the sole right to permanently change Hawai'i's status from territory to military base, forever. It took a landmark legal case to stop them.
In the framework of a well-told crime story à la Chinatown or In Cold Blood, Massie/Kahahawai lives again in all its fury and outrage.
So, yes, it seems there's room for one more must-read about the case.
Pipe Dreams by John Madinger (Watermark Publishing, $19.95), bookshawaii.net.
Midnight, Water City
by Chris McKinney
Madinger and Kikkawa write in the noir detective genre as law enforcement officers with skin in the game. Chris McKinney is no cop, but as Hawai'i's premier social realist novelist uses his knowledge of the city's underbelly to drive his sci-fi noir Midnight, Water City. We reviewed McKinney's novel earlier this year and took note when it made Newsweek's Top 10 summer list; it was just chosen a Best of 2021 by the CrimeReads site.
The novel breaks literary ground for the trenchant McKinney—it's his first publication with a mainland mainstream press, indie icon Soho Press. But more importantly, it's the first big Island treatment of the effects of climate change and income inequality—with a sci-fi fright or two in the mix. As we wrote, "McKinney lets the results of our current mess play out in the year 2142, mostly set atop Mauna Kea and in a vast underwater suburb that feels like Kaka'ako with gills." By turns prophetic, slyly comic, bravely provocative, and grim, the story features an 80-year-old private detective—everyone with money spends it on rejuvenation sessions, so he's still in fighting trim—who has just lost his patron, who happened to be the most important person in the world, because … I'd like to tell you more but we don't do spoilers.
McKinney boldly reinvents himself here and, in a way, upends the whole "local" genre thing. Critics nationally are hailing the novel for its ideas and Blade Runner-esque ambiance, which our recent deluges have resembled, too. Read up on the future while it's still fiction!
Midnight, Water City by Chris McKinney (Soho Press, $27.95), watercitytrilogy.com.
View this post on Instagram
⁠
Calabash Stories
by Jeffrey Higa
The mix of fun, futurism and existential dread that McKinney mixes so expertly is what makes sci-fi lit feel more consequential than the latest predictable, dystopic, five-fireballs-an-hour Hollywood film. You see it on a screen, it's entertainment. You see it inside your head, it lives there. Top that, Meta.
But this is true even of quieter stories working without the net of a murder-and-clues mystery. In Calabash Stories, Jeffrey Higa relies on nothing more than his voice and the materials of his story to light the reader's fire of curiosity. It amounts to a gamble in today's instant-gratification, surface-flash fiction world, particularly given how he weaves his story out of deceptively calm sentences and leisurely storytelling. Yet in the matter of a word, a sentence or a page Higa can abruptly change focus, subject or tone with such skill that you're left dangling, feeling emotions before you can prepare yourself for them.
So it is with "The Shadow Artist," an elegant tale of the last practitioner of a fading art form, who travels from plantation to plantation to do miniature cutout portraits. The story of clean lines and strange beauty turns from perfect nostalgia elegy to utterly real and brutal when the humble portraitist transmutes his art into a covert op in a labor strike. Throughout we sense the silhouettes of hired thugs come to bring the workers to heel. The story ends with the grim clang of the Yankee Reaper … and icy fear we feel in our gut, too.
Higa had me tearing up at "Christmas Stories," too, which seems to be about the rigid code governing the behavior between the rich haole VanHarding family up in Mānoa and their yard boy. But circumstances blur the hard lines drawn not only by the rich but by the poor Japanese Americans, who live in fear of a blunder that will cost them their jobs. Higa draws the tension out so well I was ambushed by the emotion of the fleeting tragedy we glimpse at the end.
Higa tells stories from a deeply inhabited cultural perspective, which gives some stories the texture of a memoir or essay. Others sprawl over rural lanes and neighborhoods with the wild abandon of kid-time storytelling. In several he deals unselfconsciously in sentimental tropes, daring us to stick with him despite our sophistication; sure enough, by the end he's caught us hook, line and sinker—which is when he coolly cuts to a never-Hallmark ending.
According to his author's bio, Higa was born and raised in Hawai'i, left after high school for college in upstate New York, and then "taught, wrote and worked with indigenous youth to tell their stories as he wandered through various writing programs." I like that description's humanity and humility; that Calabash Stories won the Robert C. Jones Prize for Short Prose by the Pleiades Press of the University of Central Missouri shows how its themes and artistry resonate far and wide.
Calabash Stories by Jeffrey Higa (Pleiades Press, University of Central Missouri, $17.95), dashophnl.com.