Pidgin History 102: How Hawai'i's Unique Language Got Its Start
Pidgin to Da Max, classic local shows and comedians brought our language to the forefront. But in the first of our four-part series on pidgin, Da Pidgin Guerrilla Lee Tonouchi digs into its roots.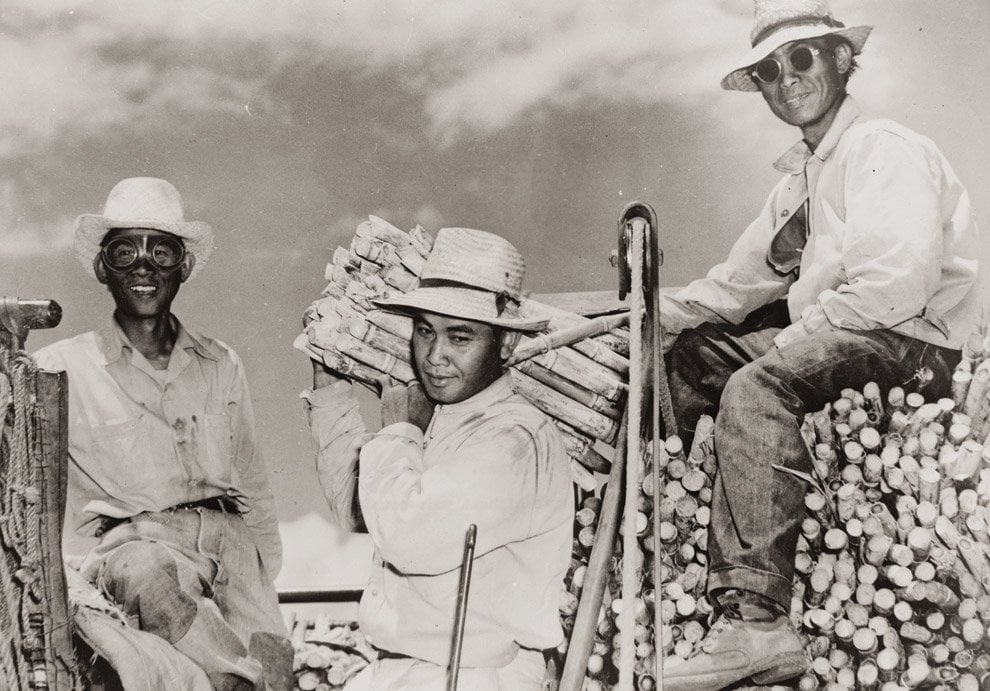 Editor's Note: This is the first of a four-part series taking a look at the past, present debates and future of Pidgin by Lee Tonouchi. Here are the other parts of Pidgin 102:
Hawai'i local people call Pidgin, Pidgin, but as not really one pidgin. You probably tinking, "Hah?"
So, I stay writing dis fo try explain da way I write, jus in case you stay confuse. Cuz my writing maybe look little bit, small kine like English, but as not. And even if get couple Hawaiian vocabularies inside, as not Hawaiian too. Dis what local people in Hawai'i call "Pidgin." (Not "pigeon," so no call em "bird" like Hawai'i Five-0 … so lolo!)
Most local people trace da birf of Pidgin back to da sugar plantation time days. But what maybe dey nevah tink wuz, could start even mo far backer to da Hawai'i maritime era of da late 1700s to da early 1800s. My colleague Kent "Yoda" Sakoda, him, he da preeminent Pidgin linguist in Hawai'i, he wen go tell during dis time, "A makeshift form of communication resulted between Hawaiians and Euro-Americans with Hawaiian, English, Chinese pidgin English, and a maritime Polynesian pidgin being part of the mix of languages available." Dis wuz kinda da beginning of one port kine pidgin (take note of da small, lowercase kine p) dat started fo grow mo and mo stronger wit da sandalwood trade and den spouting when wuz da whaling period time.
Aftah da mid-1800s, when whaling wen go kaput, da Hawai'i economy had for shift to agriculture and da Hawaiians who wuz da initial workforce on da plantations brought da port pidgin, dat had kinda turn into one Hawaiian pidgin, wit dem to da sugar cane fields. Kent tell, "It is this language and a foreign talk English that would form the basis on which a subsequent English-based pidgin would develop."
SEE ALSO: Photo Essay: Everyday Life in 20th Century Honolulu
As da sugar cane and pineapple industry took off, Hawai'i had fo bring in wave aftah wave of immigrant Chinese, Japanese, Portuguese, Okinawan, Puerto Rican, Korean, Filipino, and oddah laborers from all over da world, li'dat. Eventually fo communicate wit each oddah, da workers created one new kine second language, one pidgin. But dis pidgin no wuz so stable yet. People could tell someting one way one day and da same ting one noddah way on one different day. Had plenty difference between da ethnic groups too. All kapakahi wuz.
Sometime between 1905 and 1920, when childrens started for use da pidgin as their firstest language, as when linguists tell our pidgin came one Creole, what dey call Hawai'i Creole, one language das fully develop wit one complex, full on grammar, everyting! If you no believe, try go check out da textbook Pidgin Grammar: An Introduction to the Creole Language of Hawai'i by Sakoda and Jeff Siegel.
So das what I mean when I tell, what we call Pidgin (try take note of da uppercase P cuz we talking specifically about Hawai'i Creole), as not really one pidgin anymore. Our Pidgin actually one Creole now—one full blown, complex language!
Not all pidgins around da world come one Creole. Sometime dey can jus fade away. Sometime dey can stay one pidgin fo one real supa-long time. Most time take several generations before da pidgin might come one creole, if evah.
Our Hawai'i Creole stay kinda one linguistic mystery. Linguists still trying fo figgah out how we did 'em so fast. Only took us one or two generations. Our Pidgin like one miracle, brah.
I had braddah Kent check da Pidgin linguistics stuff, cuz as what he do. He use to be da director fo da Charlene Sato Center for Pidgin, Creole and Dialect Studies at UH Mānoa.
And in case you wuz wondering hakum da title of dis piece stay Pidgin History 102 and not 101, it's cuz da stuff I stay telling you, dis all next level kine stuff, li'dat!
---
"Da Pidgin Guerrilla" Lee A. Tonouchi's works written in Hawai'i Creole have gained national recognitions. His Pidgin poetry collection Significant Moments in da Life of Oriental Faddah and Son won da Association for Asian-American Studies book award. His Pidgin children's picture book Okinawan Princess: Da Legend of Hajichi Tattoos won one Skipping Stones Honor Award. An' den his Pidgin play Three Year Swim Club wuz one Los Angeles Times Critic's Choice Selection.
Some of Tonouchi's local prizes include winning da 2004 grand prize in da 21st annual HONOLULU Magazine fiction contest for his story "Seven Deadly Local Sins." An' den hana hou, brah, in 2006, he won da grand prize again for his story "Legend of da River Street Gambler." Be sure for read his HONOLULU Magazine classic "Da Untold Story of Hawaiian Santa." Even though came out in 2014, it's even more relevant today.