Photo Essay: Everyday Life in 20th Century Honolulu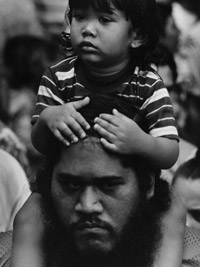 Everyday life: you wake up, throw back some coffee, get dressed, head off to work. In the evening, or on weekends, there is fun to be had: hitting a favorite restaurant, listening to some music, maybe a carport party with neighbors, or the beach with the kids. If you suddenly woke up in, say, 1911 or so, all this would still be true, but the details—and the city—have changed dramatically since then.
We hit the archives for this collection of photos from everyday life in Honolulu over the past roughly 100 years to rediscover what we wore, where we worked, how we played.
This is how we lived.

Salute! Sailors cross King Street as trolley cars and Model T's zoom by in this 1925 photo. Flags line the street in honor of the U.S. Navy fleet's arrival in Honolulu.
photo: bishop museum

Our iron industry: Honolulu Iron Works workers, and their bosses pose in the undated photo above. As the sugar plantations thrived, so too did David Weston's machine shop, which began producing the hardware of the sugar mills. His invention of the suspended centrifuge for drying sugar revolutionized the industry. By the early 1900s the Iron Works was making complete sugar "factories" for Hawaii's Big Five sugar planters as well as for factories in Puerto Rico, Cuba, Mexico, the Philippines and in Louisiana.
After decades of unstoppable success, in the 1950s Honolulu Iron Works began to feel the effects of the changing industry. The company faced stiff competition on the Mainland and many plantations were making and repairing their own parts. In 1973, Honolulu Iron Works shut its doors for good.
photo: state archives

Going to the Market: The first people of Chinese ancestry arrived in Hawaii in 1788. The community remained small until 1852, when the first Chinese contract laborers arrived. By 1900, around the time this photo was taken, almost 26,000 Chinese people called Hawaii home. While most were plantation laborers, some residents opened restaurants, apothecaries, launderettes and markets, like the men pictured above.
photo: state archives

Our Downtown: In its early issues, Paradise of the Pacific, predecessor of HONOLULU Magazine, every month listed "Facts about Honolulu," listing the city's population, attractions and businesses. It also listed things that didn't exist in Hawaii, "such as no venomous reptiles, no cyclones, no virulence in epidemic diseases, which are generally serious elsewhere," and more.
Photo: state archives

Dining out in 1913: The staff prepares the dining room of the Alexander Young Café on Hotel and Bishop streets. The café was part of the 300-room Alexander Young Hotel, its namesake a prominent Honolulu businessman. Young opened the hotel in 1903 and would later buy the original Royal Hawaiian Hotel at Richards and Hotel streets and the Moana Hotel in Waikiki.
photo: l.e. edgeworth / bishop museum

Fresh Catch: Men pose alongside their catch in a local fish market. "The fishing day for the tuna fleet start at about 4 a.m.," notes Paradise of the Pacific. "Tuna boats with a good day usually bring in from 5,000 to 15,000 pounds each day."
Photo: bishop museum / keystone view company

Coming to Hawaii in 1913: Chinese men gather around eating bowls of rice aboard the steamer Sierra en route to Hawaii. The men were most likely contract laborers brought over to work in the plantations. This image was originally printed on a postcard.
Photo: state archives

Hands on Learning: Children learn to sew in a Waipahu classroom in this 1914 photo. Education during this era emphasized manual skills, such as sewing, carpentry and printing.
Photo: bishop museum

Our Advertisements: In the early 1900s, large, freestanding billboards dotted Oahu's downtown landscape. Many advertised cigarettes, bars and plays. Some were political, such as the Hawaiian-language one above promoting a Territorial Legislative candidate. Some residents actively protested billboard advertisements, especially Outdoor Circle members.
Photo: state archives
Afternoon snack: Why shimmy up a papaya tree when you can just stand on the roof of your 1928 Willys Knight?

Photo: State Archives

Desk jockeys: Honolulu businessmen and their secretary take a break from work to pose for this 1920s photo. By then, telephones, typewriters and mechanical adding machines were commonplace in Island offices.
Photo: Bishop Museum

How We Got Around: Many of us may take modern transportation for granted, whether we're heading to and from work in our cars or mopeds, catching TheBus or hailing a cab. The way we get around our city has greatly advanced.
In October 1899, Henry Baldwin and Edward Tenney became the first Honoluluans to drive automobiles in the Islands, cruising down King and Punahou streets. The papers described the two vehicles as Wood electrics. By 1914, there were 1,782 registered car owners. That same year, townies could get to Bijou Theatre by riding in a Model T Ford from the Honolulu Taxicab Company. The fare was $.15 to $.75 ($3.40 and $16.99 in today's dollars).
The first traffic light was installed in 1936, at Nuuanu Avenue and Beretania Street. By then some laws were already in place, such as requiring lights after dusk, vehicle taxes and a four-mile-per-hour speed limit over bridges.
Photo: State archives

Open Wide: If you had a toothache in 1935, you could get dental work done at Palama Settlement. The settlement first began providing care and social services to Oahu residents in 1896. By then Western dentistry was well established in Hawaii. Dr. Mott Smith, Hawaii's first professional dentist opened his office in 1851.
photo: state archives

To Serve and Protect: Dozens of boys, part of the Honolulu Police Department's Junior Police Officers, parade down a Honolulu street in the 1920s.
photo: state archives

Shot in the Arm: In 1929, the Department of Health started vaccinating Honolulu school children against diphtheria. At the time, the bacterial disease was a major health concern in the Islands. In 1936, a law passed requiring all students to get vaccinated before enrolling in school.
photo: state archives

Trained Nurturers: Board of Health nurses pose on the steps of Palama Settlement in this 1935 photo. Nurses were educated there, and at the Queen's Hospital School of Nursing, Hawaii's first accredited nursing school.
photo: state archives

Local Filipino men celebrate their home country's independence in 1934 with a patriotic float at the Iolani Palace grounds. More than 63,000 Filipinos lived in the Islands in the early 1930s.
photo: state archives

Cooking 101: Palama Settlement offered home economics classes in 1935 aimed at teaching women to cook "and become more able housewives."
photo: state archives

Social Hot Spot: In 1937, Benson Smith Drug Store, on King and Fort streets, was a mainstay in Honolulu, not only for its pharmacy, its supply of toiletries, candy and perfumes, but also for its soda fountain. It was a popular meet-up spot for the town's socialites.
photos: bishop museum

Home cooking: Mary Dimond sits next to the traditional Hawaiian dishes she's prepared for sale at the King Market on King Kekaulike Street in this 1939 photo.

Good Eats: P.Y. Chong (left), his son (in the car) and four unidentified women pose with Chong's new LaSalle in front of his legendary Waikiki restaurant, Lau Yee Chai, in 1937.

How We Traveled: Traveling to Hawaii from the West Coast in the 1930s used to be a five-day journey, with wealthy passengers pampered along the way with gourmet food, drinks and services. Matson's luxury liners epitomized the era's preferred travel mode of transportation.
The first successful air flight from Oakland to Wheeler Air Field took place in 1927. That same year, the John Rodgers Airport opened, later renamed the Honolulu International Airport. Inter-Island Airways (now Hawaiian Airlines), the Islands' first local airlines, began operating in 1929, using two Sikorsky seven-passenger planes and a Bellanca monoplane.
It was the arrival of regular jet service between Hawaii and the Mainland in 1959 that jump-started decades of growth and prosperity in the Islands. The flood of new travelers to Hawaii sparked a surge of development in Waikiki. Almost 10 years later, Matson's Lurline took its last voyage. Hawaii was no longer the exclusive destination of the wealthy.
(Above) Fifteen hours after departing from San Francisco, 25 passengers on the 1939 inaugural flight of Boeing's California Clipper arrive in Honolulu.
photo: state archives

Hanging Out: Friends share a meal inside the garage of their host in this 1945 photo.
photo: tai sing loo / bishop museum
Fight! Four-year-old boys clinch during a Maryknoll Grammar School boxing class led by Father Dan McLellan around 1935. Six Maryknoll Sisters from New York opened the school in 1927 and expanded it in 1935. It was the first Catholic, co-ed school in Hawaii.

photo: state archives

Employees of Violett's Ladies Apparel.
photo: bishop museum

Hal Wilcox (left) and Harvey Dukelow (right) silk-screen fabric at Hawaiian Hand Prints in 1949. Aloha prints took the town by storm, on shirts and upholstery.
photo: ray j. baker/ bishop museum

Touchdown: Four UH Rainbows football players talk strategy in their huddle in this 1946 photo. The Rainbows, which were first founded by the College of Hawaii in 1909, played in the 24,000-seat Honolulu Stadium in Moiliili.
photo: honolulu magazine archives

Driving in style: Honolulu midwife, Elsie Masao Tsuchiyama poses in front of her 1950 Chevrolet.
photo: bishop museum

Watermen: The men of the Healani Boat Club gather for a group shot. The club formed in 1890 and was the only active rowing club during World War II. In 1950, the club became a member of Hawaiian Canoe Surfing and Racing Association, along with the Outrigger Canoe Club, Waikiki Surf Club and Hui Nalu Canoe Club.
Photos: state archives

Plantation Work: Filipino laborers at work in the sugar plantations circa 1950. The men rolled down furrows on modern agriculture machinery. Training programs enabled them to learn new skills, which earned them the highest year-round agricultural wage in the world.

Kite Day: Mid-Pacific Institute students around show off their hand-made kites in this photo taken between 1925 to 1935. Today, the school still holds kite days for its students.

Small Kid Times: Little girls pose outside St. Anthony Orphanage in Kalihi in 1946. The orphanage was founded by Bishop Libert Boeynaems in 1909 and run by members of the Sacred Hearts Congregation (which also founded Sacred Hearts Academy).
| | |
| --- | --- |
| | Family Portrait: Simona Baysa with daughters Evelyn (left) and Ruth (on her lap) sit in the door of their home in this 1945 photo. |

Survivors: Flood victims paddle down a Kailua street after the 1951 storms. As a result of the flood, the U.S. Army Corps of Engineers built a levee in front of the Kawai Nui Marsh—the largest wetlands in Hawaii—to control heavy rainwater in the future.

Cruisin': Lucky you live Hawaii, then and now. Dozens of children frolic on the beach in this photo taken around the mid 1940s.

Going Holo Holo: A 1960s Volkswagen towing a rented camper sits parked at Punaluu Beach Park in 1965. The "Bug" would be a favorite local ride for decades.
Photo: alfred uprichard

Shopping at Longs: Shoppers stock up at the Longs in Kahala Mall in the above photo. Brothers Joe and Tim Long started the chain in California in 1938. The first Hawaii location opened in 1954 on Hotel and Bishop streets and quickly developed a loyal following. It wasn't long before Longs had 36 locations statewide.
Island Longs employees sport aloha shirts and the store also, unlike its Mainland counterparts, carries all the local necessities, from cans of Spam, large bags of white rice and crack seed to kukui nut and flower leis and rubber slippers. In 2008, CVS Caremark Corp. acquired Longs Drugs Stores for $2.9 billion, but smartly decided to keep the Longs name locally.
photo: bank of hawaii / bishop museum

Play Ball: A Kainalu Little League ballplayer rides his bike near his home on Kaha Street in Kailua in this 1957 photo.
photo: alfred uprichard

Welcome to the '70s, a decade of sideburns and letting it all hang out. A couple shares a kiss in front of a lunch wagon in this 1970 photo.
Photo: Bishop Museum

Surf's Up: Kimo Uprichard poses in his Mokapu Boulevard backyard in Kailua before catching some waves in this 1965 photo. Casual surf had taken off here and on the Mainland.
Photo: alfred uprichard
A Hawaiian man and his son enjoy a parade in Waikiki in 1978.

Photo: Brett uprichard
Waikiki People Watching: Two men relax under a covered public bench fronting the old banyan tree near the Hyatt Regency Waikiki in this photo from the late 1970s.

photo: brett uprichard

Club Days: "A new wave devotee: synthetic fabrics in lurid colors," observes a 1982 HONOLULU story about the Wave clubbers below. "It's rock 'n' roll—old, new, borrowed and blue—and it's back in charge at Waikiki night spots."
photos: honolulu magazine archives
Wave Waikiki's famous "sign". The club closed in 2006, replaced by a high-rise luxury condo.

Photo: brett uprichard

The Computer Revolution: By 1982, more and more computers were seen perched on desks in offices, but that was just the beginning. "Ready or not, your household faces a computer technology invasion," observes a December HONOLULU story of the same year. "You can resist or you can open your doors quietly (and happily)."
Ad for a local furniture showroom, HONOLULU Magazine, March 1982.
photo: honolulu magazine archives

Catching Da Bus: Farrington High School students wait to catch the bus after school in this photo circa 1982.
Photo: Brett uprichard

Picky Eaters: Toddlers enjoy their fries and shakes at the Rose City Diner in Restaurant Row in this 1990 photo. Fifties-era nostalgia was big in Honolulu at the time, and the diner was one of the town's most popular. It was also during the glory days of Restaurant Row, back when it was known for its restaurants, such as Black Orchid and World Café.
photo: honolulu magazine archives

Represent: Members of Alii motorcycle club display their club tattoos in this photo taken in the 1990s.
photos: brett uprichard

Say Cheese: A group of friends take a hiking break from their Mokolii Island day trip to pose in front of the Koolau Mountain range in 1983.
When we saw this photo, we knew we had to close with it. May all of Honolulu's decades to come feel like this.

Surf Legend: Rell Sunn and Frank B. Shaner at their home in Makaha in the late 1980s.

photo: brett uprichard