Two-Minute Takeout in Honolulu: Fine dining from M by Chef Mavro
One of Hawaii's most upscale eateries has a three-course takeout for $30. Here's the review.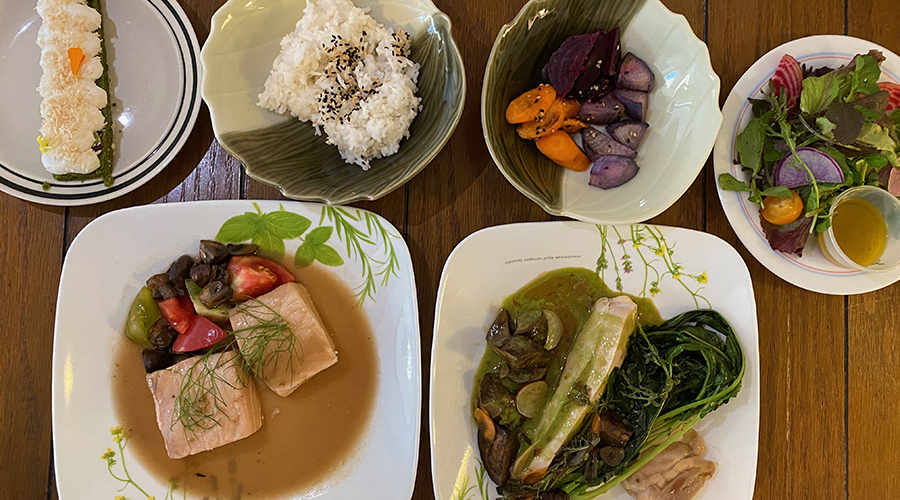 It's still a delicious landscape out there! As we ride out this pandemic by staying at home, many of us are trying takeout from places we've never been before. Kelli Shiroma-Braiotta picks up dinner from Chef Mavro, where dine-in prix fixe menus are $95 and $195, for a quick tableside review at home.
Hi, it's Kelli. Welcome to this episode of Two-minute takeout. This is the Braiotta home and it's date night. So for Two-minute takeout, we got M by Chef Mavro's gourmet meals. It's three courses for $30 per person. It comes with a salad so we have local greens with a house vinaigrette, charred vegetables, a side of rice, a choice of entree — we got one of each, the catch of the day which is a marlin and the ginger scallion chicken — and for dessert there's a matcha cake with coconut frosting and shredded coconut on top.
So ready to feast. I don't know where to start! I'll start with a little bit of greens.
The dinner by M by Chef Mavro is only on Fridays and Saturdays. You preorder by 3 p.m. and you pick up between 5 and 7 p.m.
*Eating
That housemade vinaigrette is really good. It's refreshing and citrusy at the same time. Now let's try some of the fresh catch.
*Eating
That's delicious and it comes with this really amazing sauce. Really, really good. And now this is the ginger scallion chicken. This is fine dining right from the comfort of your own home. The entrees and dessert change every week, so you'll have to go to their website to see what you're eating.
*Eating
That sauce is really flavorful. I love that ginger sauce, really strong flavor. And I'll try a little bit of the dessert, not too much so I can finish the entrees. You can see this matcha cake that's almost too pretty to eat.
*Eating
Wow, it's so light and delicate, and that coconut whipped cream is like eating a cloud. M by Chef Mavro was perfect for celebrating my husband's birthday and perfect for any special occasion. Cheers!
1969 S. King St., (808) 944-4714
More Two-minute takeout episodes:
Okata Bento
Hide-Chan Restaurant
Cafe Maharani
M by Chef Mavro
Yama's Mediterranean Cuisine
Ige's Lunchwagon & Catering
Aburiya Ibushi