Two-Minute Takeout in Honolulu: Hide-Chan Restaurant
A tableside review of crispy stuff from a longtime Moiliili hole-in-the-wall.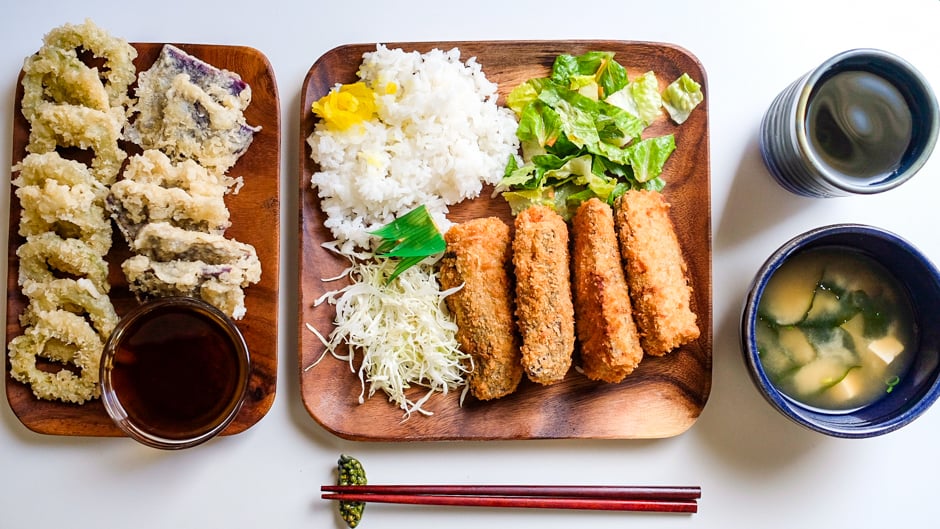 It's still a delicious landscape out there! As we wait for Oahu restaurants to reopen for dine-in, we're trying takeout from places we've never been before.
Hey everyone, it's Thomas again. I'm back for another Two-minute takeout. I was craving Okinawan. And this time I was looking on Facebook, and my friend posted about Hide-chan. I've never been to Hide-chan before, but this earlier this year I went to Okinawa and I'm craving (it). I'm craving Okinawan food.
And I've found something I've never tried before. It's called nasubi hasamiage, so think of a deep-fried, katsu'd eggplant but instead, it's stuffed with pork. So I'm like, "Yes! That sounds good." And I had to get goya tempura and I also got imo tempura, or sweet potato tempura, which is very good. I love that stuff.
So the teishoku set, of course, includes rice, salad, tsukemono and miso soup. And I think this is $14, $15. And then this (pointing to tempura) is like $10 as like a combo.
Let's dig in! Ooh, they're still crispy.
---
SEE ALSO: Eating Okinawan: Hide-chan
---
*Eating*
Mmm. Oh my God. That's really good. So you definitely get the texture of the eggplant, but there's like a piece of pork? Pork belly? Maybe pork tenderloin.
Oh. That's super good. And they give you these packets of a sweet katsu sauce to pour on top. Yum. Oh my God! I can't believe I've never been here before.
So the thing about Hide-chan, it's in Moiliili, it's cash only, they're a really small mom-and-pop operation. Like, my receipt is written out. Handwritten and then they stamp it and give it to you. Super cute.
Goya. Goya tempura.
*Eating*
So goya, as you know, is bittermelon. Oh, and it's bitter. So if you love that, get the goya tempura. The batter is super light. It's still crispy, too. Sweet potato. I love this combo because you get the bitterness, you get the sweetness, you kind of contrast both of them.
So good. I still can't believe I've never been here before.
And that's my Two-minute takeout from Hide-chan in Moiliili.
2471 S. King St., (808) 942-7900