Eating Okinawan: Hide-chan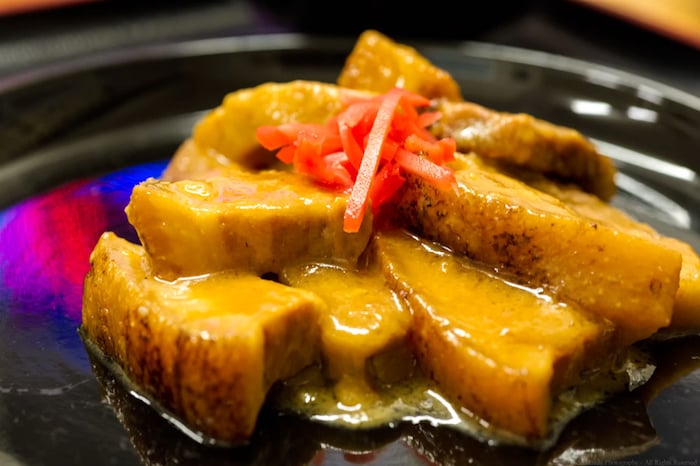 Honolulu is one of the rare places outside Okinawa where you'll find multiple Uchinanchu restaurants. Part 3 of our insider series looks at a hole-in-the-wall in Moiliili.
I don't go to Hide-chan for the atmosphere, I go there for the food. This unpretentious neighborhood gathering place has been in Moiliili since 2001. At the heart of it is Hidemitsu Tamayose, who does most of the cooking with help from son Joey. The front of the house is run by wife Chizuko, along with family friends who volunteer and help out.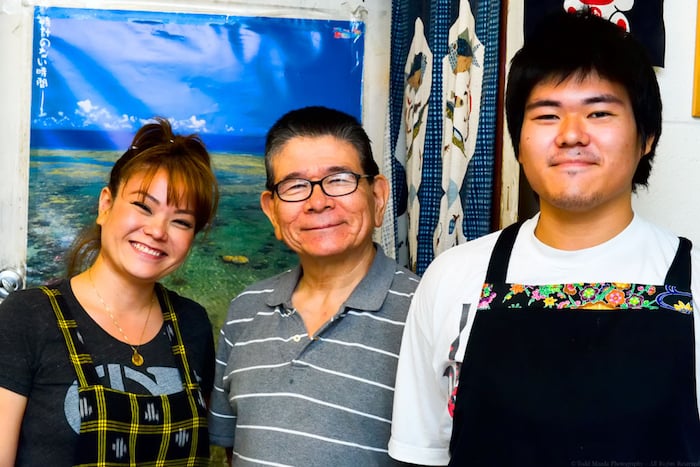 You can tell how much time and effort Hidemitsu Tamayose puts into his cooking — I appreciate the extra steps to ensure his tempura is light and crispy and his soup broth is without excess fat. Hidemitsu is a very quiet individual, but he expresses himself loudly with his wonderful food.
The original menu had only Japanese food because Hidemitsu did not think Okinawan dishes would sell. However, after regular customers started asking, he gradually added them in. The current menu breaks down to 65 percent Japanese and 35 percent Okinawan dishes. Most are offered teishoku-style, in set meals that include entree, salad, miso soup, tsukemono and rice.
Insider tips:
• Bring cash; Hide-chan does not accept credit cards. There's an ATM at the Longs across the street if you forget.
• It's BYOB with no corkage fee.
• Parking is limited to several stalls on the side. I usually find street parking on King Street and around Moiliili Neighborhood Park.
• Hide-chan is tiny — it seats only 24 people — and it does not take reservations.
THE FOOD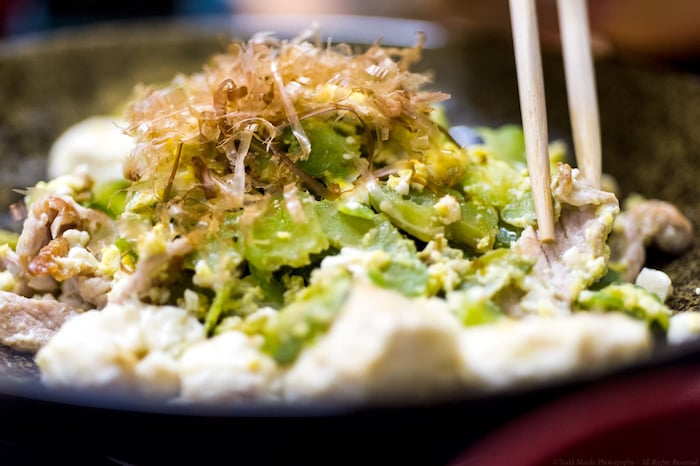 Goya champuru, $12.75
Champuru is a mainstay dish for Okinawans. It is a stir-fry of tofu, egg, goya (bittermelon) and pork (you can opt for Spam or chicken instead). Hide-chan tops their champuru with katsuobushi or shaved bonito flakes.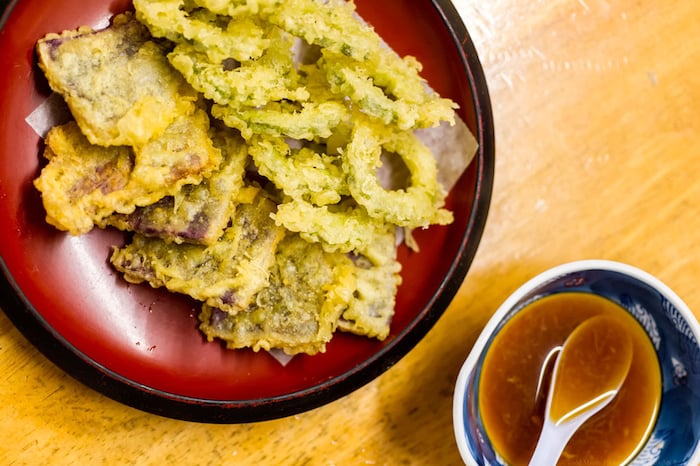 Special to Hide-chan: Imo (sweet potato) and goya tempura, $8.95
I mentioned that Hidemitsu is meticulous in his cooking. His purple Okinawan sweet potato and goya tempura is an example: It has a light batter with a nice crunch and more importantly, is not oily.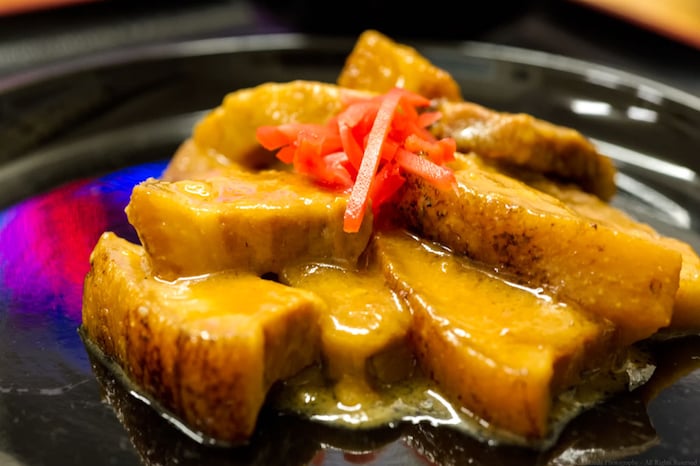 Special to Hide-chan: Miso rafute, $14
Rafute is a melt-in-your-mouth tender pork belly. Hide-chan's has a good balance of fat and pork that manages not to be greasy. The rafute is cooked and served with a light miso sauce which is incredible when eaten with hot white rice. I have not seen any other place offering miso rafute in Hawaii. Hands down, my favorite rafute on the island.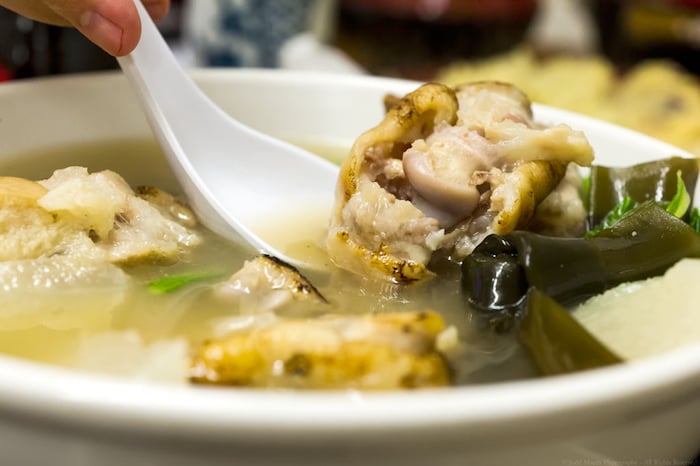 Ashitibichi (pig's feet soup), $14.95
Hide-chan's soup comes with the hock of the pig rather than the toes as well as konbu, daikon and mustard cabbage. The katsuobushi-based broth is light and has a faint hint of miso flavor. Hidemitsu skims off the fat for a soup that contains all the wonderful richness that comes from collagen without excess fat.
If you have never eaten ashitibichi before, it can be intimidating. Grant Sandaa Murata, chef and Okinawan food enthusiast, says to press the foot with your chopsticks to see if the meat falls off. If yes, then take the meat off the side and look for the collagen in the split between the bones. All the flavors of the ingredients should have gone into the fat, making the taste sublime. Grant also advises putting a bit of the grated ginger into the soup before eating.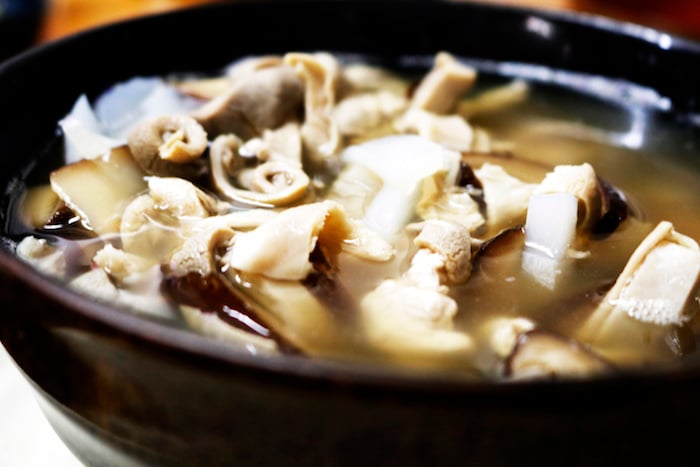 Nakami soup, $14.95
Okinawans eat pretty much every part of the pig. Nakami soup utilizes the stomach. Before you freak out, let me say that Hidemitsu boils and rinses the stomach in sake multiple times to tenderize it until there is no smell and he deems it clean. The soup broth is made with katsuobushi and a pork bone dashi. In addition to the stomach (which is really tender), you'll find konnyaku, pork and shiitake mushrooms. Tip: Add some grated ginger to the soup, then try to eat some of each item together for the best flavor. Nakami is not for everyone but it is authentic Okinawan cuisine. Give it a try!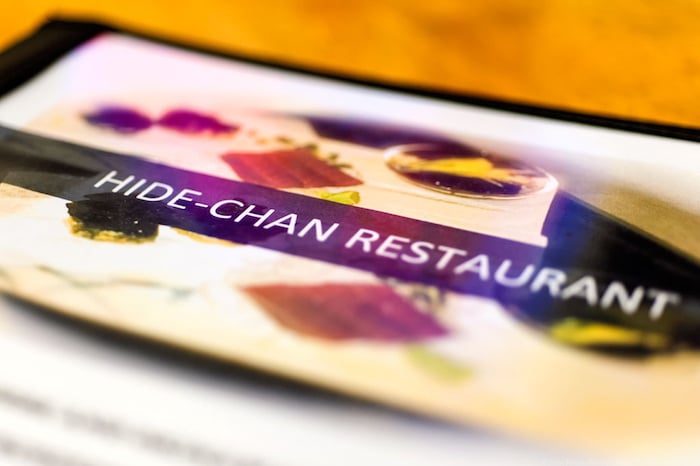 For a lot of people, Hide-chan evokes nostalgic food memories and they feel like they are back in Okinawa. For me, it is a wonderful connection to the place my grandparents came from.
Hide-chan Restaurant
2471 S. King St.
942-7900
Monday-Saturday 11 am to 2 pm
Monday-Thursday 5 to 8:30 pm
Friday-Saturday 5 to 9 pm
Here's the rest of our Eating Okinawan series:
Photos courtesy of Todd Maeda