Two-Minute Takeout: Ige's Lunchwagon & Catering
When the plate lunch craving hits, sweet and sour spare ribs hit the spot.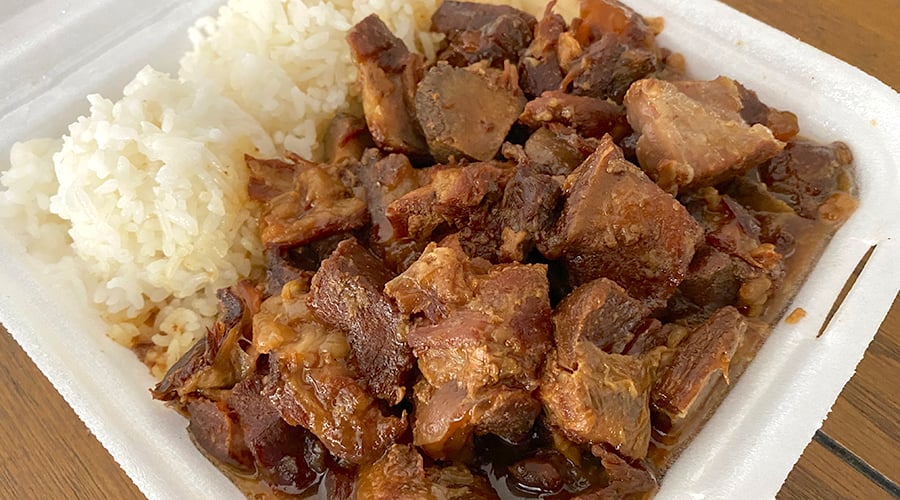 It's still a delicious landscape out there! As we ride out this pandemic by staying at home, many of us are trying takeout from places we've never been before. Kelli Shiroma Braiotta was craving plate lunch, so she stopped by Ige's Aiea. Ige's is known for its catering menus and local comfort food, but plate lunch takeout is available at its walk-up window. 
Hi it's Kelli, and we're back with Two-minute takeout. I've been craving plate lunch so for this episode, I went to Ige's in Aiea.
Ige's is known for its catering menu with local comfort food, but you can order plate lunch from the takeout window.
I wanted to show you the sheer size of these plate lunches. This is their famous sweet and sour spareribs. I wish you could smell it. It smells so good! The sweet and sour spareribs were a Friday special at Ige's. The daily specials change every week, and Ige's posts its weekly menus on Instagram.
I don't even need to use my knife to cut this. It falls off the bone right there. *eating* Mmmmm. So meaty and tender. This is supposed to be my husband's plate lunch but I might be eating more of that.
Can you see? This plate is heavy. With fish entrees like furikake ahi, you get a choice of dipping sauce. I went with their most popular one, their roasted garlic aioli. *eating* Mmm. I love how the furikake gives it some nice crunch. Oh, this sauce is good. It's really garlicky but since we're social distancing, I don't need to worry about my breath after.
And now for some of that roast pork. *eating* That is good gravy. It's a little bit more on the liquidy side but super flavorful.
Last but not least, got to try one of these fresh andagi. *eating* I haven't had fresh andagi in so long. I love that it's served warm.
I'm going to shut this thing off now so I can keep eating. See you guys next time!
More Two-minute takeout episodes:
Aburiya Ibushi
M by Chef Mavro
Yama's Mediterranean Cuisine
98-025 Hekaha St., (808) 486-8728. Lunch takeout window open Tue–Sat, 9:30 a.m.–1 p.m.