Our Favorite New Hawai'i Restaurants of 2022
These were the places Frolic's writers couldn't stop thinking (and writing) about.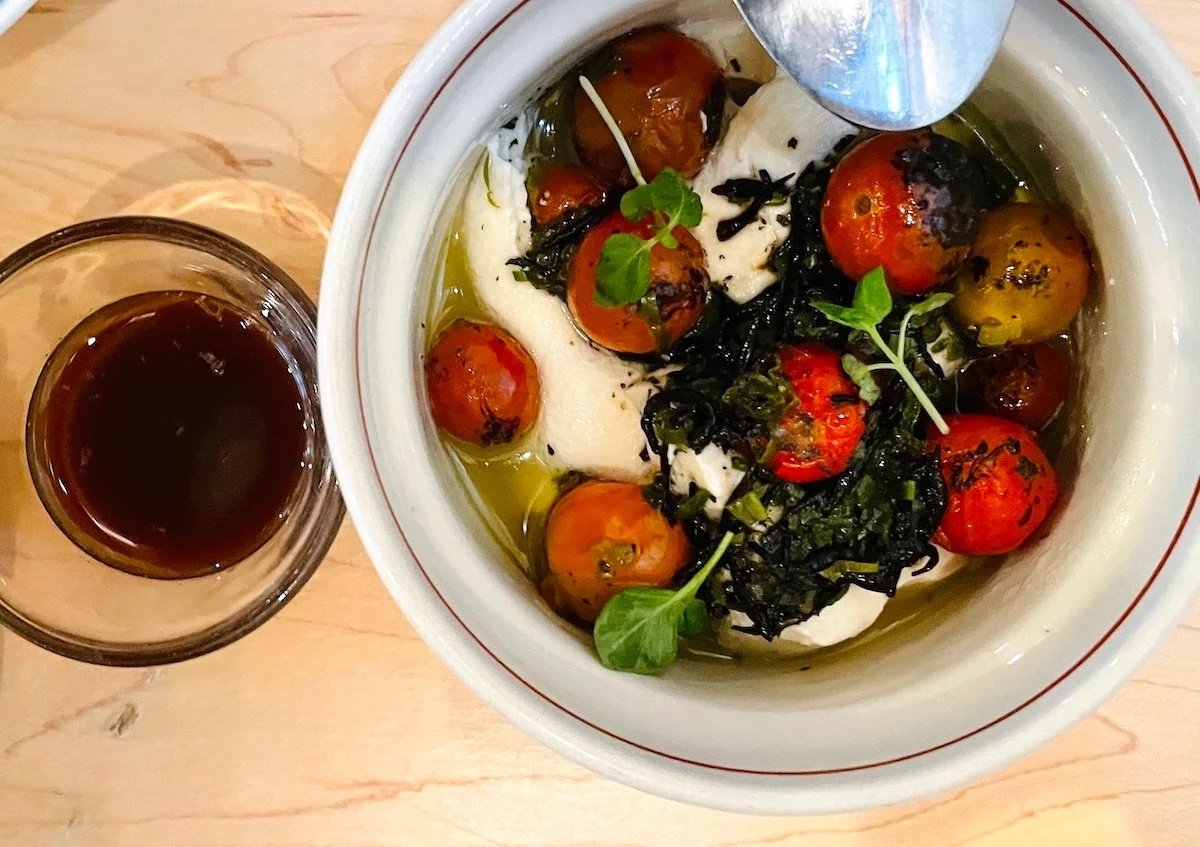 The places we found most 'ono, that thrilled our taste buds again and again: Frolic's writers sent in their picks in secret, to avoid the temptation to broaden our spotlight by offering up a range of Hawai'i eateries. Here are the results.
Nami Kaze
From savory bowls of steamed egg custard "omelets" slathered with creamy mentaiko and embedded with ikura jewels to crisp, lighter-than-air 'ulu tots stacked high in Grandpa's crack barbecue sauce, Nami Kaze is a soul-satisfying look beyond the expected. Food and drink are consistent, timely and served with gusto. My favorite trick of 2022 has been convincing anyone and everyone who wants to eat to meet me there. —Maria Burke
Second favorite: Tiffany's Maui
---
SEE ALSO: Sheldon Simeon's Tiffany's Maui Is a Homecoming for Palate and Soul
---
Nami Kaze opened its dining room in June for brunch … which is fabulous. Then dinner service started in November, which confuses me because I can't decide which I like better. For brunch, I think The Omelette is my favorite—two eggs steamed to a silky custard texture and smothered in mentaiko mornay sauce. Or maybe it's the ginger fried chicken. No, possibly it's the cured salmon toasts. You get the picture. It's impossible to choose, so you need to go there multiple times. For dinner, I'm pretty sure my favorite is the grilled abalone with house bread or the 'ulu with tri-color dipping sauces, but I'm going to investigate further. Again. Soon. —Melissa Chang
Second favorite: Margotto Hawai'i
---
SEE ALSO: We Tried Margotto, Kaka'ako's New Truffle-Centric Restaurant
---
I've already expressed my appreciation for Nami Kaze in lots of words, and this probably won't be the last. I've been delighted from the first time I had brunch there, with the honey walnut shrimp and waffle, and chawanmushi masquerading as omelets, to my most recent visit, with Kona abalone dressed up oyster Rockefeller style and 'ulu tots that taste more like fried polenta. And keep that sake on tap flowing! —Martha Cheng
Second favorite: Le's Banh Mi
---
SEE ALSO: Legit Banh Mi Lands on Top Floor of 808 Center in Honolulu
---
Nami Kaze at Pier 38 bewitches with fresh, unexpected flavors coaxed from plate after plate of predominantly local food—from carrots, 'ulu and beets to lamb and a gallery of seafood. In a year when eating at new restaurants still seemed a rare treat, the creations of chef Jason Peel proved delightful because of the inventive way he prepares such a wide variety of ingredients. All the small plates encourage us to gather friends so we can try more dishes each time. I can go on about the tomatoes and the eggplant, both served hot and cold, the 'ulu dishes, the Ahiki Acres beets pickled and served with avocado, quinoa and gochujang. Or the lamb special served two ways, the meat sliced with an herbaceous topping and the bones cooked in hoisin sauce so we could savor every bit. Each time, we find new favorites. —Robbie Dingeman
I love izakaya culture. Small plates of shared food that allow me to experience many different flavors while engaging in spirited conversation. Nami Kaze has created its own izakaya footprint in the sand with an inventive menu and on-point technique. Within a comfortable setting of high ceilings, communal tables and an open kitchen, this has become a new family favorite on the list of izakaya to return to in Hawai'i and Japan. —Gregg Hoshida
Second favorite: Prime Roast Café (opened end of 2021)
---
SEE ALSO: Date Night Dinner Downtown at Prime Roast Café
---
The lobster on the chawanmushi got me first. Having never been to Nami Kaze for brunch, my only inkling about Jason Peel's style of food was from the reports of besotten friends. So my first bite was that lobster, followed by blistered shishito peppers and cloud-like 'ulu tots—all spawned by simple izakaya and pub fare but touched with the unexpected: gochugaru and lemony brown butter, honey and preserved calamansi. The 'ulu was dressed in Peel's grandfather's barbecue sauce and drizzled with grated tomme. The one-two-three punches immediately broadsided and brightened my world. —Mari Taketa
1135 N. Nimitz Highway, (808) 888-6264, namikaze.com, @namikaze.hi
---
SEE ALSO: Nami Kaze's New Izakaya Style Dinner Is One of Honolulu's Best
---
Little Sparrow
Who would have thought to open a spaetzle concept in Hawai'i and make it work? I love their signature spaetzle bowls like the Garlic Shrimp or the Poipu bowl with smoky kalua pig and grilled pineapple tossed with the bouncy egg pasta. —Thomas Obungen
Multiple farmers market locations, @littlesparrowhnl
---
SEE ALSO: Farmers Market Finds: Nouveau Spaetzle Bowls in Kaka'ako and Kailua
---
Second favorite: Pizza Dadi
---
SEE ALSO: Pizza Dadi Brings Mad Bene's New York-Style Pies to Ward Village
---