Pizza Dadi Brings Mad Bene's New York-Style Pies to Ward Village
Mad Garlic, NYC and Hot Honey pizzas headline a modest menu with big sides at the former Goma Tei Ramen.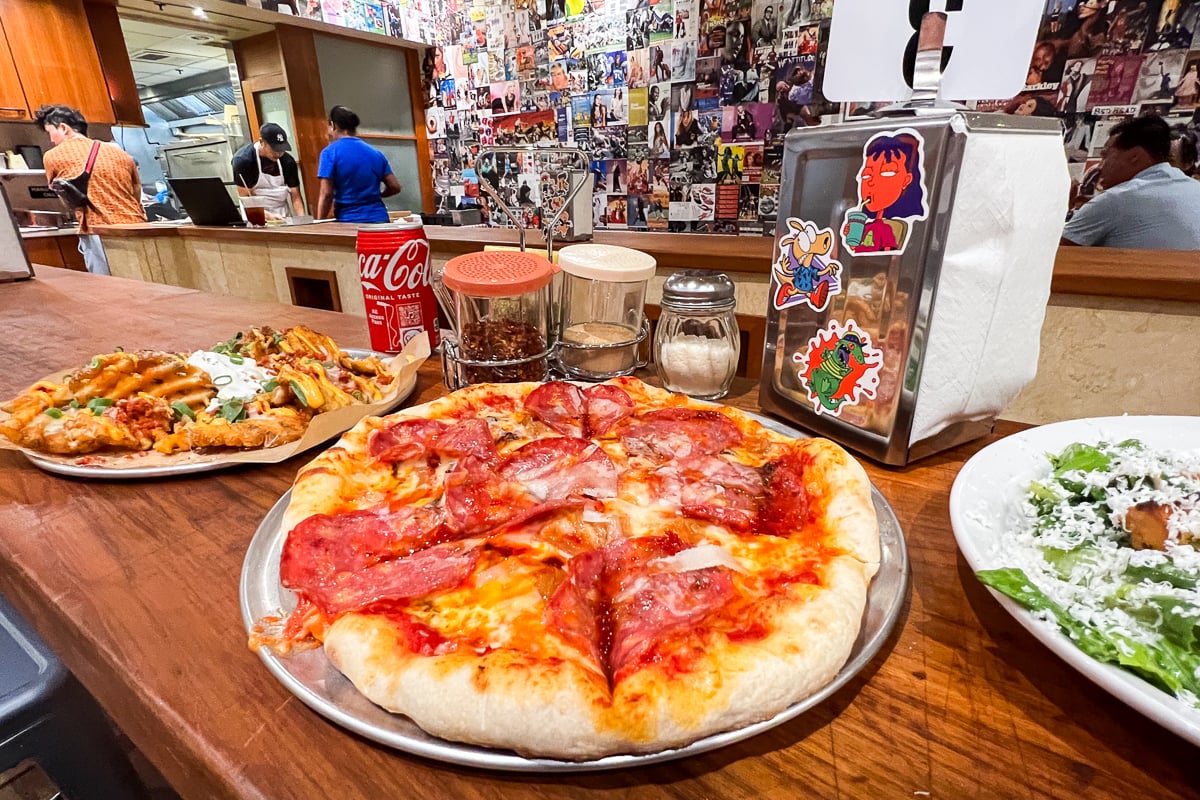 Do you know how often I've said that I wished Kapolei's Mad Bene were closer to town? Since DB Restaurant Group, owners of the Kaka'ako Korean karaoke dive bar Duck Butt, opened the East Coast Italian restaurant in late 2019, it's been one of the rare West side eateries that townies yearn for. Now our wishes are coming true. Pizza Dadi, DB Group's new pizza counter, opens this Saturday, July 23, at 11:30 a.m. in the former Goma Tei Ramen at Ward Centre.
Pizza Dadi's identity is a total millennial vibe: walls plastered with pages of Sports Illustrated from the early 2000s, napkin dispensers dotted with Rugrats stickers and Sixpence None the Richer blasting on the sound system. You almost expect to find Chandler, Monica and Phoebe at the table behind you. I love it. I also love that the oddly shaped ramen counter has been retained. It lends to the super casual atmosphere—you feel like you could walk in and order a pizza or some chicken wings anytime.
---
SEE ALSO: First Look: Mad Bene, a New Italian-American Restaurant in Kapolei
---
This is the main difference with Mad Bene, where house-made pastas and pizzas feature on a larger menu with appetizers and main dishes. During a hosted media preview, I learn that Pizza Dadi has a pizza side and a not-pizza side, which encompasses Buffalo wings, zucchini parmesan sticks, loaded fries and salads. Bringing booze is highly encouraged, and there's no corkage.
First, they send out a Caesar salad ($15) loaded with snow white ricotta salata. Under the blanket of cheese, I find anchovy fillets, well-dressed Romaine hearts and garlic butter King's Hawaiian Sweetbread croutons. It's a substantial salad with a ton of flavor, enough to share among two or three friends. I also get a pan of the Dadi Fries ($14), which tastes like the hot love child of baked potato and pepperoni pizza.
If you're a fan of the Crispy Potato Guy at Mad Bene, consider this tray of taters his hipster townie cousin. Waffle-cut potato fries tossed with "pizza spices" are topped with mozzarella cheese, ground Ezzo pepperoni, creamy ricotta, scallions and a lashing of Calabrian chile aioli. These alone would make for an ideal sobering late-night meal—if only Pizza Dadi were a late-night spot.
But the pizza, you ask? Yes, the pizza! I'm a fan of Bao Tran's way with dough and sauce, so it makes me warm and fuzzy inside to see my Mad Bene favorites, the NYC—a take on a classic pepperoni—and the Carbonara, with its runny egg garnish, have made it to Dadi. I try the Hot Honey ($20), which has soppressata salami, nduja spreadable spicy sausage, caramelized onions and drizzles of house-made Calabrian chile honey. Its sweet overtones are more robust than I expect, then it dawns on me that it tastes a bit Korean. I doubt that is the flavor inspiration, but I can't get past the balance of sweetness and spice that Korean cooks do so well.
The crust of the pizza is foldable, like a proper New York slice, and works the jaw muscles a bit. In the smaller kitchen space, the ovens at Dadi are not the same as the brick ovens in Kapolei, though the difference isn't perceptible. But while Mad Bene discourages pizza customizations, Dadi is laxer: Custom pies and topping mods are welcome. You'll can also finetune your slices with the caddies of pizza herbs on the counter.
---
SEE ALSO: My 5 Favorite Tacos on O'ahu Right Now
---
I finish my pizza bender with another Mad Bene fav, Mrs. Tran's Tiramisu ($11), a creation of the chef's wife. Despite my inability to eat more food, I can't resist getting a slice. It is as light as air.
In addition to Taqueria El Gallo Rosa, the Kailua eatery that expanded recently to the former Kaka'ko Kitchen, Pizza Dadi brings more good company (and food) to Ward Village. Pizza Dadi will be walk-in and dine-in only for the opening period with takeout service to follow. So to whichever fairy godmother that granted my wish, grazie mille!
Open Tuesday to Sunday from 11:30 a.m. to 8 p.m., Ward Centre, 1200 Ala Moana Blvd., pizzadadi.com, @pizzadadi