Farmers Market Finds: Nouveau Spaetzle Bowls in Kaka'ako and Kailua
Little Sparrow tosses fresh German spaetzle with cheese, chicken and bacon, garlic shrimp or kalua pig.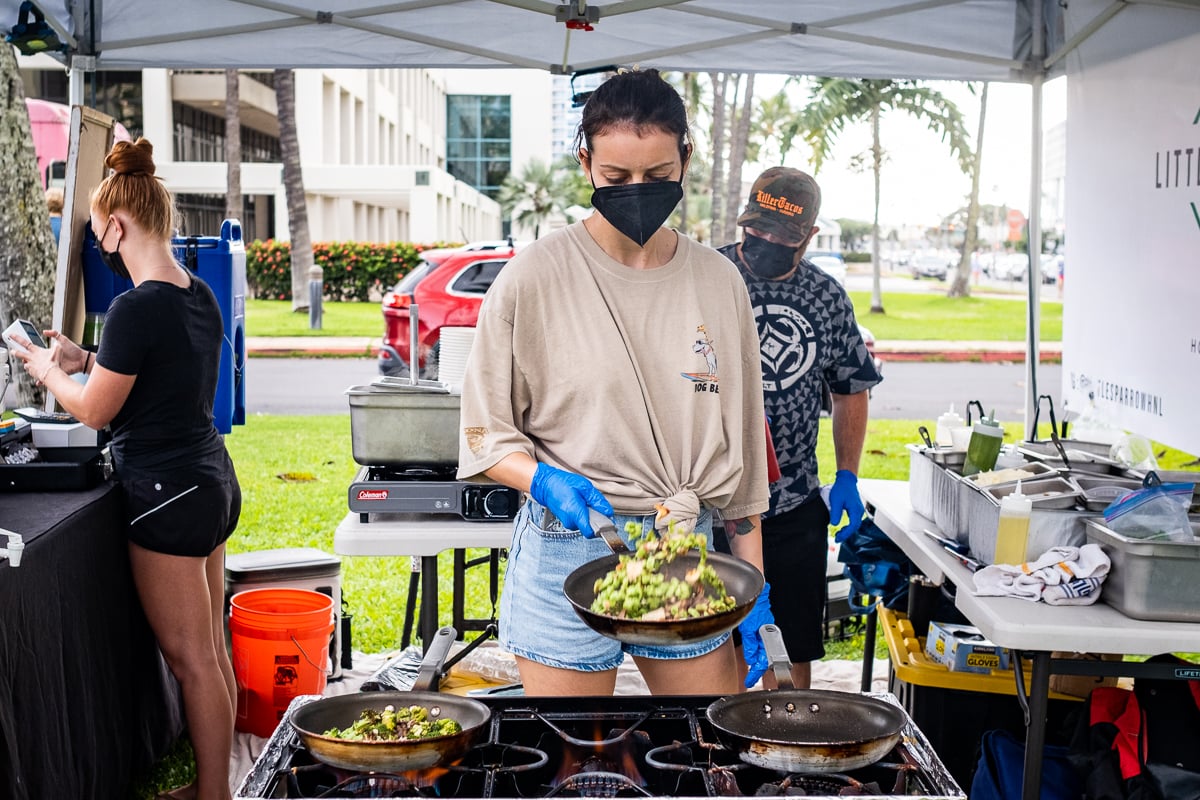 Farmers markets are breeding grounds for food innovation and some of Hawai'i's most successful restaurants. Frolic's series spotlights some of these 'ono finds.
What: Fresh spaetzle egg pasta
How much: $10 to $17
What market: Honolulu Farmers Market, 777 Ward Ave.; Kailua Farmers Market, 609 Kailua Road; Kaka'ako Farmers Market (Mauka side), 919 Ala Moana Blvd.
Vendor schedule: Wednesdays from 4 to 7 p.m. (Honolulu), Thursdays from 4 to 7 p.m. (Kailua), Saturdays from 8 a.m. to 12 p.m. (Kaka'ako)
Instagram: @littlesparrowhnl
A crowd gathers around a new tent called Little Sparrow on the makai end of the Honolulu Farmers Market. Flanking both sides of the white tent, two people juggle multiple pans of tiny dumplings, tossing them with confident flicks of the wrist as they sprinkle in handfuls of vegetables and grated cheese. It's enough to draw curious onlookers who bombard them with questions, myself included.
The miniature dumplings are called spaetzle—"little sparrows" in the Swabian dialect of southwestern Germany—for their teardrop shape that resembles the little birds. They're often served alongside a main course, simply dressed in butter or cheese. But at Little Sparrow, the spaetzle is actually the main.
You've probably noticed that spaetzle is rare in Hawai'i, but all you need to do is tell everyone it's pasta and usually with one bite they're hooked. That's what Little Sparrow's Vince McCarthy says as he tosses another order of his spaetzle. The former executive chef of Merriman's Honolulu and Waimea learned to make the dish 14 years ago when he worked at a German restaurant in Portland, Oregon. He brought this skill to every kitchen he worked in and opened Little Sparrow to start Hawai'i's spaetzle movement.
SEE ALSO: Farmers Market Finds: Mochi and Sourdough Belgian-Style Waffles in Kailua and Kaka'ako
To succeed at a farmers market, McCarthy says, a stall's offerings should stand out. Spaetzle does just that, and it's versatile: You can use it like any other pasta to craft various dishes. McCarthy's offerings include garlic shrimp and kalua pig with charred pineapple as well as a more traditional option that's simply tossed with cheese.
I order the CBM and the Veggie ($14 each), two of the most popular bowls. CBM stands for chicken, bacon and mushrooms, which are tossed with green spinach-and-lemon flavored spaetzle, hearty greens and cheese with a finishing touch of Hungarian-style paprikash sauce. The Veggie also starts with spinach-lemon spaetzle but adds roasted vegetables like broccoli, mushrooms, greens, cheese and a smattering of basil-marinated tomatoes.
Both are intensely flavored. The Veggie is a tad more balanced than the CBM, with savory green vegetables offset by bright pops of fresh tomato. Savory bacon and the warmth of the paprikash sauce in the CMB are delicious, but they overwhelm your palate by the end of the bowl. The texture of spaetzle is also unique because it contains more egg than Italian pasta, making it more spongy and delightfully bouncy.
One of McCarthy's goals is to get his spaetzle into supermarkets as a fresh pasta option. He may start by selling it at his stand—that is, if he can stock enough to last beyond the dinner rush.
SEE ALSO: