Our Fave New Hawai'i Restaurants of 2021
Places we loved most from a year of extraordinary openings.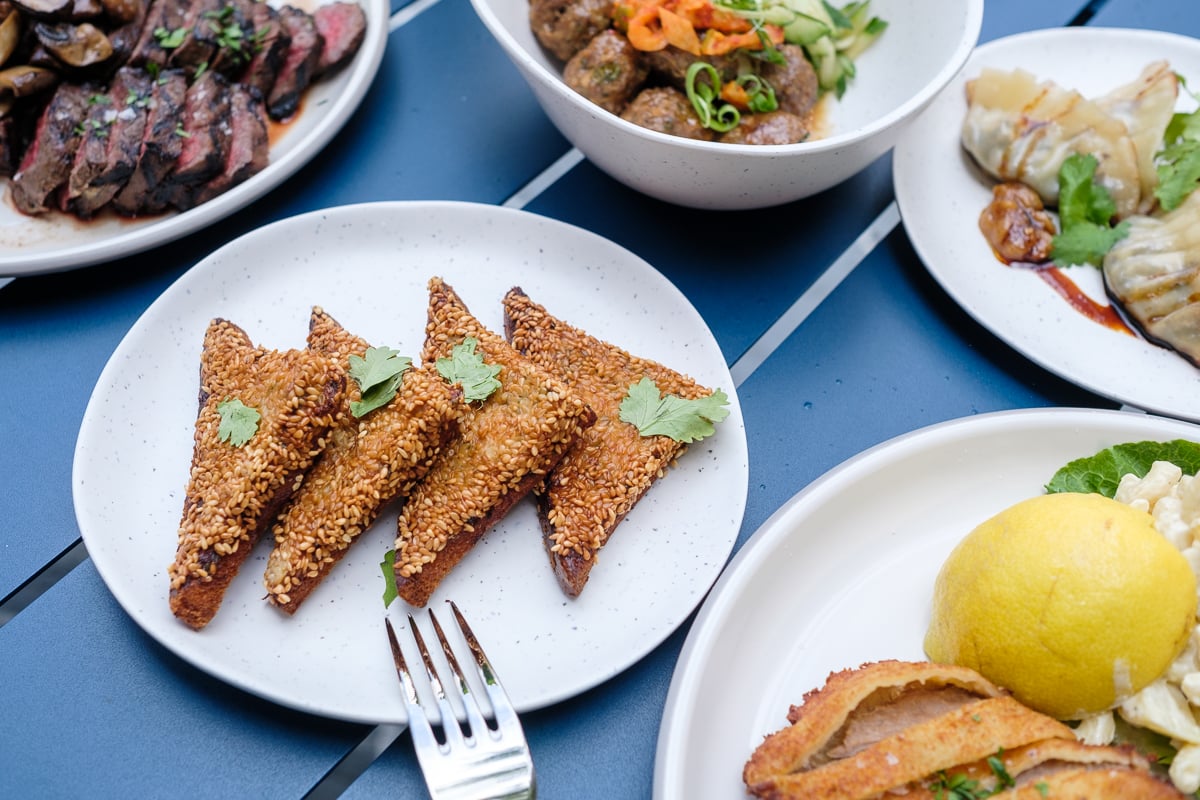 Yes, Hawai'i, restaurants opened all through 2021 as delayed projects worked out final kinks and we finally saw a bright side of the big P: new energy released from the upheaval of the old world order. And no, they weren't all Instagram businesses.
Still, we need to cut 2021 some slack. In recognition of our more cautious dining preferences, our new world order includes a broader definition of restaurants that embraces Internet and takeout eateries. And because it seemed like a long and never-ending year, when unnamed members of the Frolic team misread the memo and chose restaurants that opened in December 2020 instead of 2021, we did a gentle eye roll and included them, too.
This is not a ranking but an alphabetical listing of our favorites. No one on the team knew the others' picks until today.
Bar Maze
This was an easy pick for me. Usually eating food this good means dining in a hotel or an exclusive part of town. But in recently redeveloped Kaka'ako, Bar Maze is an understated and unpretentious cocktail bar and eatery whose food continues to surprise, dish after dish. With a chef from a two-Michelin-star restaurant, flavor profiles are complex and concise, leaving me eager for the next bite. My favorite? The seared scallop topped with caviar, whose every ingredient is perfectly distinct and whose velvety sauce wraps it all in a warm blanket of refined elegance. —Gregg Hoshida
Light yet soul-satisfying dishes arrive at a delightful pace in hand-crafted bowls and plates: potato croquettes that remind you of hash browns, but with a decadent uni and potato purée and sweet soy to slather on top. Triple-seared wagyu beef with lettuce and perilla leaves to wrap it in, a dainty touch that balances the unctuousness. Ethereal shave ice with fresh seasonal flavors to end your meal. The fusion of flavors and aesthetics feels effortless and at the same time intentional. At Bar Maze, contrasts between fresh and rich take you on a roller coaster ride of pleasing emotions. Cocktails and mocktails add another layer of complexity, each one displaying a delicate balance as Hall & Oates play on the speakers. What encapsulates it all for me is a feeling of joy.
—
Maria Burke
With a name like Bar Maze, I guess it's technically a bar and not a restaurant, but you'd come here for the food as much as for the cocktails. Yes, it's a little spendy. And yes, it's often hard to get a reservation. But it's well worth it. Every time I go, I walk out full—it's not one of those places with pretty food that doesn't satisfy. I like to go for the a la carte menu (upstairs on the mezzanine) not just for the freedom to choose what I want, but because of the semi-private booths. Chef Ki Chung's food is so good that I find myself shamelessly scraping up every last bit in a way that I probably couldn't do in a more exposed setting. The menu is always changing so it's hard to name a favorite, but I think the wagyu donabe—served on beef fat rice—is probably the big winner. I'm also a big fan of the scallops (if they have them) with their magical butter sauce. —Melissa Chang
604 Ala Moana Blvd., barmaze.com, @bar.maze
SEE ALSO: Sampling the Omakase at Kaka'ako's Bar Maze: Four Courses with Cocktails
Da Sugar Mill
View this post on Instagram
I was drawn by the plantation-roots concept—dishes like the Pig 2 Ways saimin, pastele stew and Kunia Camp chicken long rice. But I was hooked by the daily fried fish. These are always sustainable reef fish, including at times the invasive ta'ape. Some days you can find akule, 'āweoweo and baby aku; most days you can find menpachi, and that's what I get—fried to order in a light flour crust and always with sweet, tender flesh and crispy fins and tail I eat like potato chips. —Mari Taketa
2300 N. King St., (808) 798-3072, dasugarmill.com, @dasugarmill
SEE ALSO: Da Sugar Mill Serves Up Modern Twists on Old-School Plantation Dishes in Kalihi
Heyday
Heyday won me over with a fun retro vibe that follows through in its menu, cocktails and pool-bar-from-the-'70s ambience. We pass the swings at the round bar to settle at a table under the palms. The cocktail menu beckons with the Daq-A-Oui, where Kunia's KoHana Kea rum and lime get a kick from pastis and yellow chartreuse; and the Origami Swami, whose orange and amaro team up with lemon and rye. We share the shrimp toast crusted with sesame, the kalbi-glazed meatballs and the schnitzel that tastes like tonkatsu's cool German cousin. The other surprise: Each vegetable in the pasta primavera is cooked to its best texture in a sauce that brings the dish together without swamping it. Heyday bears the thoughtful touches of Fête owners chef Robynne Mai'i and her restaurateur husband, Chuck Bussler. While there's a little menu crossover with the chic Downtown bistro, they've conjured up an outdoor vintage oasis that's tasty and reminiscent of a time that seemed simpler. —Robbie Dingeman

431 Nohonani St., (808) 475-6864, heydayhawaii.com, @heydayhawaii
SEE ALSO: Heyday Throws It Back with Groovy Cocktails and Bites in Waikīkī
Kapa Hale
By supporting the local farming and ranching community, chef-owner Keaka Lee has used his creativity to mix a variety of flavors. My personal favorites are the Tagliatelle Alla Shrimp & Bulgogi Pork Bolognese (yes, that's one dish) and the Schnitzel De Lechon Kawali. Kapa Hale's mouthwatering flavors go straight to the soul. —Lauren Kaneshiro
4614 Kilauea Ave., (808) 888-2060, kapahale.com, @4614kapahale
SEE ALSO: Local Ingredients, Hawaiian Roots and Big-City Flair Make Kapa Hale One of Hawai'i's Most Exciting New Restaurants
Restaurant Marlow
When it comes to my favorite restaurants, the theme that ties them all together is that they really honor local products. Beyond just using them, they dress them in their best and put them onstage to shine. Jeff Scheer's new Restaurant Marlow does this with sourdough Neapolitan pizzas and more, just off Kula Highway in Pukalani, Maui.
Whether it was the crisp Upcountry air, the buzz that filled the bright space or steaming pies zooming past as fast as they left the 900-degree oven, this was the place to be at on a Friday night. The pizzas are topped with vibrant flavors you hardly experience at most other shops. From the sweet tomato sauce to earthy Laupa'au Farm mushrooms and Maui-raised kurobuta pork sausage and charcuterie, you had better order two or three pies after the drive up the mountain.
If I lived on Maui, I'd be here every chance I got, long drive or not. —Thomas Obungen
30 Kupaoa St., Pukalani, Maui, (808) 868-3366, restaurantmarlow.com, @restaurant.marlow
SEE ALSO: Upcountry Maui Gets a New Pizza Restaurant
Sky Waikīkī
I always liked the idea of Sky more than the actual menu—until Hide Sakurai took it over and transformed the nightclub into a raw bar. It's one of the few places I visited three times in 2021, and every time, it felt like a special occasion. Yes, I love the oysters and chutoro, but my favorite item is the truffle honey mascarpone—dessert masquerading as appetizer. The view's not bad, either. —Katrina Valcourt
2270 Kalākaua Ave., 19th Floor, (808) 979-7590, skywaikiki.com, @skywaikiki
SEE ALSO: Looking Up: Sky Waikīkī Shifts to a Raw Bar, Poke and Pūpū
Super Secret Izakaya
Ricky Goings' tasting menu is casual, fun, creative and personal. His first dinner included a play on takoyaki and taco rice, resulting in a crispy 'ulu cake stuffed with tako and chorizo with taco seasonings. On his second menu, tempura persimmon with taleggio cheese. Thanks to Goings' sense of humor, both on the plate and behind the counter, it's a rare (but not rarefied) and gratifying experience in both flavors and ambiance. —Martha Cheng
2045 Kalākaua Ave., @soopersecretizakaya
SEE ALSO: Super Secret Izakaya Elevates Japanese Street Food to Kaiseki Cuisine
Upstairs Waikīkī
At first I didn't understand Upstairs, which billed itself as a collaboration restaurant and sake bar. I mean, what? I understood when I tasted it: Edomae-style bara chirashi from Waikīkī's Sushi Sho ($35), an insanely good grilled chicken quarter from Downtown Honolulu's Yakitori Hachibei ($16), an eclectic selection of sake, and servers who could set me up with excellent pairings. I have other recommends from the menu, but every time I go, this trifecta is on the table. —Mari Taketa
280 Beachwalk, (808) 922-1500, upstairshawaii.com, @upstairshawaii
SEE ALSO: Upstairs Hawai'i Pairs Two of Japan's Best Under One Roof