Heyday Throws It Back with Groovy Cocktails and Bites in Waikīkī
Schnitzel, shrimp toast and boozy cocktails headline a menu that'll have you swinging your feet at the bar.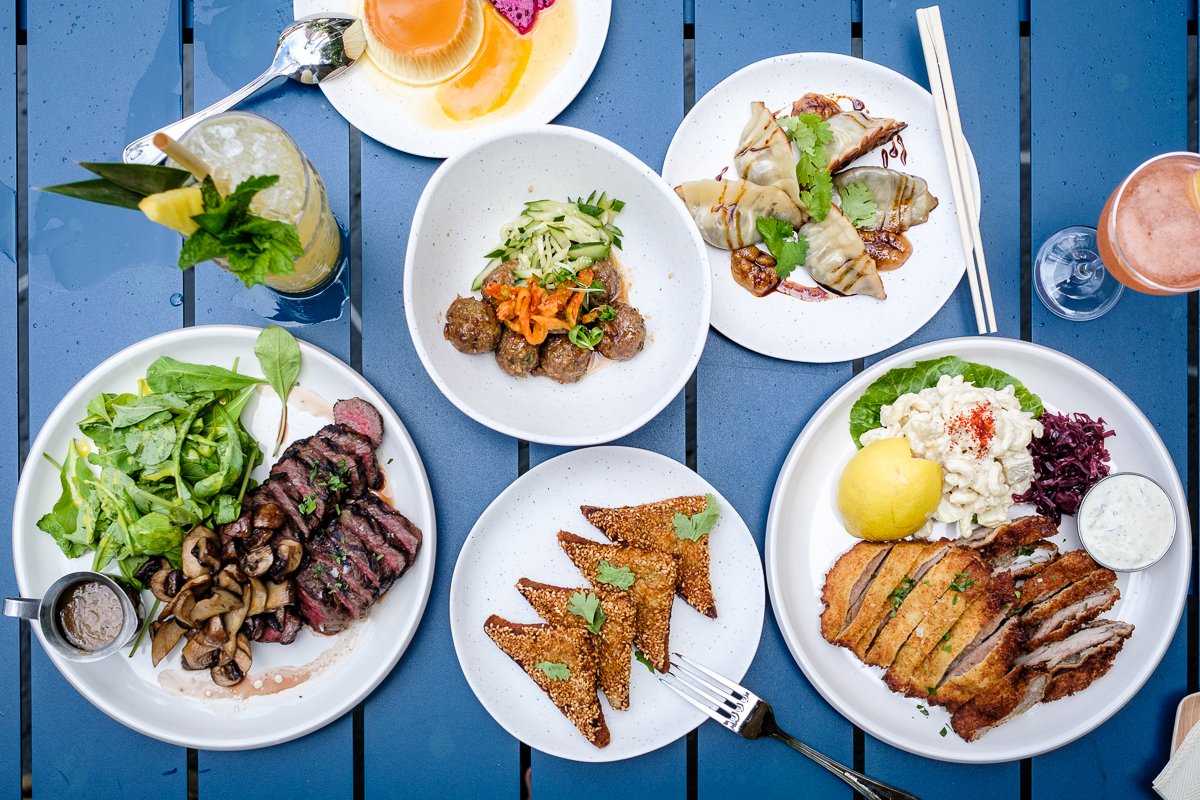 In an era whose nightmarish quality never seems to end, Heyday stands as the escape we all need from reality. From Nohonani Street in Waikīkī, you enter a dim tunnel and emerge into a time warp circa 1977. Just past a sun-soaked pool framed by plush lounge chairs and white umbrellas trimmed with orange shag is the bar and open-air restaurant by Chuck Bussler and Robynne Maii, the couple behind Chinatown's Fête restaurant.
The site in the three-story White Sands Hotel is an oasis from the hustle and bustle with its centerpiece bamboo bar, complete with bikini-clad guests on swings that dangle from its thatched roof. The cocktails, or pool drinks as mixologist Dave Power likes to call them, began flowing in early June when he and Kō Hana Rum's Kyle Reutner collaborated on the menu and booze list. With cocktails named Down with O.P.P., Origami Swami and Banana Hammock, you can't help but crack a smile and order them all.
---
SEE ALSO: Afterthoughts: Drinking at Waikīkī's Latest Bar Feels Like Both a Homecoming and a Betrayal
---
You down with O.P.P? Orange, passion fruit and pineapple, that is … Yeah, you know me. The bright, tropical sherry cobbler ($17) is mounded with hand-crushed ice and garnished with mint, a pineapple spear and crown. It's strong enough to last through snacks and well into entrées. If you want something to crush, the Chaise Dreams ($13) will get you from zero to 100 in no time. With an ingredient list that includes fluffy pineapple (a byproduct of freshly squeezed pineapple juice), gin, Campari and happiness, you really can't go wrong.
For one of the quickest cocktails ever, order the slushy Daq-a-oui ($13). It's small but mighty, with a kick of Pastis and a citrusy rum finish. I'm glad I was in a chair and not on a swing when I had one before dinner. You'll also recognize a couple of staples from Chinatown, including the Mai'i Tai ($17) and the Fête 75 ($13). I hear there are about 10 more libations yet to be released; I know they'll be just as cheeky.
---
SEE ALSO: Keep Your Spirits Up at Hana Koa Brewing Co.'s Mezzanine Bar
---
Heyday's restaurant side opened this earlier this month. The menu mirrors the throwback theme with tributes to chefs and iconic dishes of New York's continental dining scene from the last century, juxtaposed with Maii's contemporary style and use of local purveyors.
The shrimp toast ($17) is a nod to chef Gabrielle Hamilton, whose deep-fried shrimp toast coated in sesame seeds was a staple bar snack at her Prune Restaurant for many years. It's crispy, spongy, nutty and all-around snackable—perfect with pool drinks or a frosty glass of beer.
The kalbi glazed meatballs ($16), topped with cucumber namul and crunch-tastic mumallaengi muchim—dried radish kim chee—are teriyaki meatballs' cultured cousin. Vaguely reminiscent of tteok galbi grilled short rib patties with a happy hour twist, these are a must for me.

Another carryover Fête fans will love are Maii's foie gyoza ($18), decadent pillows of herby duxelles and foie gras folded in a thick wrapper and dotted with sweet banana jam and a soy-balsamic reduction. It hits all the elegant notes of a perfectly seared lobe of foie gras without much of the fattiness.
---
SEE ALSO: Looking Up: Sky Waikīkī Shifts to a Raw Bar, Poke and Pūpū
---
Often overlooked on menus, Heyday's pasta primavera ($24) rises above. Taking a page from Le Cirque's book, this isn't just spring vegetables dumped onto bowtie pasta. From zucchini and haricots verts to king oyster mushrooms and cherry tomatoes, each ingredient is cooked separately to preserve its texture before all are tossed together in a rich kale pesto. The result is a substantial and shareable pasta dish that's an easy favorite.
My eyes, with their crispy fried preferences, immediately gravitate to the schnitzel ($29), which is as fun to say as it is to eat. Alternating between pork (Duroc and Two Lady Farmers) and veal (Hawai'i Meats), the portion is generous. Pounded thin, crusted in breadcrumbs and pan-fried, these cutlets are sublime. With a spritz of lemon and a dunk into an herbed mayo called gribiche, I can't imagine a better bite. The scoop of potato-mac salad blurs the line between Vienna street fare and Kalihi plate lunch.
Heyday wouldn't be a proper pool bar if it didn't have a signature burger ($18); if it's anything like Fête's Chaz burger, it shouldn't be missed. Lighter fare includes a smoked ono salad and bacon sandwich ($15), a classic twist on an iceberg wedge salad ($16) and crispy vegan lumpia ($13).
Portions here are rather generous, especially if you order a few appetizers before dinner, so come with a group if you plan to order much of the menu. If you find room for dessert (or order it first), the pineapple turnover ($14) is a must. Inspired by McDonald's bubbly fried apple pies—Maii told me this—these are served hot out of the fryer a la mode with house-made vanilla ice cream. (If you say Mickey D's pies aren't iconic, we can't be friends.)
Opened in 1957, the 94-room White Sands between Kūhiō Avenue and Ala Wai Bulevard is one of the last walk-up hotels in Waikīkī. Local design firms The Vanguard Theory and Welcome Stranger took the lead in updating it to embrace Waikīkī's midcentury modern vibe, punctuated with vibrant hues and mesmerizing textures. One of the coolest aspects is that nearly all the rooms overlook the pool and restaurant. If you book a ground floor room near the pool, you can request that your table be added to the seating chart and receive full service from your lānai.
For now, the bar opens for drinks at 12 p.m. and the kitchen for dinner from 5 p.m. with plans for bar snacks at 3 p.m. on the horizon. Plans for a speakeasy called the Green Lady Room are in the works, too, and include hosting resident mixologists. A completely separate menu from what you can get by the pool will be served until 4 a.m.. With outdoor dining a hot commodity these days, Heyday fits the bill for those wanting to let loose and have fun, even if only for a sunny afternoon.
Open daily from 12 p.m. to 10 p.m., 431 Nohonani St., whitesandshotel.com, @heydayhawaii