Local Comfort Food: Wotchoo Eat with Your Poi?
Get some funky-kine pairings for Hawai'i's original comfort food.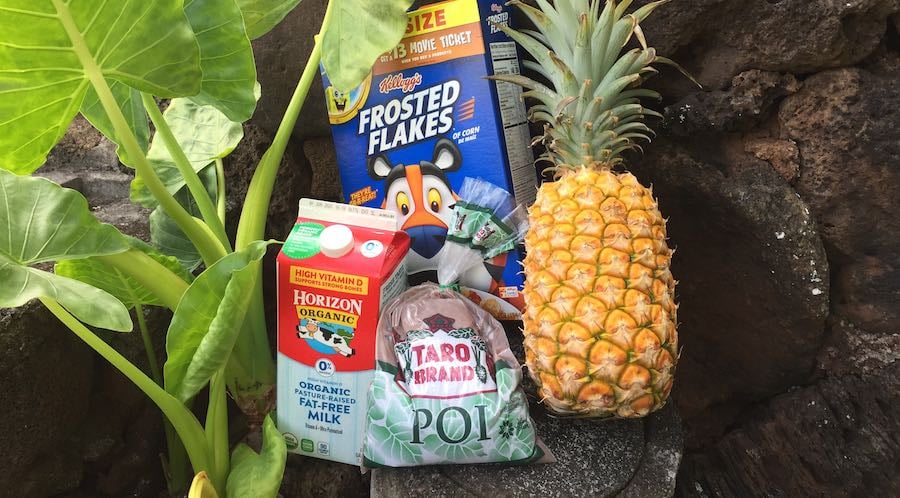 I wuz at da store noticing how no mo' rice, no mo' saimin, cuz people buying 'em all cuz of da pandemic. But I wuz happy that still had poi. Poi is da most important-est food in Hawaiian culture. And even if you not Hawaiian, if you grew up in Hawaii, your parents probably gave you poi as one of your first baby foods. Poi is Hawaii's original comfort food.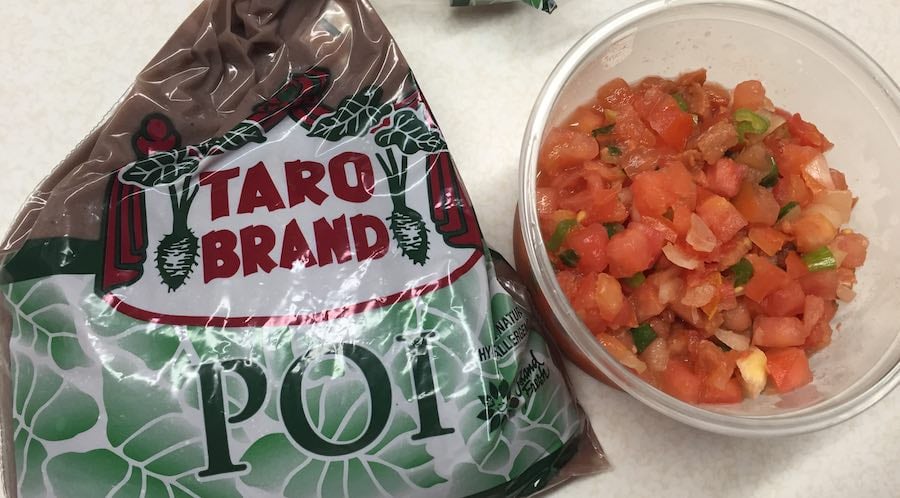 Since I wuz able for score some poi, I also picked up some lomi salmon. And since I wuz curious, I asked my Facebook friends what they pair their poi with. Most named da usual suspects like lomi salmon, lau lau, poke, kalua pig, sugar and fish either fry or dry. My favorite answer wuz from Meredith Enos who said she likes her poi with MORE poi.
---
SEE ALSO: Essential eats: Where to find Hawaiian plates
---
But then had couple combos wen trow me off. Below get two funky poi pairings and their secret origin stories, along with my review.
Poi and pineapple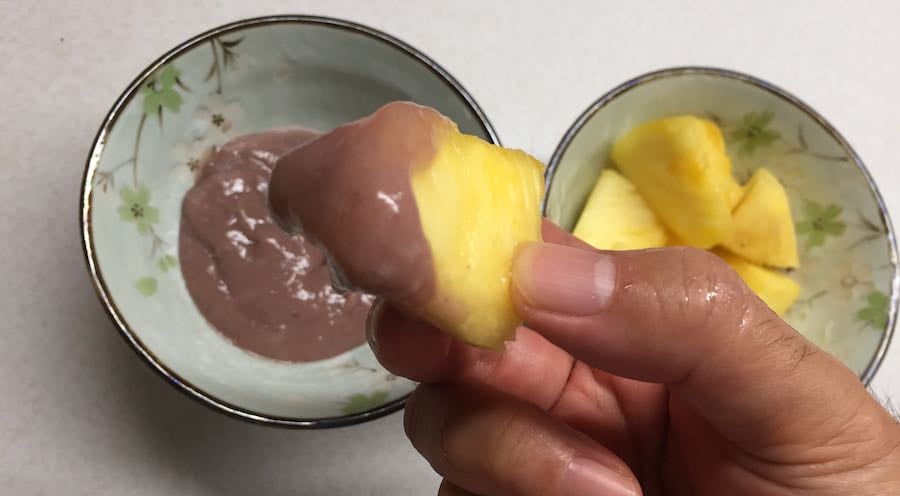 Local comedian Daryl Bonilla said he loves poi with PINEAPPLE. Das weird, right? Sounds more like something his Beyond Paradise friend Mark Thompson would like. "Ooooo, Mahk Thoooomson!"
Da problem with comedians is sometimes you dunno if they joking or what. So I asked him, Eh, wea you from again? If he wuz from Canada then that might've explained his answer. But he said, "Waianae, which means no one going question my taste. Haha." He said he came up with da idea back when he wuz working Paradise Cove luau. One day he wuz just cruising and since da poi and pineapple wuz dea, he just decided for chance 'em and it ended up tasting great.
If you know Daryl, he's kind of a pusher, so if he likes one bank he'll constantly remind you which bank is his. In this case he guarantees, "If you sitting next to me at a luau or party and they have pineapple and poi, I AM going to introduce you to this combo!"
I tried 'em, but I gotta admit I wuz hesitant at first. One family member saw me in da kitchen and commented, "That's disgusting what you're eating." Lol.
OK. On my first try I thought da pineapple kinda overpowered da poi, but I only dipped once. If you double dip, then it works better I tink. This is one flavor pairing of like and like. Da sourness of da poi and da tanginess of da pineapple. It kind of puts da sour level in da realm of tart. And that tart balances real nicely with da sweetness of da pineapple. I still raddah have someting salty with my poi, but this wuz not bad.
---
SEE ALSO: Droolworthy: Poi mochi donuts
---
Daryl admits this concoction is kind of "a me thing." He so crazy that most times I tink he on someting, but this time I tink he might be ONTO someting. Lotta tourists say poi tastes like wallpaper paste. I tink da pineapple might help make poi more palatable for dem. But I not sure, do we want poi for catch on with da world?
Poi with corn flakes and milk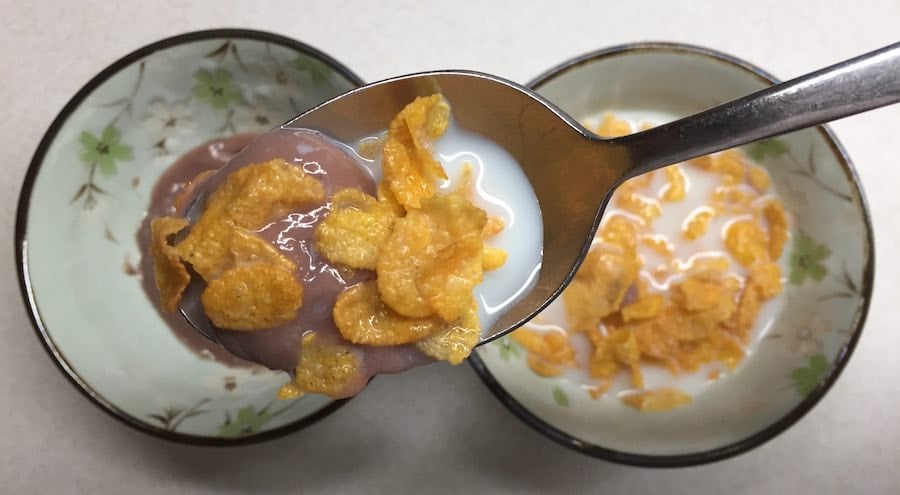 While I wuz tinking about poi combos, I noticed Hawaii filmmaker Hale Mawae had posted one question on his FB page about people's go-to munchies. Our mutual friend, da pretty awesome poet and UH Hawaiian literature professor kuualoha hoomanawanui (she no use capital letters), answered "poi with cornflakes in milk. wayyyy better than it sounds." I saw that and laughed. First time I heard that one. Naturally I had for investigate.
So kuualoha's tutu grew up in depression times on Kauai, so they would often eat unusual combinations of foods like poke on one bowl of corn flakes because they just had for eat what they had. So her family "grew up where this was very normal, and in this context, I think (cereal) was kind of a carbohydrate substitute for poi, when poi ran out, or when the taro in the loi wasn't ready yet."
kuualoha thought maybe her family wuz just weird like that, but then when she went college at UH she discovered her best friend came from one family on Maui that ate da same kinda combos for da same reasons. And in those days poi and cornflakes were plentiful. Normally kuualoha's family ate poi with Special K, but sometimes they got for have Frosted Flakes, which wuz even mo' bettah she said cuz "they're great!!!"
---
SEE ALSO: Broke da mouth: Da airy, purple taro mochisada
---
I know some people who like their poi with warm milk and one dash of sugar. They say that wuz their version of pudding growing up. So I guess maybe this one's not that weird after all. I love how flavors and textures play off one another. Da creaminess of da poi and da crunchiness of da cereal. Da sourness of da poi and da sweetness of da cereal. And all of it bound together by smooth, cold milk. One supa-refreshing dish.
For kuualoha, "It takes me back to the memories of sitting around the laminate and chrome 1950s style kitchen table, the kine with the matching vinyl chairs, in my tutu's Kailua kitchen, eating cornflakes and poi for breakfast, lunch, or a late night snack, listening to KCCN AM old-style Hawaiian radio." Yup, now das comfort. #nomonomoono
Read the other stories in our Local Comfort series: