Local Comfort Food: The Perfect Boiled Peanuts in Hawai'i
Fort Ruger Market offers up nostalgia in a brown paper bag.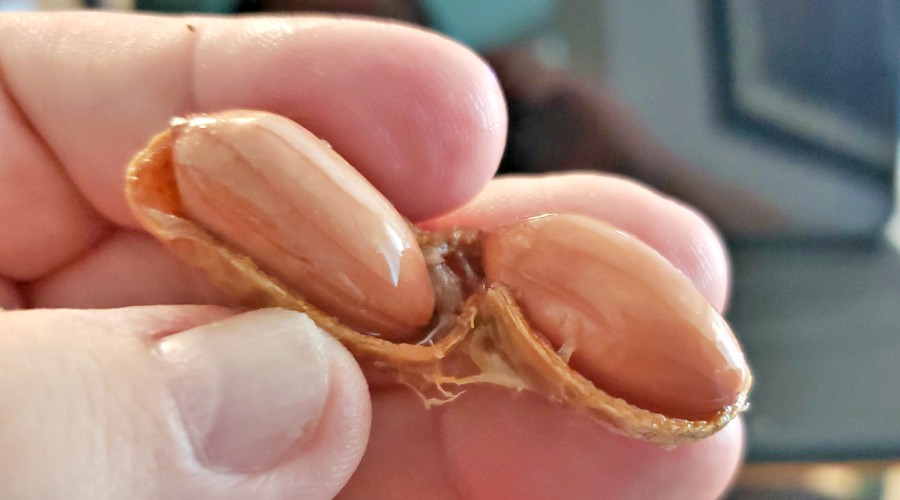 A question was posed to me recently: What food brings you nostalgia or joy? While I do have my go-to comfort foods such as loco mocos, malasadas and poke, it's boiled peanuts that pull at my heart strings and remind me of days gone by.
My earliest encounter with boiled peanuts was in the 1970s, watching my dad and his friends eat them while drinking Primo beer and chatting it up in someone's garage. From my young kid perspective, it looked pretty cool watching grownups deftly manipulate those brown shells to reveal the humble treasure inside. My father passed away a long time ago, and I'm now the same age he was when I watched in awe and tried to figure out how to open the shells without squirting peanut juice in my face.
---
SEE ALSO: Local food is back
---
My favorite place for boiled peanuts has to be Fort Ruger Market. For $3.75, you get a neatly taped one-pound brown paper bag. Dots of moisture speckle the outside, a sign of the freshly boiled snack within. I will often choose the moistest-looking bag. I do find that the wetter the bag is on the outside, the more briny and juicy the peanuts will be.
I open the bag and look for the ones that are a bit soft, where the shell gives a little but not so much that it disintegrates in my hand. For me, the perfect peanut will always be plump and nestled in a tiny pool of star-anise-tinged juice that perfumes the entire bag.
And while I do not often accompany my peanuts with a beer, I enjoy sharing them with my wife, as she is an even bigger fan than I am of the humble boiled peanut.
Open Mon to Sat 6 a.m. to 6 p.m., Sun 7 a.m. to 6 p.m., 3585 Alohea Ave., Kaimukī
Read the other stories in our Local Comfort series:
My Adoboloco hot sauce addiction
Wotchoo eat with your poi?
Don't diss the power of corned beef hash
Liliha Bakery's chantilly cake