Local Comfort Food: Don't Diss the Power of Corned Beef Hash
Corned beef hash fans, there is comfort at okazuyas.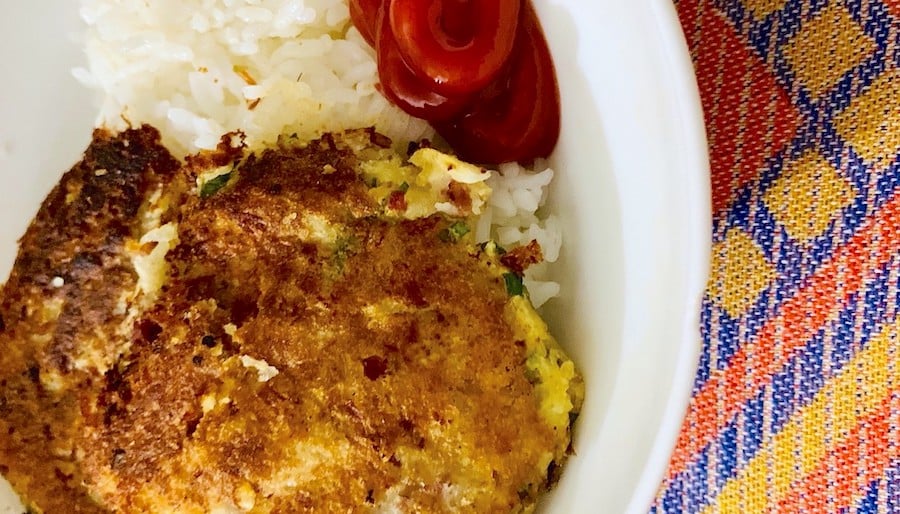 I gave up meat this year, which wasn't bad for me since my usual diet is often compared to rabbit food. However, I have a kryptonite: corned beef hash patties. The smell alone makes me weak at the knees and drool instantly. Only one other thing has this effect on me: Penn Badgley.
Corned beef hash patties were the main event at a lot of my birthday and Valentine dinners. Not one, but three ex-boyfriends made me heart-shaped corned beef hash patties. Honestly, I may have loved the meals more than the boys who made them.
So when St. Paddy's Day rolls around I feel extremely lucky because leftover corned beef gets turned into magical, meaty patties. But the days following this March 17th were a little doom-and-gloom, and more than ever, I needed my favorite comfort food to feed my soul.
It did.
A fresh batch of meaty, crispy-on-the-outside, pillowy-on-the-inside homemade hash patties served with warm white rice and a dollop of ketchup was the big hug I needed. My plate is usually licked clean within minutes, but this time I decided to savor each bite. Taking a moment to appreciate the small things is something I'm re-learning to do.
---
SEE ALSO: Best Okazuya on O'ahu: Our Top 5
---
Now that I'm down to my last patty, I'm hoping my favorite okazuyas remain open, at least for a little while. Gulick is known for oversizing, and over-flavoring, everything. Its patties are no exception; one could feed me for two days. Fukuya's puck-size version reminds me of how my grandma used to make it: a little more potato than meat with a perfect sear on the outside. But my ultimate favorite is Zippy's. They forgo the can and use fresh meat, and the perfectly fatty, crispy edges are (I'm assuming) a result of time spent on a flattop grill. Hold on while I wipe my drool.
View this post on Instagram
As I head into week two of self-quarantining, I'm tempted to brave the broken world and race around to all the okazuyas to start hoarding hash patties. So I called some to see if they're still open. Here's what I got, but if you go, call ahead to see if hours have been updated:
Nuuanu: Regular hours
Fukuya: Wed-Sun, 6 a.m. to 2 p.m. (closing hours may vary), takeout and phone orders only
Mitsuken: Wed-Sat, 7 a.m.-noon
Gulick: Mon-Fri, 5 a.m.-3:30 p.m., Sat, 6:30 a.m.-3:30 p.m.
Mitsuba: No answer
Kabuki: Wed-Mon from 5:30 a.m.-1(ish) p.m., closed Tuesday
Toshi: Closed temporarily
Matsumoto's: Closed for renovations
Sekiya's: Daily 10 a.m.-2 p.m. okazuya side; restaurant opens for takeout 4-6 p.m.
Masa & Joyce: Mon-Thu 6 a.m.-2 p.m., Fri 6 a.m.-5 p.m., Sat 6 a.m.-4 p.m., Sun, 7 a.m.-2 p.m.
Calm down, it's not toilet paper. But just in case my fears keep me camped on my couch and everything shuts down, I've got a small stock of Libby's red cans and a bag of potatoes to give me a taste of joy. Something we all need right now.
Read the other stories in our Local Comfort series:

Wotchoo eat with your poi?
Liliha Bakery's chantilly cake
The perfect boiled peanuts
My Adoboloco hot sauce obsession