Best Okazuyas on O'ahu: Our Top 5
Where to find the tastiest okazu plates on Saturday mornings.
When I was growing up, going to an okazuya was a treat. It's every kid's and adult's dream kind of breakfast: You can choose what you want and how much you want. But don't look for a menu. The food you see at an okazuya counter is the menu.
It's a gamble predicting the final price of your okazu plate. My plates typically range from $10 to $15 but can easily go up to $20. With all the food on display, it's tempting to just point at everything and add it to your plate, so be careful. Go in with a plan: Maybe one starch, two proteins and one or two miscellaneous choices. If you don't have a plan, you will probably have a panic attack when it's your turn to order because the server will be waiting with the tongs and the people behind you might get impatient at your indecisiveness.
---
SEE ALSO: How to Make the Perfect Okazuya Bento
---
To conduct a fair review for this post, I went to each okazuya between 7 and 8 a.m. on a Saturday, which shortened my list since places like Toshi's Delicatessen & Restaurant, St. Louis Drive In, Lynn's Saimin & Cookie Shop and others are closed on weekends. I also tried to order the same items at each location: inari (cone sushi), chow fun, nishime (vegetables simmered in a sweet soy dashi), fried chicken, shrimp tempura, egg and hash patty—typical items that most okazuyas carry. To make my ranking, the majority of the items had to be good, obviously. Friendly service, preferably hot items and good variety were also factors.
Okazuyas I visited:
Nu'uanu Okazuya
Fukuya Deli
Gulick Delicatessen
Mitsuba Delicatessen
Mitsu-Ken Okazu and Catering
Masa & Joyce Okazuya
Blossom's Okazuya
Sekiya's Restaurant & Delicatessen
Matsumoto's Okazuya & Restaurant
Sato's Okazuya
No. 5: Sekiya's Restaurant & Delicatessen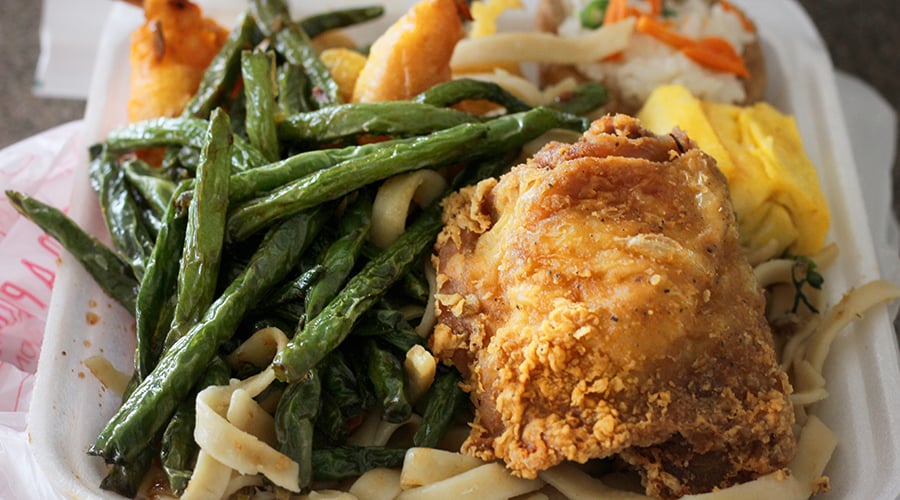 Sekiya's is known for its burgers and saimin, but it's also an okazuya! It opens at 8 a.m., which is later than any other okazuyas I came across. This is a good option for people who are not early birds. Unlike most okazuyas, Sekiya's serves tempura hash balls instead of the typical hash patty. And let me tell you, they are amazing—way better than a hash patty. Grab a couple of these, a shrimp tempura and green beans. Sekiya's shrimp tempura has a sweet, cakey batter, which I like. The green beans are not common at okazuyas, but this place does them well. Another plus is that you can eat your okazu in the restaurant. Just grab a seat and maybe even order a small saimin. Perfect combo.
2746 Kaimukī Ave. • Kaimukī • (808) 732-1656 • sekiyarestaurant.com
No. 4: Gulick Delicatessen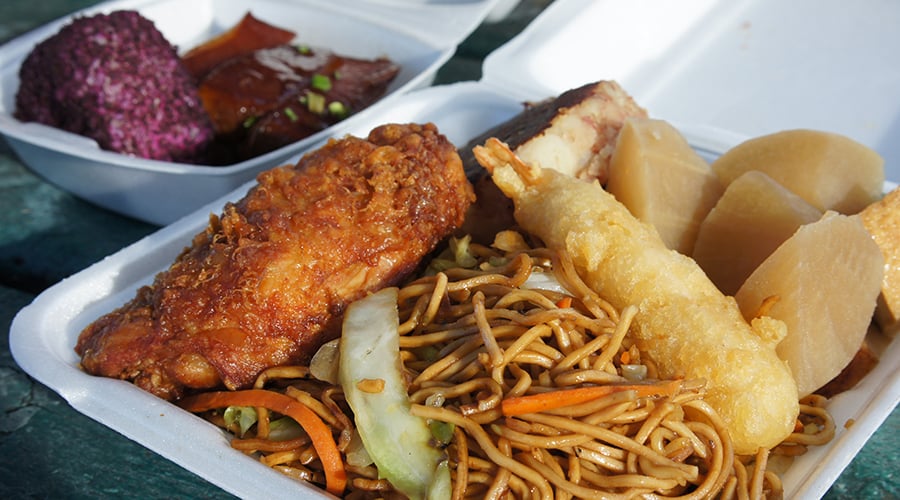 No parking. Good luck with street parking, but it's worth the struggle. Portions are generous and most of the food is hot, which means it'll stay hot on your drive to work or wherever you're going. For some reason I order the chow mein instead of the chow fun, but it's still good. Not too oily and the noodles have a nice chew to them. The fried chicken is crispy, moist and juicy! How? I have no idea. The chicken skin has an addictive crunch and the meat is oozing with juiciness. Best okazuya chicken I've tried.
1512 Gulick Ave. • Kalihi • (808) 847-1461
---
SEE ALSO: Local Food is Back
---
No. 3: Mitsuba Delicatessen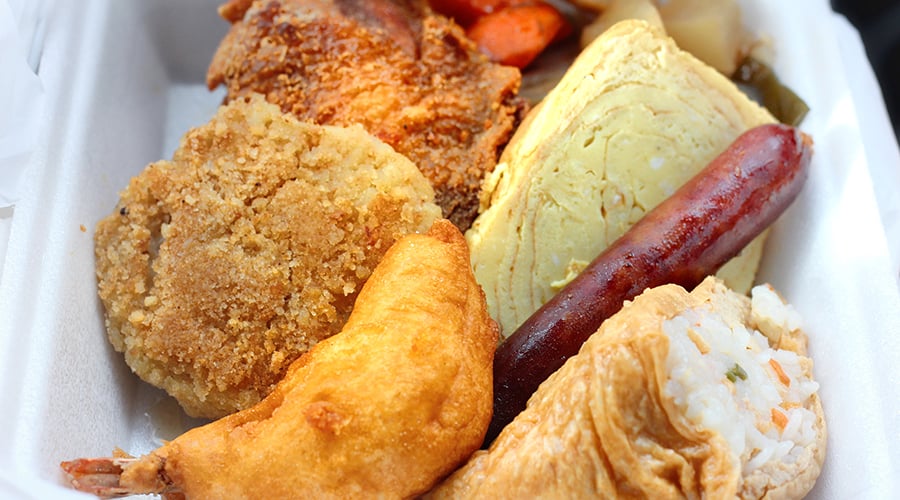 Also in Kalihi, Mitsuba is a small hole-in-the-wall. At least this place has a small parking lot. They ran out of chow fun by the time I went, but gladly whipped up a new batch just for me. Now that's friendly service. Nishime is the highlight for this place. The veggies are soaked for what seems like days, which makes them soft and overflowing with flavor. It reminds me of my auntie's nishime. The fried chicken is also a winner, especially in the chicken skin department. The egg omelet is huge, fluffy and sweet. The hash patty has a perfectly brown, crumbly coating, giving it a little more flavor, which is needed in most hash patties. The inari has a little too much rice vinegar for my taste, but is overall better than most places. Skip the shrimp tempura here; the batter is overly cakey, almost like a cake donut.
1218 N. School St. • Kalihi • (808) 841-3864
No. 2: Fukuya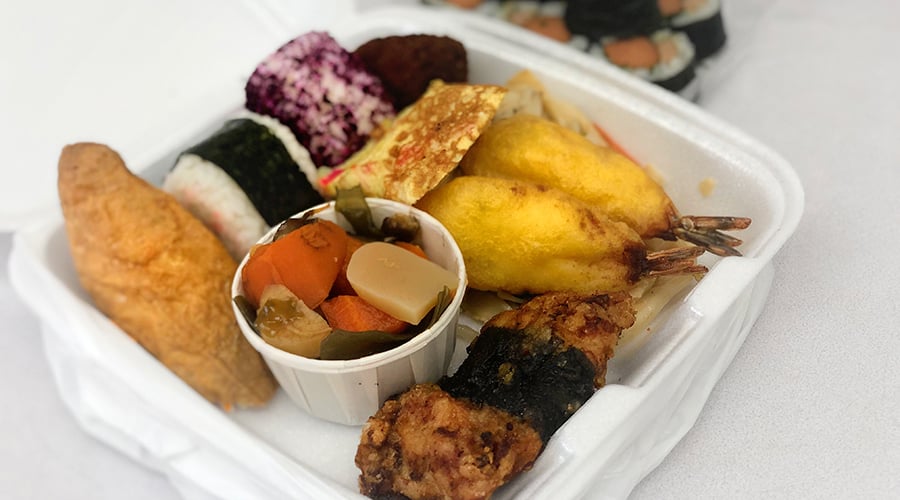 Fukuya is a favorite among most okazuya fans, and it's still a favorite of mine. It's brightly lit, well staffed, has quick service and consistently serves delicious food. My go-to's are definitely the nori chicken, shrimp tempura and hot dog and Spam maki (a special treat I would get when I went on school field trips). I personally wish the chicken had more nori though, and the inari sushi skin was very dry on my last visit. Don't know if it was due to a bad batch.
2710 S. King St. • Mō'ili'ili • (808) 946-2073 • fukuyadeli.com
No. 1: Masa & Joyce Okazuya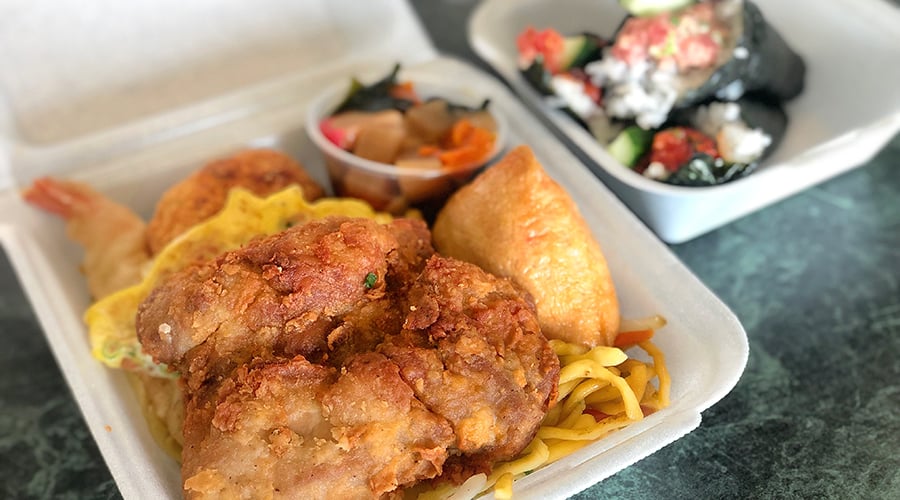 Representing the Windward Side is Masa & Joyce! They have the most extensive okazuya selection; it's quite crazy. I want to order everything from the kobu-maki to the temaki rolls. Do yourself a favor and grab a temaki roll; my personal fave is the spicy 'ahi. I swear every person that walks into this joint always orders at least one temaki. The noodles here are Okinawan soba noodles, I believe, which are on the thicker and chewier side. Yum! The inari is juicy and flavored just right. Note: Masa & Joyce tops it with ginger. The hash patty is also delicious. This joint also serves up some pretty bomb Hawaiian food, soups such as oxtail soup and Okinawan soba, plate lunches and bentos. They have everything over here!
45-582 Kamehameha Highway • Kāne'ohe • (808) 235-6129 • masa-n-joyce.business.site
Hungry for more? Here's all our latest Top 5 rankings.
---
A true foodie and fitness junkie, Steph can be found either eating (after she takes a couple pictures of her food) or at the gym working off all the calories. She loves sushi, but not wasabi (what a strange Japanese). Follow her food ventures @stkuroda.

We love it when readers contribute Top 5 rankings! Email your idea to editor@frolichawaii.com.