Local Comfort Food: My Adoboloco Hot Sauce Obsession
You thought Hamajang was hot? Maybe you need Fiya! Fiya!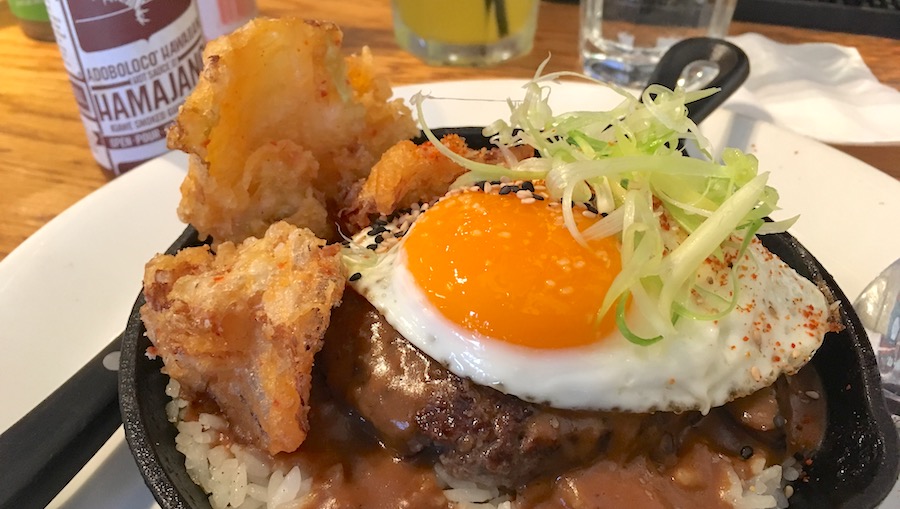 What local treats brighten your stay-at-home meals? Christi Young, editorial director of Frolic and its sister pub Honolulu Magazine, is a hot-sauce veteran. These are the bottles she keeps in her pantry.
When I went back into our online archives to see what we wrote about this Maui-based hot sauce company in the past, I found Martha Cheng's "Adoboloco: a story of my addiction."
Now I know, my obsession is her fault.
Adoboloco sauces have been on the top of my list since Martha brought some into the office and shared a sample with me. My husband receives bottles of hot sauce as gifts all the time, most brandishing flame-covered labels and punny titles (usually featuring the word "ass.") The worst are bland or overdeliver on pure heat and obliterate every other flavor. The best add complex notes and a slow burn to every bite. Adoboloco does just that. We tried all of the original versions including the fruity pineapple and chile pepper water. But our favorite, by far, is the Hamajang made with ghost peppers roasted over kiawe wood in a brick oven. The result is a smoky heat that enhances everything from eggs to bloody marys, and even works well mixed with mayonnaise for quick budget aioli to spread on everything.
Tim Parsons, known around Kīhei as the hot-sauce guy, is the man behind Adoboloco. He started by playing with the jalapeños his kids grew for home-school science class. The graphic designer experimented with a few sauces for family dinners. Soon friends wanted bottles of their own and it started selling out at the neighborhood swap meet.
Now, Parsons and his family of five run the 9-year-old business, which has branched out into barbecue sauces in 2018 and salsas in 2019. But it's the hot sauces that are the stars. The bottles have even been added to the regular rotation of the popular YouTube show Hot Ones, where celebrities answer questions while sampling wings doused with an increasingly intense lineup of spicy sauces. You can order the last three that made it to prime time—Kolohe Kid, Hamajang and Fiya!Fiya!—in a three-bottle box. We just ordered our own for an at-home Adoboloco battle to see if Fiya!Fiya! (the label reads "Open. Go Fo Broke. Repeat.") could dethrone our beloved Hamajang. After accidentally pouring a little too much on my fish tacos, my advice is to go easy. Just a few drops bring on quite a burn. But the new sauces are just as flavor-forward as every other bottle in the arsenal, so we'll be adding all three when we stock up our pantry. Bring on the milk.
Hot sauces range from $9.99 to $14.99. Available at various stores and adoboloco.com.
Read the other stories in our Local Comfort series:
Wotchoo eat with your poi?
The perfect boiled peanuts
Don't diss the power of corned beef hash
Liliha Bakery's chantilly cake