Adoboloco Hot Sauce: This is a Story of My Addiction
Hooked on these hot sauces made in Maui.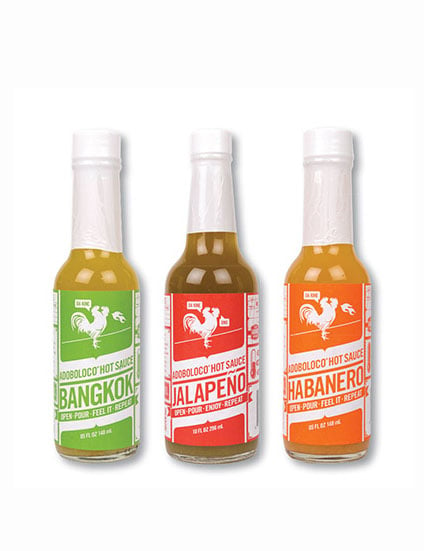 Foodie Finds, in October's print issue, might have been more accurately titled: "My Current Addictions." Co-workers know that I keep a brown paper bag of Manoa Chocolate always stashed in my drawer, that I have met the owner in a parking lot to replenish my supply, and that I get the shakes if I don't have my daily Manoa Chocolate (ok, everything but the last one is true…so far). I wasn't even a chocolate person before I had Manoa Chocolate: I appreciated it but didn't crave it like I do this chocolate. There are just so many flavors in each bar—not added, they're just natural expressions of the cacao.
I keep my Adoboloco addiction a little more discreet. I tuck a bottle of this hot sauce—the Jalapeño or Habanero usually, depending how feisty I'm feeling that day—into my purse and I apply it liberally at restaurants: to pizza, Bloody Marys or even Side Street's fried pork chops. (I have not checked if these restaurants are BYOHS—Bring Your Own Hot Sauce—friendly, so do this at your own risk.)
The crazy thing about these Adoboloco hot sauces is that they contain only four ingredients: apple cider vinegar, the pepper, sea salt and garlic. They're tangy and the pepper character really comes through, particularly the habanero one, which has a floral note. The jalapeño is so mild it's almost like a tomatillo salsa verde.
I stalked (it's ok, it's my job) Tim Parsons, the creator of Adoboloco to find out more about his sauces. It started as a homeschooling garden project with his three children. He's a professional designer, mostly for branding and mobile user interfaces, which explains how I noticed these bottles in the first place (yes, it's true—looks matter). Each label has a picture of his pet rooster—actually, his daughter's. "She carries him around every day," Parsons says. "When she holds him, he falls asleep in her arms and looks like a designer purse she's carrying around."
By comparison, my Adoboloco-toting habit is not as strange.