Two-Minute Takeout in Honolulu: Okata Bento
Kaimukī's classic lunch counter is famous for teri burgers and deluxe bentos.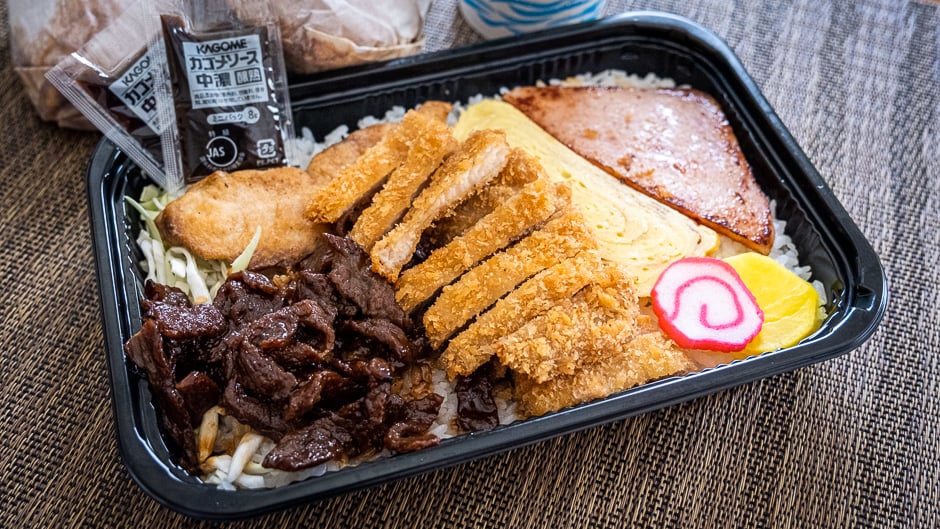 All kinds of restaurants are open for takeout, and now's as good a time as any to try them. Two-Minute Takeout sends Frolickers to places they haven't been to pick up meals for quick tableside reviews at home.
Lyndon Okata has been slinging carefully crafted mix plates, bentos and burgers at his namesake bento counter since 1981. Not much has changed since the day he opened on Waialae Avenue, including the prices. Okata Bento is one of those holes-in-the-wall that all generations fall in love with. You order at the tiny window in a narrow hallway, then take your place on the sidewalk with the rest of the folks waiting patiently as Okata cooks up a taste of the past. It's part of the fabric that makes Kaimuki one of Oahu's neighborhoods of nostalgia.
For takeout, I have the large mix bento ($10.50) with chicken katsu and beef teriyaki; it comes with a piece of fish, Japanese rolled omelet, kamaboko, takuan, shredded cabbage and luncheon meat over rice. It's a perfectly packaged meal for a (solo) excursion to the beach or a drive to the North Shore. Ironically, Okata Bento might actually be more famous for their burgers. I go for the big papa: a teri double cheeseburger ($5.50). It comes wrapped in paper and as I bite in, forever flavors of teri sauce and mayo mixing with beefy juices take me right back to childhood.
Mon–Fri noon–4 p.m. (ish), Sat, noon–3 p.m. (ish). Check @okatabento's Instagram stories for any changes in hours. 3616 Waialae Ave., (808) 737-6063