Worth the Splurge: Feast Mānoa's $35 Bento
The upscale bento changes weekly, but the constants are bold flavors and textures.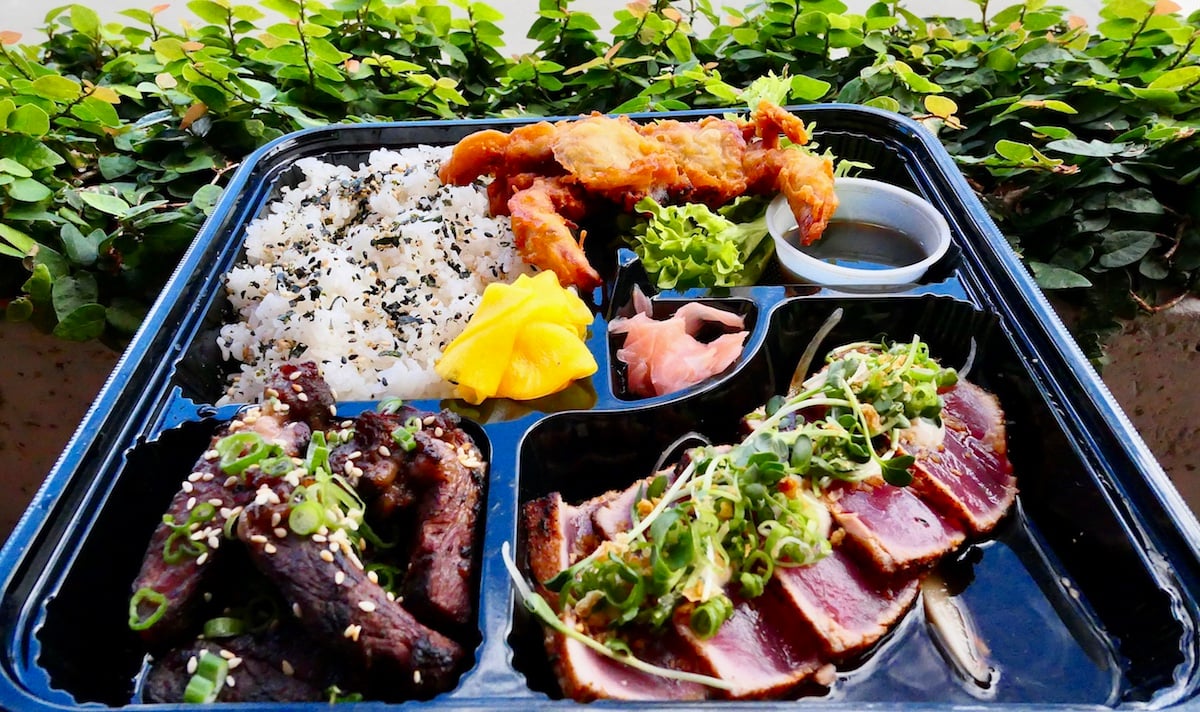 You might suffer from the same debilitating condition as I do. At certain eateries around town I cannot not order my go-to favorites. It's not for lack of trying. I mentally prepare, giving myself the internal pep talk about trying new things and carving new paths in life—and every time I get up to the register I blank out and order the same thing. Predictable much? I can't help it, I like what I like.
At Jon Matsubara's Feast in Mānoa, I find it humanly impossible to not order the steak and cheese sandwich. Every time. There's something so comforting about it, plus it's super tasty and at $16.50 and loaded, a great value. But lately Feast's weekly bentos have been catching my eye. When you want a little bit of everything, the compartmentalized plates beckon with a variety of flavors and textures. The funnest part? Feast's $35 bentos change weekly and always feature a few of life's finer things like fresh fish and scallop chirashi, filet mignon and double fried "Jonny's Fried Chicken" with umami mayo and hot sauce. There have even been bentos with mini lobster rolls (where have I been?)!
So with the express intention of deviating from my cheese steak fixation, I'm ready to splurge for lunch—I deserve it. Headlining the bento in a recent week is 'ahi tataki with aromatic ponzu, crispy garlic and kaiware sprouts. Also included are boneless kalbi, soft shell crab and white rice with furikake. I order my bento with conviction (even though I'm secretly considering getting a cheese steak to go) and take a seat on Feast's shady side patio.
SEE ALSO: How a Lobster Roll Changed the Game at Feast in Mānoa
My bento arrives shortly. Although my eyes are drawn to the bright red 'ahi, the soft shell crab, freshly fried and perched whimsically atop a pad of lettuce, radiates heat and begs to be devoured first. Peeking in, I can see that all its yummy, liver-y parts are intact and not overcooked. I give it a quick dip in its sweet and tangy shoyu-based sauce and bite in. The loud crunch is major. The batter is formidable but not heavy, adding dimension to the soft shell while a delightful crab flavor stands out.
Now I turn my attention to the 'ahi tataki. A generous portion of thickly sliced 'ahi is coated with blackened seasoning, giving each piece a little kick, and dressed with fresh herbs, aioli and deeply flavored ponzu. I savor these slice by sweet slice, each one balanced with bites of white rice, the pairing of which could be a meal on its own. The kalbi is nicely charred with a deep, beefy, smoky flavor, but it could be a little bit more tender and leaves me wishing for a punchier marinade.
SEE ALSO: Worth the Splurge: Royal Lobster Rolls in Waikīkī
Overall I love how special this bento feels, dancing from crunchy to meaty to light and fresh. It's fun and luxurious, especially at lunch. I feel accomplished—I tried a new thing! I'll be keeping my eyes peeled for future Feast bentos—even if it means ordering my cheese steak sandwich to take home for later.
2970 E. Mānoa Road, (808) 840-0488, feastrestauranthawaii.com, @feast808