Cool Operator–Uncle's Ice Cream Expands
Uncle's is building a new production facility in Las Vegas to help distribute its beloved ice cream sandwiches to the West Coast and beyond.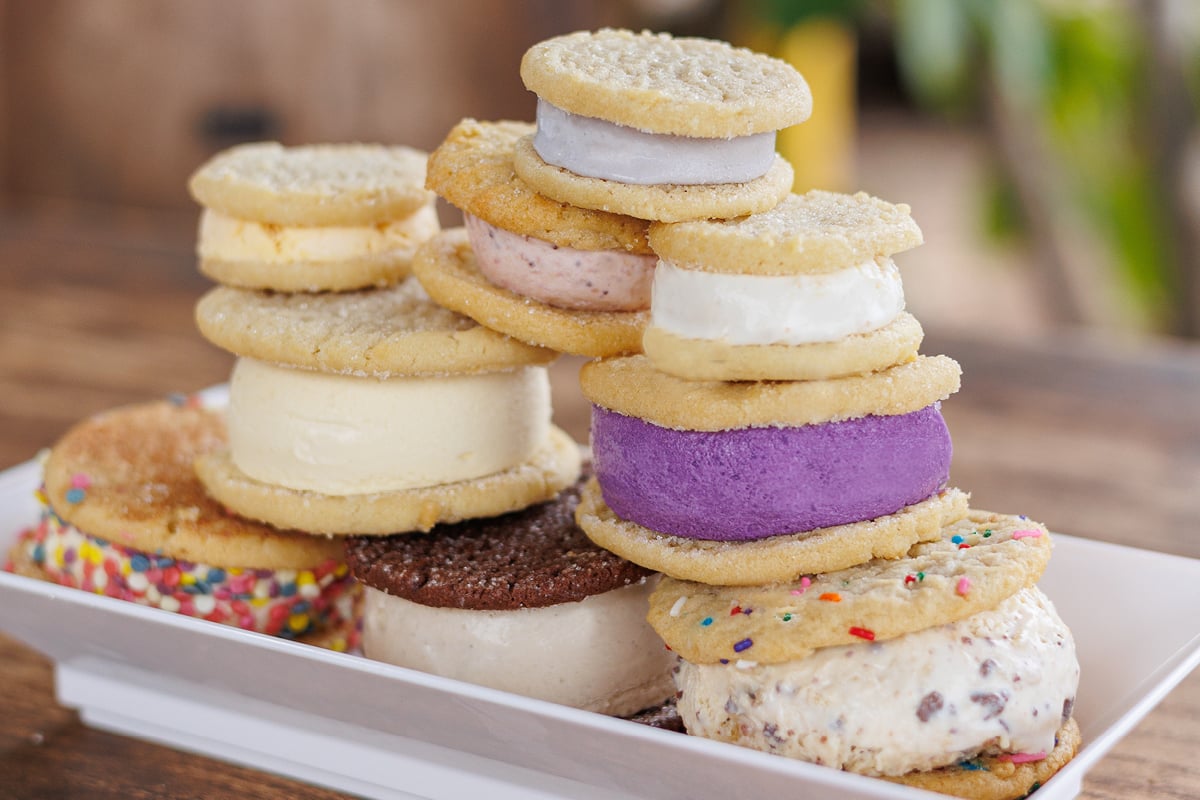 It started with lettuce. Almost a decade ago, Paul Logan and his wife, Barbara, brought their hydroponic lettuce to the Waimea farmers market. While there, he noticed a dearth of desserts and started dreaming up something sweet and simple: ice cream sandwiches. The former marine engineer began working on flavor combinations outside of vanilla. Honey peanut butter ice cream in between chocolate chip cookies. Seasonal apple pie ice cream sandwiched with oatmeal cookies, with crumbled, scratch-baked Honeycrisp apple pie folded into it. Vegan baked banana ice cream between cinnamon-y Snickerdoodle cookies.
Starting in 2013, the Logans began peddling their homemade sandwiches to local shops and restaurants, and Uncle's Kū Aloha Ice Cream Sandwiches took off. "No one ever took an Instagram [photo of] my lettuce," Paul says. Since 2016, sales at the North Shore-based company have grown sixfold and its treats are now prominently displayed at local Whole Foods and many other stores and restaurants. Through crowdfunding and investors, the Logans raised more than a million dollars to expand Uncle's Waialua factory, and they recently began building a new production facility in Las Vegas to help distribute their ice cream to the West Coast and beyond.
What's made Uncle's such a cult favorite is its variety of flavors. Paul has crafted more than 100 combinations that focus on natural ingredients, with an exception for sprinkles. "When kids beg for long enough for something with sprinkles, sometimes you have to bend," he says. The mainstays include North Shore coffee (rich Hawaiian coffee ice cream on dark chocolate cookies, dusted with sugar for crunch), as well as liliko'i, which offers a tangy pop paired with old-fashioned sugar cookies. Honey lavender is also a seasonal favorite, with floral Maui lavender lingering between a set of sugar cookies.
While Paul has been the mastermind behind the menu, customers can also suggest flavor and cookie combinations on Uncle's website (unclesicecream.com). One customer suggestion—ube ice cream on sugar cookies—is now a staple. A few years ago, Uncle's also debuted mini ice cream sandwiches, which have been a huge hit. But as with all their treats, there's nothing mini about the flavor.
Uncle's first flavor was liliko'i, which Paul grew on his Mokulē'ia farm. It is still the most requested by fans in other states.