The Ultimate Birria Taco in Honolulu Roundup
Restaurants, food courts, food trucks, Instagram: Where to find the latest trend in Mexican food on O'ahu.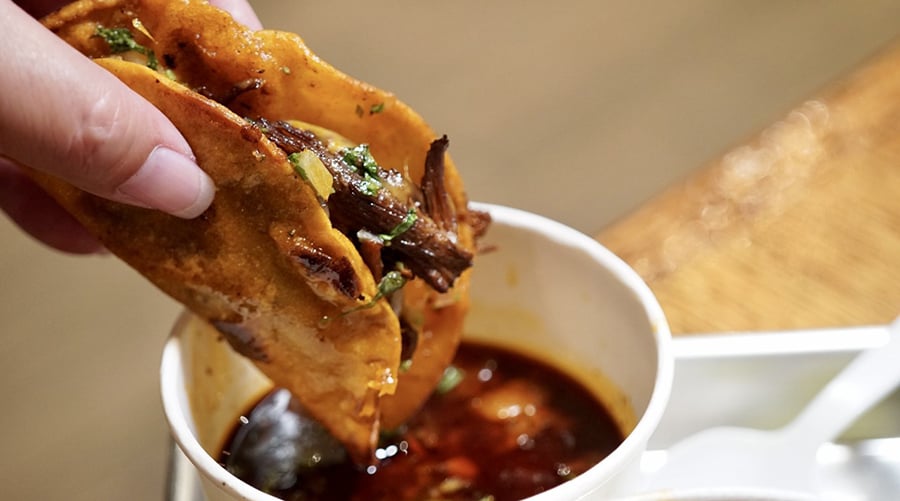 We blinked, and now birria tacos are seemingly everywhere. But while this hearty stew from Jalisco, Mexico is traditionally made with goat meat, on Oahu the meat of choice is beef—marinated in rich adobo sauce, cooked with chiles and spices until tender and served as a stew or taco filling.
Scroll below to see where you can find birria across O'ahu—not just in taco form.
Birria tacos
94Tacos
View this post on Instagram
Tacos from this Instagram business are available on weekends only and come with beef, cheese, onions and cilantro and a beef consomme with up to five kinds of chiles. Three birria tacos are $12; 6 tacos are $22. Sour cream and lime are on the side.
There are also chorizo tacos ($13 for 3, $23 for 6), elote ($1) and extra consomme soup ($1). Direct-message 94Tacos to pre-order for pickup in Waipahu.
---
Aloha Mamacita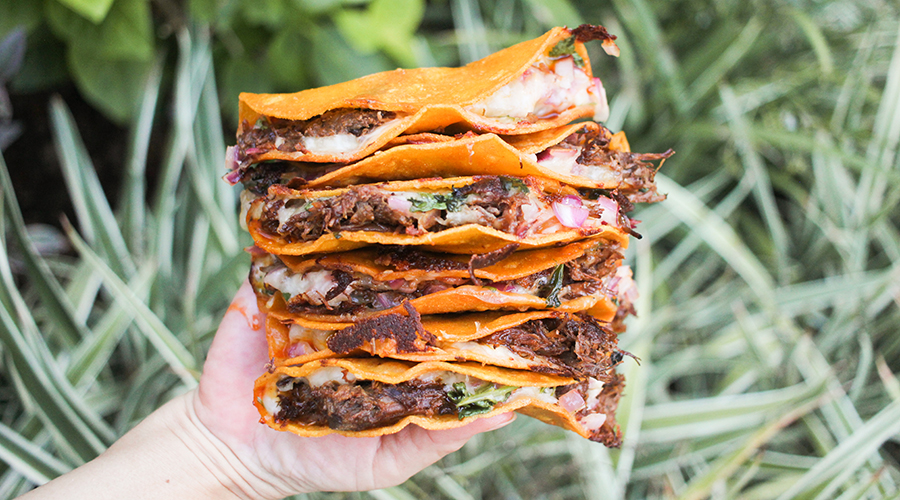 This new food truck by the same duo of Khanom Wan of 16-inch churro fame offers a plate with three birria tacos and consomme for $15. Corn tortillas are dipped in consomme oil, fried crispy and stuffed with mozzarella, beef, onions and cilantro. Lime and onions are on the side.
Future plans include the addition of birria fries and birria ramen made with a thicker ramen noodle from Sun Noodle and the consomme as the broth.
Pre-order online for pickup. Locations change weekly, so check Aloha Mamacita's Instagram for updates.
@aloha.mamacita, aloha-mamacita.com
---
WATCH THE VIDEO: Ranking Khanom Wan's crazy 16-inch churros
---
Barrio Cafe
View this post on Instagram
Barrio Café's smorgasbord of birria offerings include birria taco packs, birria queza taco packs, birria ramen, birria tortas, birria fries and birria adobo. Taco packs come with 6, 12 or 20 tacos; they're $2.50 each, $3 each if you want cheese. On the side are onions, lime and cups of consomme.
You can pre-order by phone or online on Mondays for pickup on Tuesday or Wednesday. Once you order, Barrio Café will contact you with a pickup time that's between 4 and 7 p.m.
672 Kilani Ave., Wahiawa, (808) 622-3003
---
SEE ALSO: New Mexican spot in Wahiawa is worth the drive
---
El Jalisciense
View this post on Instagram
Birria tacos here include beef, cheese, onions, cilantro and a side of consomme. They're $4 each ($3.50 without cheese) and are available every Thursday, Friday and Saturday.
95-790 Lumiaina St., Waipahu, (509) 423-4871
---
Griddled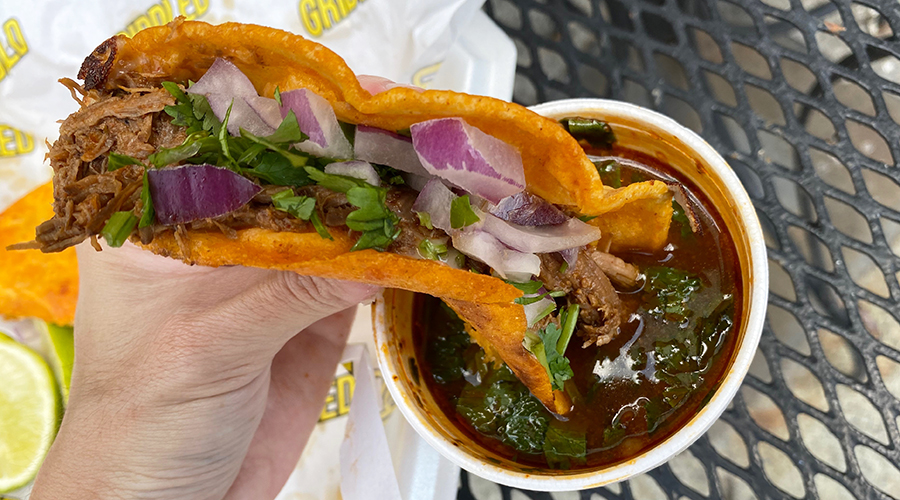 The birria menu at this 'Ohana Hale Marketplace counter includes quesataco dorados, mini quesadillas and consomme, each item sold a la carte.
Quesataco dorados are $4.50 each—crispy corn tortillas stuffed with shredded birria, cheese, onions, cilantro, lime and radish. Mini quesadillas, $5, feature the same ingredients but are made with flour tortillas. The $4 consomme with onions and cilantro has a mild spice that lingers on the tongue. If you want extra heat, get the spicy house salsa for 75 cents more.
Everything is made to order, so be prepared to wait.
'Ohana Hale Marketplace, 333 Ward Ave., Kaka'ako, @griddled
---
Jenny's Birria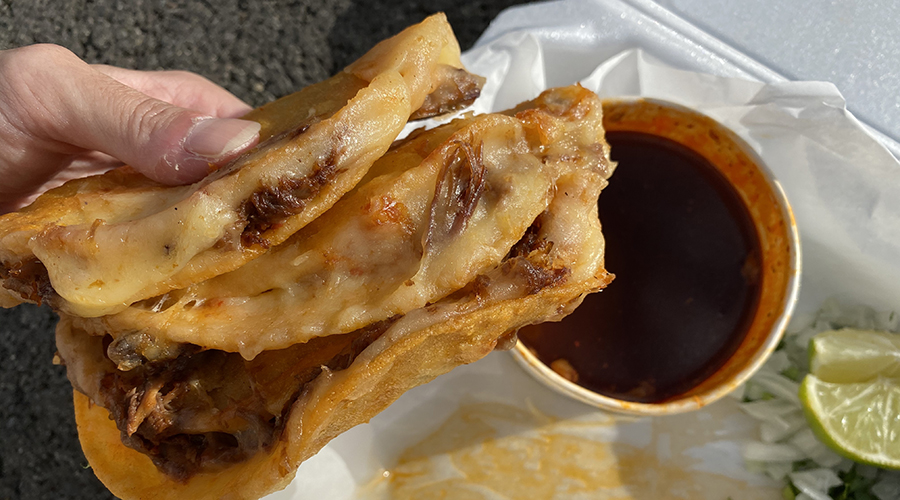 This cash-only Instagram business in Ewa Beach sells quesabirria tacos, birria ramen and birria nachos.
The birria ramen ($12) is made with beef-flavored ramen cooked in the birria consomme, and cilantro, onions and shredded birria are added. Quesabirria taco plates ($12) include three tacos and a 2-ounce cup of consomme; you can upgrade to a 6-ounce portion for $2 more. Tacos are filled with beef and cheese, with cilantro, onions and lime on the side.
Watch for pre-order availability announcements on Instagram for pickup on Tuesdays and Sundays in Ewa Beach.
---
La Birria Tacos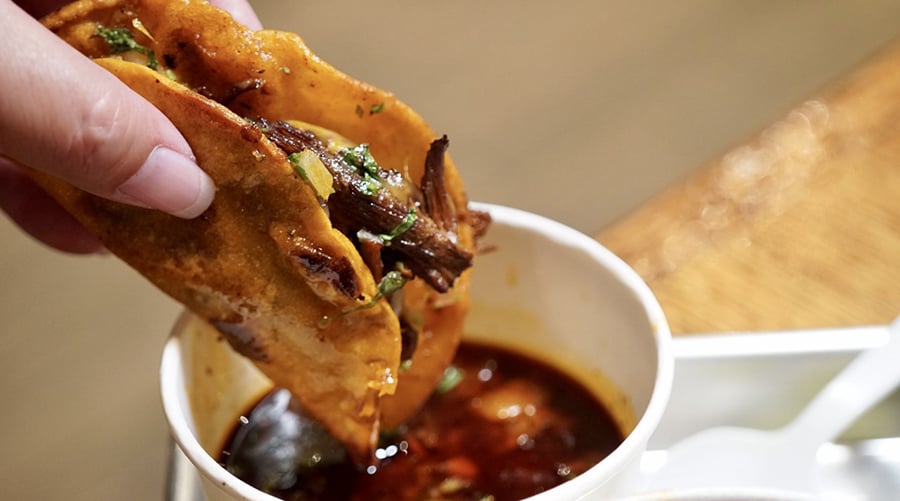 Pearlridge Center's new taco truck by Mexico City-born Arturo Silva, formerly of Buho Cocina y Cantina, and business partner Justin Mizufuka opened two days ago in the parking lot by the Leonard Jr's Hot Malasada truck. The truck's birria queso packs ($12) include three birria tacos with cheese and consomme; there's also birria saimin for $12. Hell fire taco packs ($12) step up the heat with two "hot AF tacos" and consomme. Check La Birria Tacos' Instagram for updates.
98-180 Kam. Highway, Aiea, @la_birria_hi
---
SEE ALSO: Birria Ramen and 10 Other Ways to Get This Trending Mexican Dish in Honolulu (None are Tacos)
---
Soffritto
View this post on Instagram
Birria taco plates are available daily. Plates cost $10 and come with two double corn tacos filled with beef, onions and cilantro with consomme on the side. The consomme is flavorful, but not spicy; you can always request mild.
73 S. Pauahi St., Downtown, (808) 524-4064
---
Sun's Up
View this post on Instagram
Available only on weekends, birria taco plates ($12) from Sun's Up come with three tacos, consomme and a small bottle of water or canned drink. Consomme ingredients are charred and grilled before they're blended for the broth, and the barbacoa is slow-roasted and shredded before it goes into the tortillas along with a three-cheese blend, cilantro and onions. Tacos are served with salsa verde, salsa roja and consomme. If you want extra heat, ask for Sun's Up's house-made chili oil.
2161 Kalia Rd., Waikīkī, (808) 266-0980 
---
Taqueria La Marea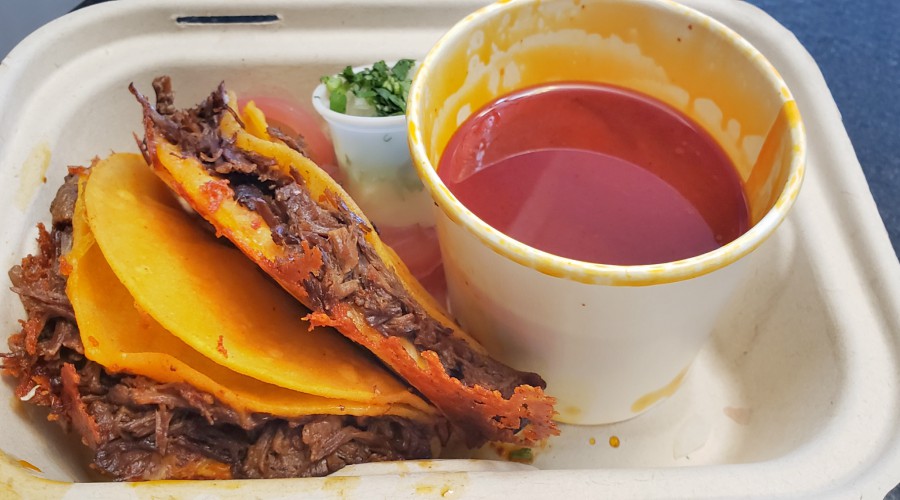 Birria plates here are $12 and come with two tacos and consomme. Condiments like onions, cilantro and pickled red onions add different dimensions, and there's often a line at this newish spot in Kalihi.
237 Kalihi St., Kalihi, (808) 469-5066 
---
See also: We found birria tacos in Kalihi
---
Taqueria El Ranchero
View this post on Instagram
Available after 2 p.m. daily, Taqueria El Ranchero's tacos de birria are corn tortillas filled with beef, onions and cilantro topped with salsa. Taco plates ($12) include three tacos and a side of consomme.
823 California Ave., Wahiawa, (808) 621-9000 
---
More birria
Jolene's Market: Barbecue brisket melt with birria sauce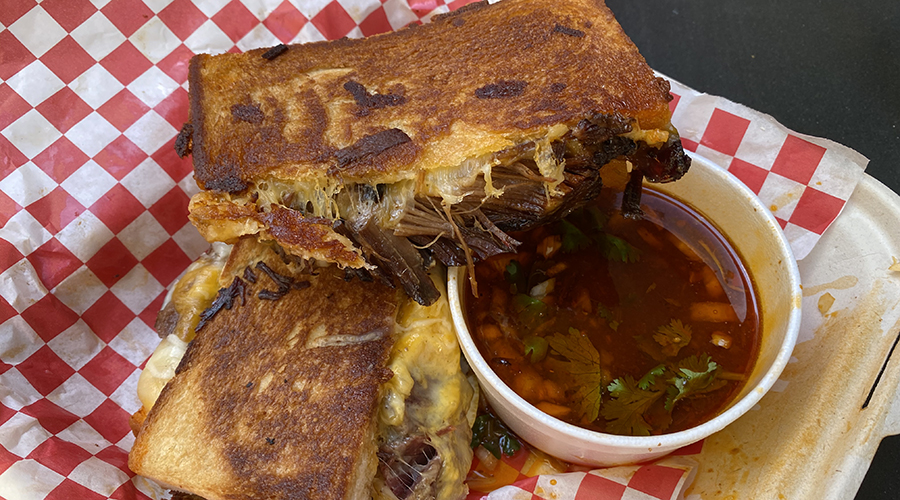 This new item at Jolene's Market is actually a brisket cheese melt—18-hour smoked brisket with a blend of havarti, mozzarella and American cheeses between soft, house-made Japanese milk bread—served with spicy birria consomme for dipping. The consomme is made not with the more typical smoked peppers, but Thai and other spicy Asian peppers. We hear it packs the same level of heat as Jolene's Korean Nashville Fried Chicken Sammie, though the cheese offsets some of the spice.
Limited-time specials include brisket-and-cheese wontons with Jolene's birria consomme (3 for $6) and birria noodles ($14) from Taiwan in the same broth laced with brisket trimmings for added flavor.
100 N. Beretania St., Chinatown, (808) 540-1000 
---
SEE ALSO: Grilled cheese 2.0: Three crispy, oozy new sandwiches
---
Forty Niner Restaurant: Birria saimin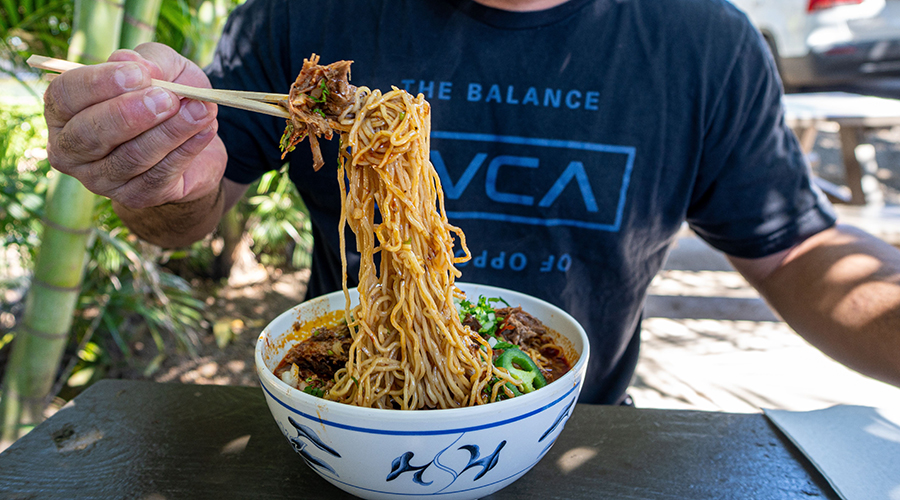 Forty Niner's saimin combines a broth of Mexican spices, chiles and beef bones with four-hour-braised beef and fresh local noodles. The $11.95 bowl will be around as long as customers continue to order it.
98-110 Honomanu St., Aiea, (808) 484-1940