A New Mexican Spot in Wahiawa is Worth the Drive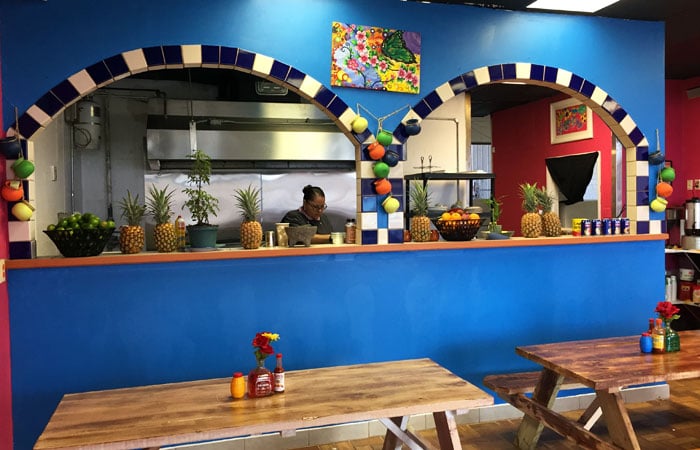 A foodie friend sends me a screenshot of Barrio Café's Instagram. "Look — potential fish taco spot," she texts. I click on Barrio's account and see not only promising-looking tacos, but also churro French toast.
I text back immediately: "So, when are we going to Wahiawa?"
As it turns out we're there only days later, since churro French toast on the mind is a major distraction. We find Barrio Café, which opened just over two months ago, on Kilani Avenue. Be on the lookout for the modest sign and four parking stalls out front.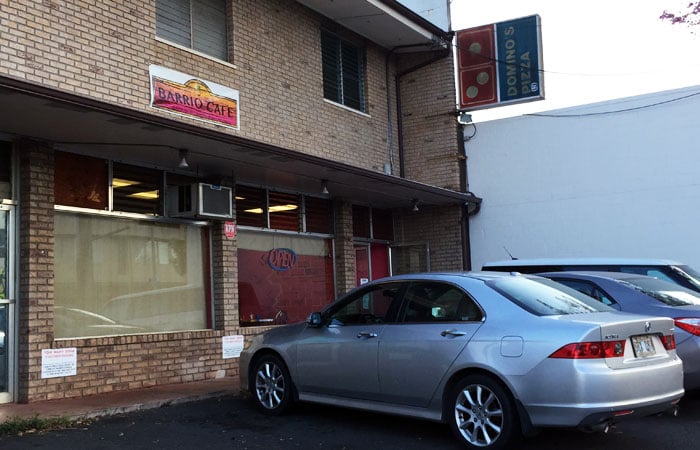 Have a hard time finding Barrio? Don't worry. Owner Miriam Olivas says that a bigger sign is in the works.
We go for breakfast on a weekday when Barrio opens at 7 a.m. There are a few small tables, but most of the seating is communal, cafeteria-style benches. The seating, the open kitchen and vibrantly painted walls create a welcoming hangout spot.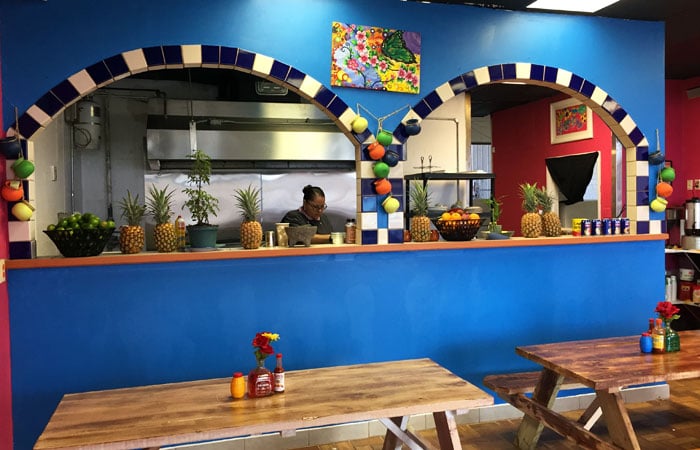 Barrio means "neighborhood" in Spanish, and Olivas wants her restaurant to be a comfortable environment for all who enter. As for the food, Olivas was born in Mexico and grew up in L.A. and El Paso before moving to Wahiawa 25 years ago, so she knows what she's doing.
I'm actually here for fish tacos, since I know the marlin is delivered fresh every Tuesday, Wednesday and Friday. But I have a serious weakness for breakfast and brunch. Once I see the breakfast options, my taco inclinations all but disappear.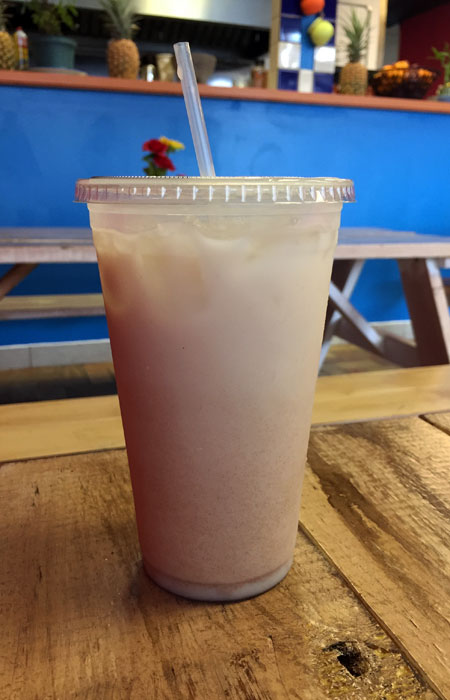 Every legit Mexican eatery has to dish up a good horchata. This one ($3) is a decent size and boasts a subtle sweetness.
If you're ordering something spicy, I recommend getting the horchata to give your taste buds a respite. It provides a welcome cinnamony sweetness.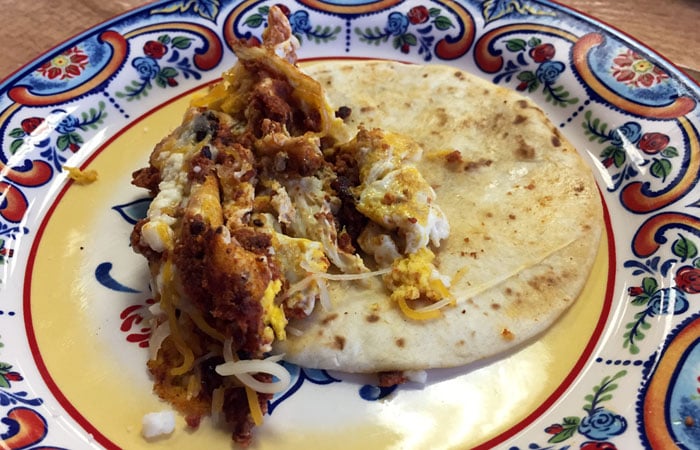 The early bird gets the deal: breakfast tacos are only $2 each if you come between 7 and 8 a.m. The petite flour tortillas are filled with scrambled eggs, shredded cheese and either machaca (marinated shredded beef) or chorizo.
I at least have to try a breakfast taco. The chorizo is flavorful with a slight kick that pairs perfectly with the slightly melted cheese and fluffy eggs. My taco's gone in three bites, only because I don't want to appear starving. It's a great appetizer that whets my appetite for our breakfast feast.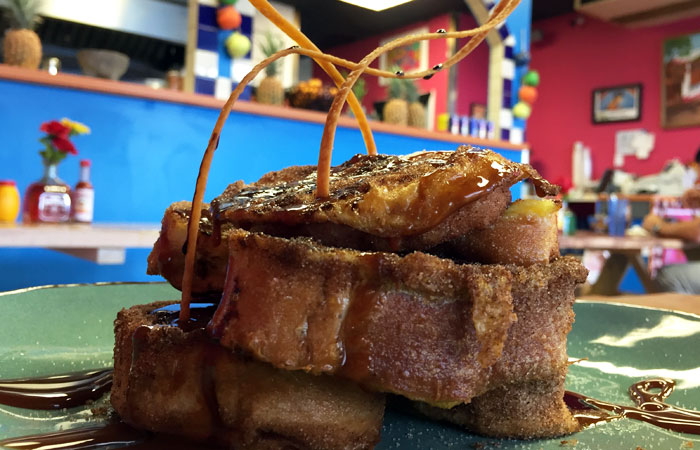 This ain't no ordinary French toast. See those antler-like sticks? That's fried fettuccine — for extra crunch and flair.
Churros were my all-time favorite snack at carnivals, fairs and especially Disneyland. Those childhood memories come flooding back when I dig into this glorious Churro French toast ($8.50).
Barrio's most indulgent—and only sweet—breakfast dish features four pieces of soft, fluffy French bread that's dusted in cinnamon sugar, lightly fried and surrounded by a pool of sticky caramel. It even crunches like a churro. It's like eating churros in French toast form. This dish is good to share since it's heavy, but you'll probably be fighting for the last billowy bite.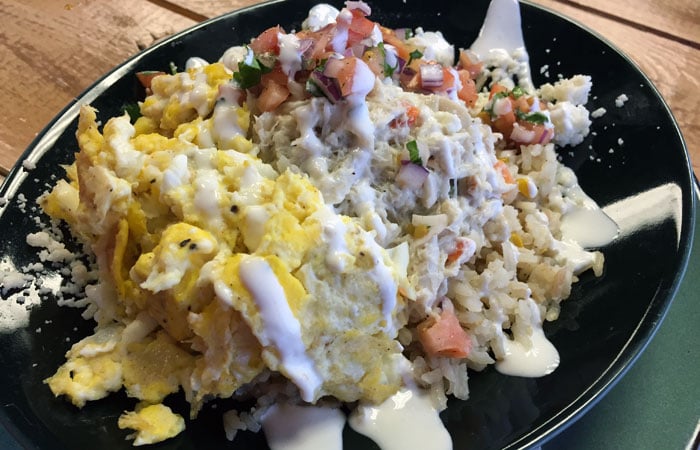 The Crab loco moco ($11) is a featured special from Thursday to Saturday.
Although the Mexi Loco Moco is one of Barrio's most popular dishes, I'm a huge fan of this crab alternative. The fresh crab simply dissolves in my mouth. It's coated in a rich, savory sauce made with queso fresco and heavy cream. The crab and sauce make this moco memorable, but I also like the grainy rice that's cooked with corn (each breakfast entrée comes with rice or potatoes and beans).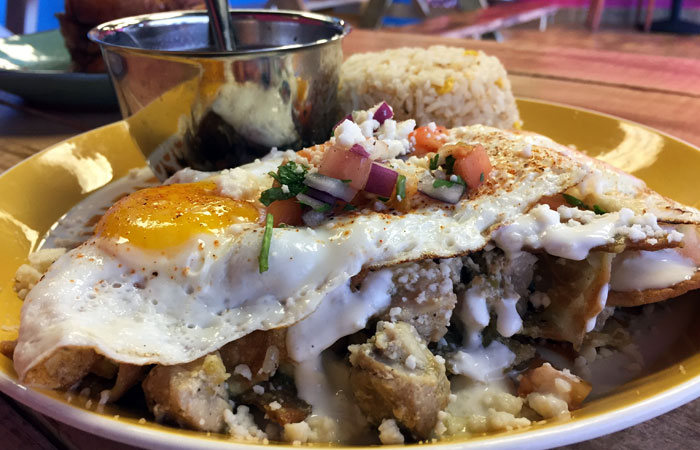 Chilaquiles ($12) are lightly fried corn tortillas with your choice of red or green sauce. They're topped with queso fresco, two eggs and a choice of meat — we order ours with chicken and green sauce.
Chilaquiles are all about tortillas, and these hit the spot. The corn tortillas are soft with a slightly crispy exterior, especially on the edges. The chicken is tender and the green sauce is mild. This dish is truly delicioso.
We learn that Barrio just started doing taco ice cream sandwiches for Taco Tuesdays. I guess I already know what day of the week I'll be back.
672 Kilani Ave., Wahiawa, (808) 622-3003