Grilled cheese 2.0: Three crispy, oozy new sandwiches
Face it, carbs + cheese = the ultimate comfort food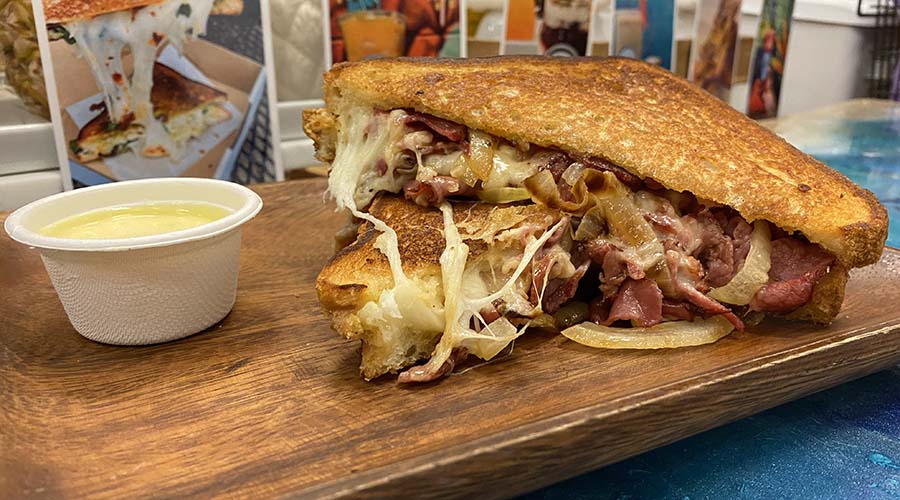 It turns out that for us, pandemic eating means comfort eating. And by us I mean me and by by comfort eating, I mainly mean grilled cheese.
The quintessential American sandwich never gets old. There's something so soothing and nostalgic about a simple sandwich of cheddar cheese between slices of buttery, grilled white bread. So it's not surprising that in recent weeks, several new grilled cheese sandwiches have popped up that are unconventional and superbly cheesy.
If you want to level up the next time you're craving grilled cheese, check out these newcomers.
See also: 3 islands, 3 sandwiches for National Grilled Cheese Day
Adobo grilled cheese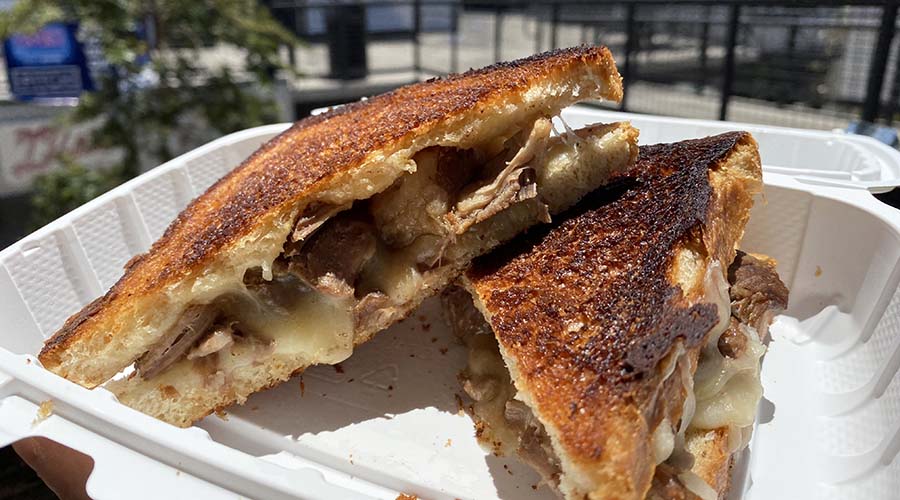 You'll find this on the appetizers menu at Shay's Filipino Cafe's new Kakaako spot: your choice of housemade pork or chicken adobo in a melty cheddar cheese sammie. I get mine with the restaurant's signature pork adobo. Shay's doesn't skimp on the adobo — each bite is filled with gooey cheese and flavorful, meaty chunks.
Shay's Filipino Cafe • 324 Coral St. • Kakaako • 892-1799 • Daily 11 a.m.-7 p.m.
Korean Nashville fried chicken cheese melt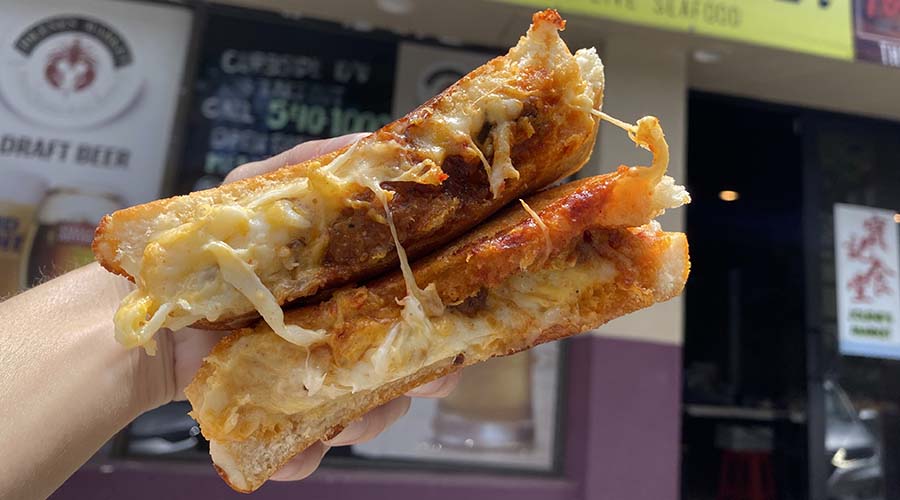 This is a mouthful, and I'm not only talking about the sandwich's name. The KNFC melt at Jolene's Market in Chinatown features buttermilk fried chicken, Korean-Nashville sauce and Havarti, mozzarella and American cheeses between slices of Japanese toast. The Korean-Nashville sauce is a gochujang-style spicy sauce; you can order this spicy or super spicy. I can handle mild spice so I'm definitely feeling nervous before biting in. The heat packs a punch — one bite in and I'm already sweating. It's hard to tell in the photo, but there's a decent amount of fried chicken here in the form of a thin slab. While the oozing, melty cheese offsets some of the heat, the spice level means I can only eat half a sandwich at a time. If you can stand the heat, this cheesy sammie is worth trying.
See also: Droolworthy: Now there's lobster grilled cheese at Jolene's Market
Jolene's Market • 100 N. Beretania St. • Chinatown • 540-1000 • Daily 10 a.m.-6 p.m.
Pastrami grilled cheese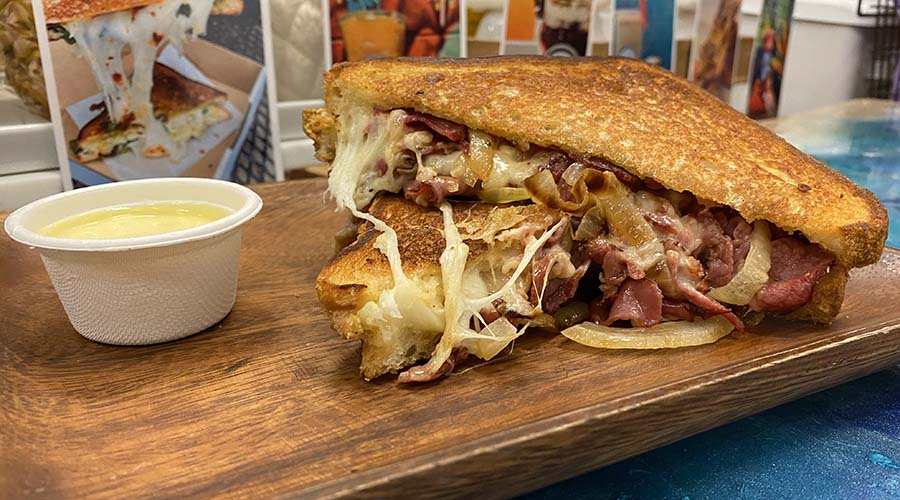 Honolulu Bistro's best-selling savory grilled cheese sandwich is packed with lean pastrami, mozzarella cheese, housemade honey mustard sauce and caramelized onions, plus you get more honey mustard sauce on the side for dipping. This sammie is all about flavors and textures. I love the combo of melty mozzarella, savory pastrami and softly crunchy caramelized onions. That sweet and tangy housemade honey mustard sauce is a winner — dip every bite in it for another dimension of flavor.
Honolulu Bistro at Ohana Hale Marketplace • 333 Ward Ave. • Kakaako • 728-5894 • Wed-Sun 10 a.m.-6 p.m. • Message them on Instagram if you want to preorder