The Best Beers Brewed in Hawai'i in 2021
Sixteen top picks from breweries around the state, many available for sipping (or guzzling) now.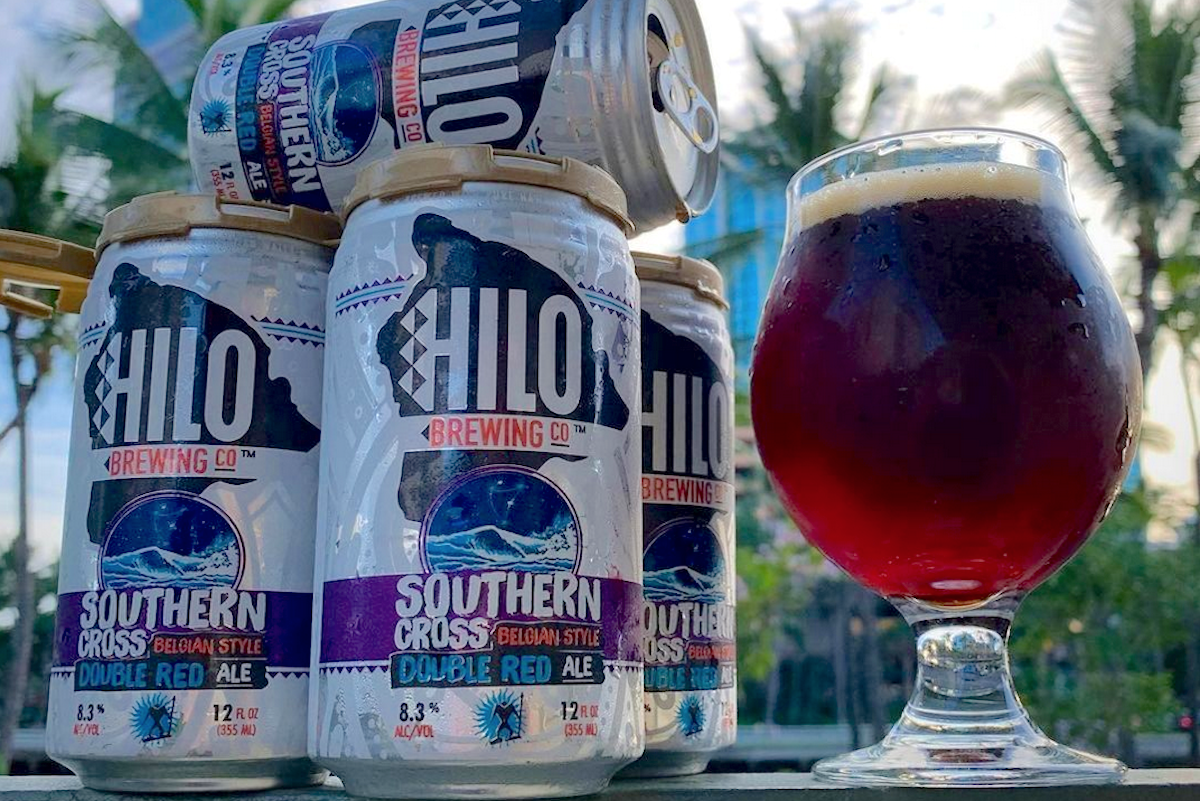 Glass half empty: 2021 was a strange year for beer lovers. Early pandemic restrictions were eased at our favorite breweries and bars, but many suffered false restarts, unexpected closings and staffing issues. The best option for drinkers was enjoying beer at home with to-go crowlers, cans and bottles.
Glass half full: New breweries opened their doors, including Lokahi Brewing Co., Mahalo Aleworks, and Beach House Beer Co. Stewbum & Stonewall Brewing Co. started making beer in their new Chinatown location after the old tanks went dry in 2017. Established breweries that expanded with new locations included Ola Brew Co. in Hilo and Waikīkī Brewing Co.'s two brewpubs on Maui. Even more are on the horizon in 2022.
This is my second year compiling my favorite beers from the Aloha State. As with my 2020 list, it feels unfair to limit myself to a Top 5 or even a Top 10. Passion for and dedication to brewing beer in such a difficult geographic location is itself cause for celebration. With that in mind, I chose my favorite from every brewery I could get in my glass. Many debuted in 2021; others I revisited. Each was produced in Hawai'i and while some are still out there, others were small-batch products that are tapped out and may be gone forever (although in this writer's opinion, all of them should make a comeback).
Ales for ALS Hazy Pale Ale
Aloha Beer Co.
ABV 6.1% IBU 40
This bright and tropical hazy pale ale was easily approachable with a soft, creamy, citrus profile. Proceeds were donated to the ALS Therapy Development Institute as part of a national campaign. (No longer available.)
---
SEE ALSO: Your Guide to O'ahu's One-of-a-Kind Collaboration Beers
---
Fade to Darkness Black IPA
Beer Lab Hawai'i
ABV 7.9% IBU 63
Once a popular style of pronounced bitterness with roasted malt, Black IPAs are now hard to find. This one was a welcome surprise with a mix of rich coffee and combination of piney-citrus hops. (Available on draft now.)
---
SEE ALSO: More Than Any Other Brewery, Beer Lab HI Captures the Everyday Joys of Living in Hawai'i
---
Detective Stout #3
Broken Boundary Brewery
ABV 10.8%
The third in a series of strong, dark Imperial Stouts is another delicious mystery. Guess the ingredients correctly and win prizes from the brewery. Sorry, I can't tell what I tasted. (Available on draft and in cans now.)
---
SEE ALSO: First Look: Broken Boundary Brewery in Kalihi
---
Darker Depths Imperial Stout
Hana Koa Brewing Co.
ABV 12%
A beast of a dark beer, this one has a base that's a complex combination of sweetness with warmth from the high alcohol. 2021 saw many holiday-related variants including chocolate, peanut butter, mint and barrel-aged releases. (Available in cans and periodically on draft.)
---
SEE ALSO: Keep Your Spirits Up at Hana Koa Brewing Co.'s Mezzanine Bar
---
Southern Cross Belgian Style Double Red Ale
Hilo Brewing Co.
ABV 8.3% IBU 27
Released for the first time in a few years, this Belgian-inspired beer is strong and slick with notes of dried fruit such as figs. (Available on draft and in limited cans on Hawai'i Island only.)
---
Missing My Chicks Hoppy Lager
Honolulu Beerworks
ABV 6% IBU 46
A bright and crisp lager with the addition of tropical and citrusy hops, this IPL is another throwback style perfect for summertime. (No longer available.)
---
Hop Dreams Hazy IPA
Inu Island Ales
ABV 6.5%
I have a soft spot for the complex flavors of New Zealand hops. This IPA with flavors of juicy nectarines was a delicious blend of two of them: Moutere and Rakau. (No longer available.)
---
Dakine Double IPA
Kohola Brewery
ABV 10.2% IBU 70
A big, resinous beer like those from the Pacific Northwest, it was surprisingly easy drinking with juicy citrus and resinous notes. (Available on draft on Maui only.)
---
Kua Bay IPA
Kona Brewing Co.
ABV 7.3% IBU 68
My favorite from one of the oldest breweries in the islands, Kua Bay is an American IPA with a piney and caramel profile. Look for the "Made in Kona, HI" tags on the new ridged cans in stores. (Available in cans and on draft now.)
---
SEE ALSO: Best of Honolulu 2021: The Best Food and Drinks on O'ahu
---
Get Thrills Crush Pils
Lanikai Brewing Co.
ABV 5.2% IBU 30
This Czech-style Pilsner is best enjoyed on draft from a slow pour faucet. Brewed with mamaki, a plant endemic to Hawai'i and traditionally used in ceremonies and medicine, the golden beer has an earthy flavor. (Available in bottles and periodically on draft.)
---
Honey Macadamia Nut Coffee Brown
Lōkahi Brewing Co.
ABV 6.3%
My favorite from O'ahu's newest brewery in its first year was this brown ale made with a special blend from Honolulu Coffee Co. Complex yet subtle flavors of macadamia nuts, honey and coffee make this a treat. (Available on draft now.)
---
English Brown Ale
Mahalo Aleworks
ABV 5.8%
One of Maui's newest breweries, Mahalo Aleworks offers a panoramic view of the Valley Isle from Kula. English styles with their characteristic bready smoothness are rare in the state. This one includes hints of caramel and coffee. (Available on draft on Maui only.)
---
Day of Infamy Cream Ale
Maui Brewing Co.
ABV 4.5% IBU 20
For the year's 80th anniversary remembrance of the Pearl Harbor attack, Maui Brewing partnered with veteran-owned Chula Vista Brewery and the Best Defense Foundation to brew a simple and refreshing Cream Ale. This is a misnomer as the beer is bright and incredibly crisp, perfect for enjoying right out of the can. (Available in limited cans and on draft now.)
---
SEE ALSO: World of Beer Brewed Here in Hawai'i: American IPAs
---
Kick'n Back Kölsch
Olomana Brewing Co.
ABV 5.4% IBU 37
Another misleadingly simple style, Kölsch are meant to be enjoyed in quantity while staying refreshed and engaged in conversation. This one was bright with a pleasant, dry, grainy body. (Available periodically on draft.)
---
Batch 518 Pale Ale
Stewbum & Stonewall Brewing Co.
ABV 5.18%
One of Stewbum's original recipes, Batch 518 Pale Ale is reminiscent of that famous American craft beer staple from California. Deep amber with caramel and a bready body, it gets a bubbly zing from carbonation. (Available on draft now.)
---
SEE ALSO: Stewbum & Stonewall Is Finally Brewing Beer Again
---
Broke Da Stout
Waikīkī Brewing Co.
ABV 11% IBU 50
Celebrating their new brewpub in Lahaina, this rich, chocolatey Imperial Stout has hints of roasted coffee and warming alcohol. It was one of the brewery's first beers made on Maui. (No longer available.)
Should any of these specific beers or styles sound interesting, seek them out. Or ask your bartender for local recommendations—you may find your new favorite. (Apologies to Beach House Beer Co., Big Island Brewhaus, Kaua'i Beer Co., Kaua'i Island Brewing Co., Ola Brew Co. and Taps & Apps Brewpub: I was unable to enjoy your beer last year.)
---
SEE ALSO: Out in the Open: The Best Places To Go For Outdoor Dining on O'ahu Right Now
---