Our Go-To: The Best Takeout Dishes for Potluck Parties and Picnics on O'ahu
With Memorial Day coming up, we polled 13 committed eaters at Frolic and HONOLULU Magazine for their top picks.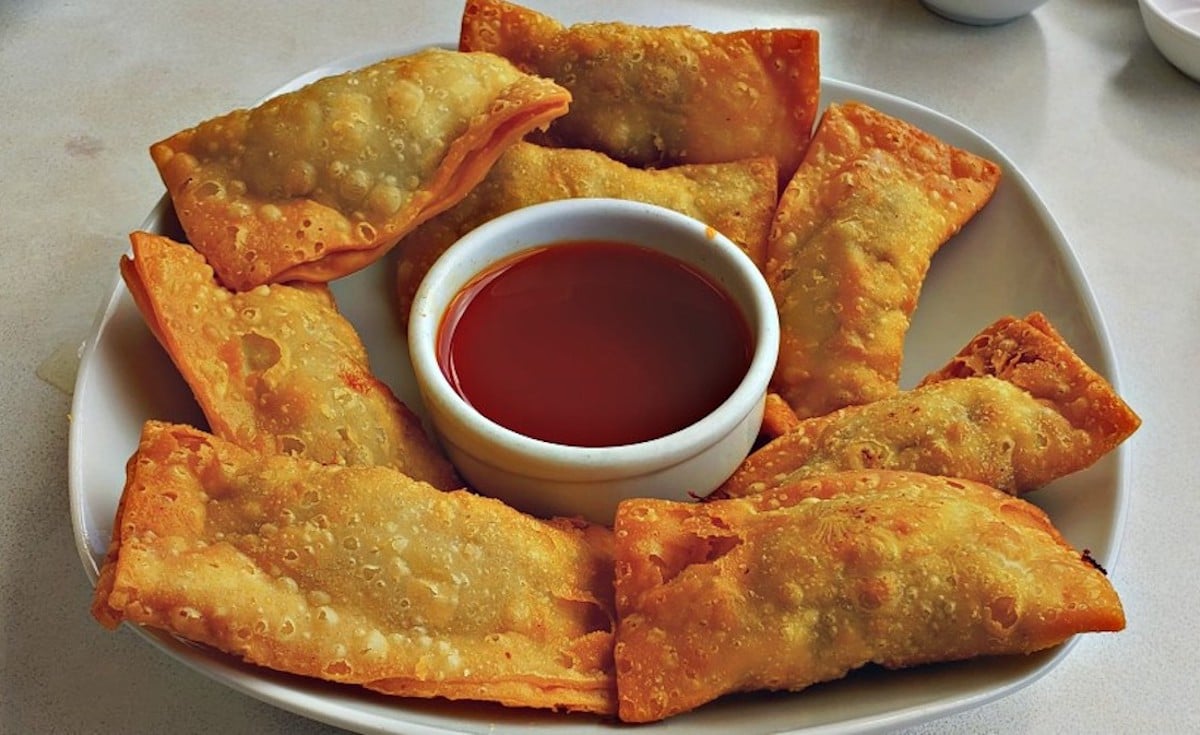 What's your go-to potluck dish? With Memorial Day weekend promising lots of parties and picnics, we polled the committed eaters of Frolic Hawai'i and sister publication HONOLULU Magazine for their faves. Conclusion: Poke and gau gee rule!
'Ahi limu poke
Foodland
With poke, you gotta go all in. If people aren't into the limu, they can have tofu poke. Which I also do bring. —James Nakamura, creative director, HONOLULU Magazine

Multiple locations, foodland.com, @foodlandhi
---
SEE ALSO: Owners and Chefs Share Their Best Recommendations on What to Order at Their Poke Shops
---
'Ahi shoyu or California roll poke
Foodland
I keep Mainlanders in mind, and they're usually comfortable with 'ahi shoyu. The avocado makes the California roll 'ahi poke pretty popular, too. —Aaron K. Yoshino, staff photographer, HONOLULU Magazine

Multiple locations, foodland.com, @foodlandhi
---
SEE ALSO: Things That Made Us Go Mmmmm At The New Foodland Farms In Pearl City
---
Char siu bao
Sing Cheong Yuan Bakery
One of my go-to potluck items (especially when I'm in a rush) is char siu bao. I'm super last minute, and since Chinese bakeries are always open and always cranking, I know I can get it without needing to preorder (a.k.a. planning ahead). Everyone loves it. And since there is always too much food at potlucks anyway, it makes the perfect leftover because it can be frozen—whereas many other leftovers need to be consumed within the next day or two. —Melissa Chang, Frolic

1027 Maunakea St., (808) 531-6688, @singcheongyuanbakery
---
Crispy gau gee
Golden Eagle
It's the Hawai'i fried chicken. Everyone loves fried foods and these hold up well to sitting out for a little while. They're also the perfect size to hold in your hand while the other hand is holding a paper plate. —Gregg Hoshida, Frolic

2334 S. King St., (808) 955-5080, goldeneaglehonolulu.com, @goldeneagle
---
SEE ALSO: Best Crispy Gau Gee: Our Top 5
---
Crispy gau gee
Pah Ke's Chinese Restaurant
Short notice for a potluck means I'm grabbing poke on the way. Whenever I have the time, I would rather order a pan of crispy gau gee from Pah Ke's Chinese Restaurant in Kāne'ohe. My potlucks are usually on the Windward side so a quick drive by this spot is totally worth it. Especially because you get to be the one who brought the hot, crunchy, juicy gau gee–that no one was really expecting, but at the same time secretly hoping for. —Maria Burke, digital dining editor, Frolic and HONOLULU Magazine

46-018 Kamehameha Hwy, (808) 235-4505, pahke.com

---
Crispy pork belly platter
Shiro's Saimin Haven

When our family gotta bring someting for potluck, if I not making someting, I feel like we should bring someting for represent our neighborhood, 'Aiea-Pearl City. People always rave when we bring Shiro's Crispy Pork Belly. It's like Chinese style roast pork, but den dey deep fry 'em so da ting comes out doubly crisp. And it even comes with Shiro's special ponzu sauce. Soooo ono. Da problem we get now is sometimes we gotta bring someting different, cuz we get some friends who liked dis so much dat dey stole our idea. Dey bite, brah! —Lee Tonouchi, Frolic

Multiple locations, shiros-saimin.com, @shirossaimin
---
Fried chicken
Popeyes

When it comes to potluck, I got my go-to: Popeyes! Their fried chicken is my favorite. There's a delicious, crispy crunch of batter and chicken skin when you take that first bite. After basking in that crunch, what follows is a warm flow of juicy seasonings and a moist and tender morsel of meat. What sets it apart from other fried chicken? That spicy seasoning that's not too hot, but just right, warming my taste buds but not making me sweat. I don't know if it's what authentic Louisiana tastes like, but it's definitely good enough for me to lick my fingers! It's also relatively easy to find a nearby Popeyes, go through the drive-thru and pick up the thigh and drumstick special of the week. I brought Popeyes to so many potlucks that people started asking me to bring something else, lol. —Eric Baranda, Frolic

Multiple locations, popeyes.com, @popeyeshawaii
---
Fried rice
Times Coffee Shop

Old-school Times Coffee Shop in Kailua dishes up its comforting signature fried rice two ways: traditional slightly sweet with meaty bits, onions and green onions; and veggie, where the rice mingles with fresh kale, mushrooms, carrots and tomatoes. Pick up a full order of each as a potluck pleaser for meat eaters and vegetarians, especially when many of us indulge in carbs mostly as a treat. Customize with brown or white rice. Insider tip: Order shoyu-based instead of teriyaki sauce if you prefer savory over sweet. Each full order comes with an egg and side of potato/macaroni salad, which you can share or not. We won't tell. Times closes at 1 p.m. but opens at 8 a.m. weekdays and 6:30 a.m. weekends and the fried rice holds up well when served later. —Robbie Dingeman, editor at large, HONOLULU Magazine
153 Hāmākua Drive, (808) 262-0300, timescoffeeshophi.com, @timescoffeeshopkailua
---
Mead
Mānoa Honey & Mead
I'm more of a small-picnic person than a potluck one, and I try to bring something I've made. (Next time I'll do the nori chicken from Sheldon Simeon's Cook Real Hawai'i.) But if I'm not cooking, I'm probably bringing drinks. Mānoa Meaderyʻs liliko'i session is one of my favorites: light, a little dry, easy to drink and, since it's carbonated like Champagne, celebratory. Since I can easily go through a bottle myself (it's 7.6% ABV), it's best to bring a couple options for sharing. Other flavors currently available include pineapple sour, four-fruit punch, Java plum rosé and ginger honey. —Katrina Valcourt, managing editor, HONOLULU Magazine
Available at 930 Palm Place in Wahiawā, online and at various retails such as Whole Foods and Foodland, manoahoney.com, @manoahoneymead
---
SEE ALSO: We Tried It: Liliko'i, Pineapple and Java Plum Mead from Mānoa Honey Co.
---
Sashimi platter
Maguro Brothers
OK, I've never shown up with a sashimi platter this big, but I like places where I can give a dollar amount, throw in a couple of requests and trust the shop to come up with a selection that's fresh, supple and crowd-pleasing. I used to call the longtime head of Marukai's fish department with my request in the pre-Don Quijote ownership days; now it's Maguro Brothers. At potlucks, the sashimi platter is always the first thing to disappear. —Mari Taketa, digital dining managing editor, Frolic and HONOLULU Magazine
1039 Kekaulike St., (808) 259-7100, @magurobrothershawaii
---
SEE ALSO: 3 We Tried (Twice): Who Has the Best Salt-and-Vinegar Wings on O'ahu?
---
Shanghai fried noodles
Little Village
Noodle dishes are essential at any potluck, and my favorite can be found at Chinatown staple Little Village. Savory, salty, smoky, flavorful and packed with goodies like shredded cabbage, bamboo shoots and lean pork, these thick udon noodles will be gone before you know it… so best get yours first! —Tracy Chan, Frolic
1113 Smith St., (808) 545-3008, littlevillagehawaii.com, @littlevillagenoodlehouse
---
Children's Plate
Sushiman Hawai'i Kai
View this post on Instagram
It's always between Sushiman and Zippy's. This platter is all sushi: There's Spam musubi, California roll, cucumber rolls—something for everyone. Easy! —Stacey Makiya, senior fashion editor, HONOLULU Magazine
Multiple locations