Best Crispy Gau Gee: Our Top 5
This classic post follows a hunt for the best of the beloved party pleaser.
Editor's note: This post was originally published in February 2021.
Bring a pan of crispy gau gee to a potluck and it's a guaranteed hit. It's one of those Hawai'i-only Chinese restaurant staples that you're unlikely to find outside of the 50th state. The wrapper has an irresistible crunch with a savory, meaty filling that is more substantial than a won ton. Crispy gau gee has earned its place in the pantheon of classic local pūpū, right up there with lumpia, poke, smoke meat and boiled peanuts.
Studies show that our strongest food connections are usually established during our first encounter. In turn, those first impressions become the benchmark for foods we eat later in life. For many of us in Hawai'i, our benchmark for crispy gau gee is often tied to our neighborhood Chinese restaurant. While some have faded into the pages of history, many are still going strong.
What meets our criteria for great gau gee?
The wrapper must have a great crunch through and through.
The filling should be meaty, flavorful, well-seasoned and balanced with some fat. It should also have a consistent texture that doesn't flake apart nor is too fine.
Finally, the gau gee should be plump and proportionately filled. Too much filling and you lose the crunch; too little filling and you feel cheated.
Thank you to our readers who responded to our poll with your top 5 gau gee. After checking out nearly all of your recommendations, as well as a few others, we found our top 5 gau gee picks. After trying them side-by-side, the differences between them became clear. A few of our initial personal favorites did not make the final cut, however, we discovered and rediscovered places that are now destinations for us when we have a party to please.
---
SEE ALSO: Poll Results: Here's Your Top 5 Crispy Gau Gee
---
No. 5. New Mui Kwai
Our lone pick outside of town, New Mui Kwai is part of a well-established trio of Chinese restaurants in Kāne'ohe. Their gau gee yields a distinctive sesame oil flavor and has a roughly chopped pork filling that is similar to what you would find in a good pork hash. The crunch is good and satisfies.
45-1052 Kamehameha Highway • Kāne'ohe 
No. 4. 8 Fat Fat 8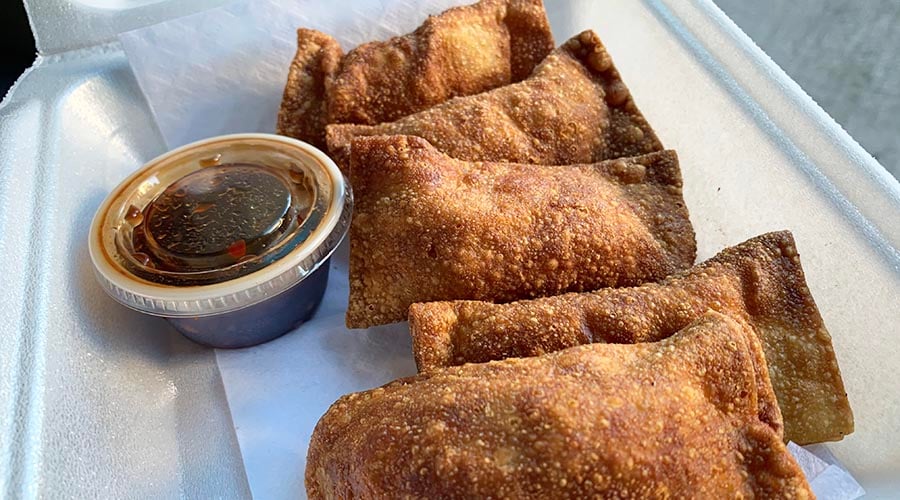 ​
While not a Chinese restaurant, this 8 Fat Fat 8 has many loyal customers that come for the laid back atmosphere and stay for the killer Chinese food. By far the most flavor-packed filling, 8 Fat Fat 8's gau gee surprised us with how mouthwatering it was. The only shortcomings were that it was fried a bit too long for our liking and that you only get five pieces per $8 order, making it the most expensive candidate on this list. While it makes a great pairing with a cold beer, we wanted more for our money. 
1327 S. Beretania St. • Makiki 
No. 3. Golden Duck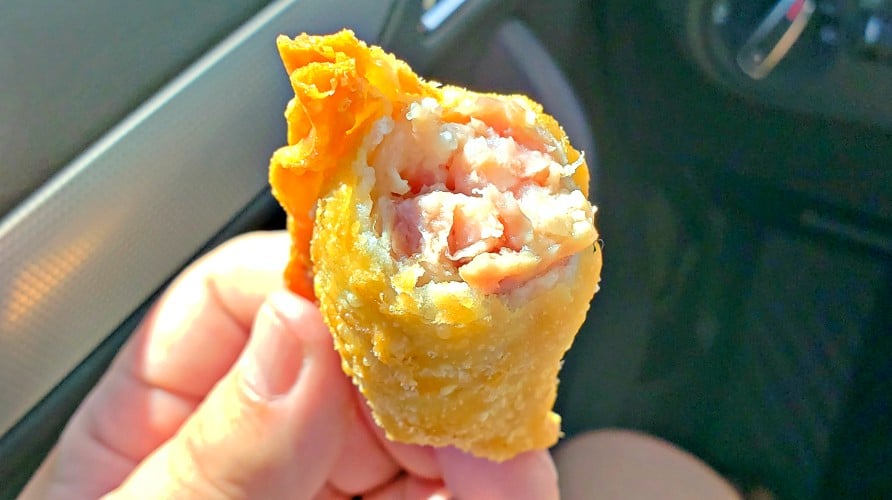 Located in the former Bakery Kapi'olani in Makiki on King and Pi'ikoi streets, Golden Duck has been dishing out solid Cantonese fare for decades. Though ownership changed a while back, it seems that nothing else has. It's very similar to our top pick for gau gee in flavor and crunch.
1221 S. King St. •  Makiki 
No. 2. Duk Kee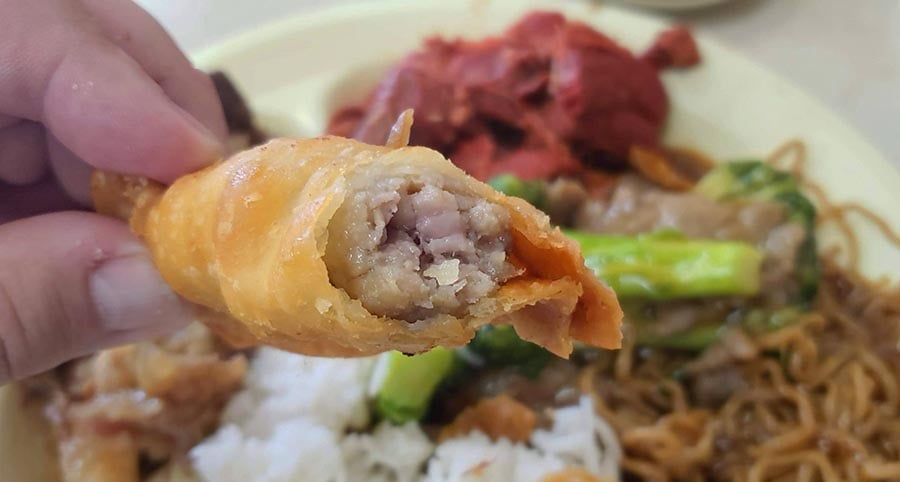 This Kaimukī staple has been around long before Kaimukī became a hotbed for hip new restaurants, and they've been famous for their crispy gau gee for just as long. On any given day, you will likely see a mountain of pork filling sitting near the kitchen with stacks of wrappers waiting to be filled. What kept Duk Kee from the top spot is their inconsistency of the wrappings which have the tendency to open during the cooking process, resulting in unevenness in the overall experience.
1146 12th Ave. •  Kaimukī  
No. 1. Golden Eagle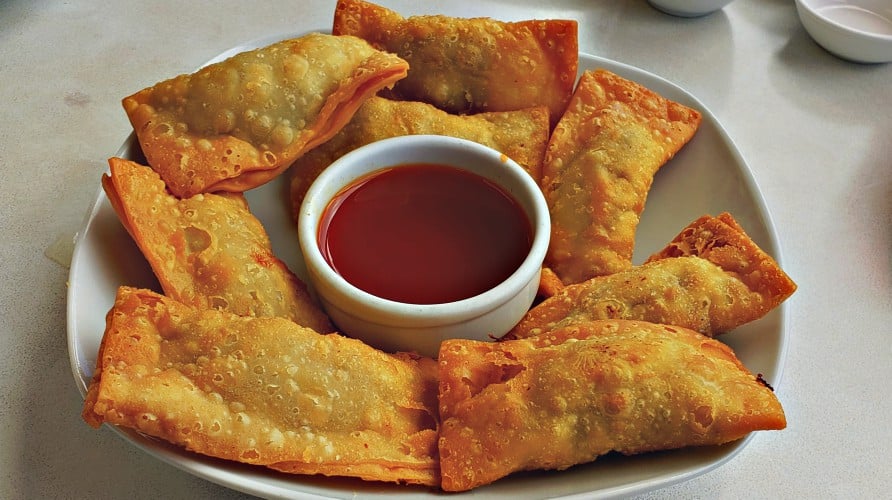 Tucked away on South King Street in Mō'ili'ili near Sweet Home Cafe, Golden Eagle recently changed hands (again), but their crispy gau gee game remains on point. This is a no-frills, pork-forward filling that has that rougher grind of meat and seasoning that is jusssst right. Perfectly crunchy all the way through and perfectly balanced meat-to-wrapper ratio. It was hard to stop eating these.
2334 S. King St. • Mō'ili'ili 
With the holidays upon us, you're sure to wow the crowd at your next party with a pan of gau gee from any of these spots.
Wondering about where we visited to do our side-by-side comparisons? Here's the list:
Asian Mix
Chun Wah Kam (Ala Moana)
Duck Lee
Duk Kee
Golden Duck
Golden Eagle
Happy Day
Honolulu Kitchen
Kin Wah Chop Suey
Kunia Chinese Restaurant
Moon Garden
New Mui Kwai Chop Suey (Kāne'ohe)
Nice Day
Papa Chan's
Pauoa Chop Suey
Roast Duck Kitchen
Royal Kitchen
Waimalu Chop Suey