James Beard Semifinalist Nami Kaze Is Launching an Omakase Dinner
Different takes on sushi and sashimi will join veg-forward dishes, beef shin adobo and desserts on Thursday and Friday nights.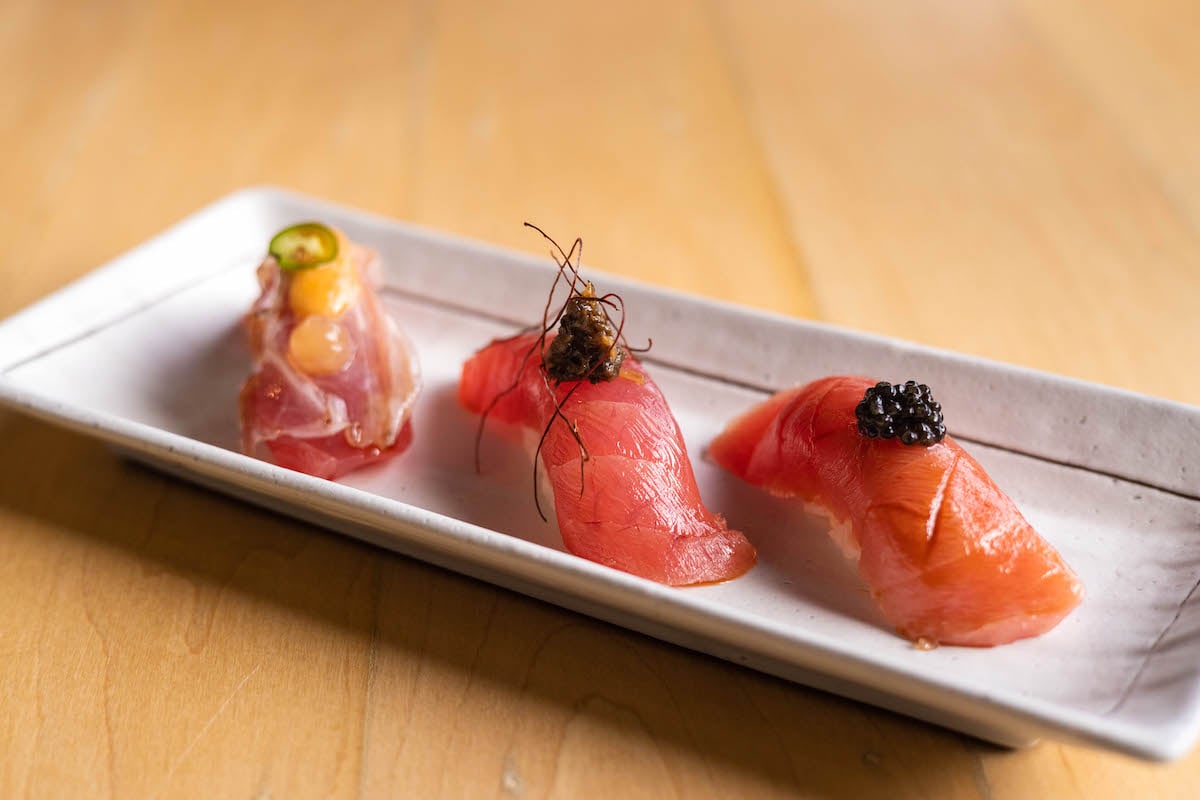 Nami Kaze, the izakaya that opened at Pier 38 last year and is now a James Beard Award semifinalist for Best New Restaurant in the U.S., is coming out with its first omakase tomorrow, March 23. The 16-course menu will highlight sushi and sashimi treatments using seafood from Hawai'i and Japan, along with local produce and meats—but not in typical izakaya style. "I don't want it to be one note," owner and executive chef Jason Peel says. "The way we're cooking is a combination, not just Japanese, but a combination of different items whether it's hot or cold or grilled or fried. I guess I'm too ADHD. I just want different things."
Dishes will include local abalone and an amaebi sashimi with flavors of ceviche. There's beef shin from Maui, braised and described as "a play between French and local with some Japanese influences" that ends up "like a type of adobo," Peel says. "My sushi chef likes to do a cure, so he's doing konbu jime of salmon belly, he's doing kampachi shimesaba-style on top of a hand roll. We're using lardo from Bob McGee (of Pono Provisions), the pork from Mountain View Dairy, so lardo with uni and akami (lean tuna sashimi). We're all over the place. We're doing foie gras chawanmushi, tuna lobster ochazuke."
---
SEE ALSO: Nami Kaze's New Izakaya Style Dinner Is One of Honolulu's Best
---
The style—Japanese meets local, with influences from all over the place—mirrors the playful approach of Nami Kaze's brunch and dinner menus. Its focus on different approaches to sashimi, nigiri sushi and hand rolls is meant to showcase the restaurant's sushi chefs, Shane Tonokawa and Devin Hikosaka. The omakase will close with desserts by pastry chef Bev Luk.
The $180 menu will be available Thursdays and Fridays starting March 23—but not Friday, March 24—with one seating a night at the 10-seat sushi counter.
---
SEE ALSO: These 11 Hawai'i Chefs and Restaurants are the 2023 James Beard Awards Semifinalists
---
Nami Kaze is up against 29 other eateries around the country for Best New Restaurant. Other Hawai'i semifinalists this year include Andrew Le of Chinatown's The Pig & the Lady (Outstanding Chef) and Kaimukī's Breadshop and Fujiya in Mō'ili'ili for Outstanding Bakery. Sheldon Simeon of Tiffany's Maui and Brian Hirata of Na'au on Hawai'i Island are among five Hawai'i semifinalists for Best Chef: Northwest and Pacific—the same award Robyn Maii of Fête won last year. See the complete list of 11 semifinalists here. Finalists will be announced March 29, with winners revealed at the James Beard Restaurant and Chef Awards in Chicago on June 5.
1135 N. Nimitz Highway, (808) 888-6264, namikaze.com, @namikaze.hi