My 8 Favorite Filipino Foods on O'ahu Right Now
From lumpia to sisig and halo halo to kare kare, here's where to find my beloved Filipino cravings.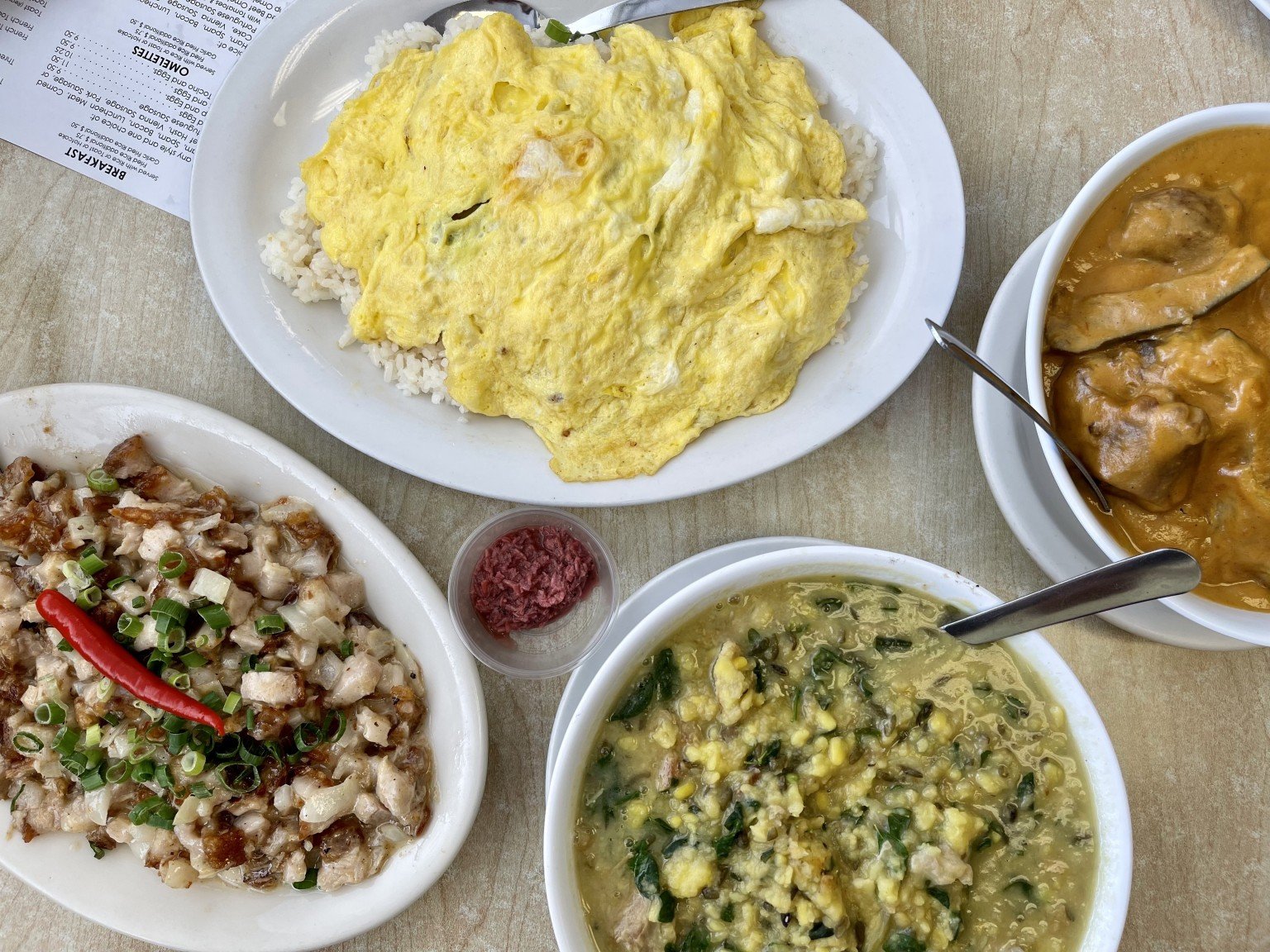 This post could go on forever. Ask me what my favorite Filipino dishes are and my head immediately starts to spin. How can I choose? My mother hails from Manila, so Filipino food is in heavy rotation on our dining table. While the diversity and depth of Filipino cuisine might be unknown to those outside the culture, it is my soul food. Luckily in Hawai'i, you can find restaurants dedicated to preserving the classics, and in more recent years, those that modernize iconic plates.
I love a home-cooked breakfast of longanisa (sweet pork sausage) or fried bangus (milkfish) with garlic rice and eggs. Once in a while, I even relish the process of frying my own tortang talong (eggplant omelet). Beyond home cooking, I seek outside the kitchen to find my favorite versions of these Filipino delicacies.
Pork sisig and monggo beans at Thelma's Restaurant
Everyone knows the Filipino-style roast suckling pig stuffed with aromatics called lechon, but have you met sisig? Traditionally in Pampanga it's made with minced up pig ears, face and stomach tossed with chicken liver, chile pepper and calamansi juice. At Thelma's in Waipahu, they forgo the offal and use lechon instead ($11.25). The result is a glistening plate of chopped-up bits of crispy pork belly tossed with sweet onions and lemon. You can even order it spicy. Rendered fat combines with zesty lemon juice and lacquers the juicy cubes of pork belly. Bite after crispy bite of crackling skin, tender belly meat and crunchy onion, sisig can only be described as a luscious party in your mouth.
While sisig is more of an indulgence, monggo beans are pure comfort: The starchy mung bean stew ($9.75), made with pork and a variety of greens, has a substantial texture that fills every corner of a hungry tummy. My mom would cook a huge pot and the savory, earthy smell would permeate our whole house. Thelma's prepares their version with malunggay (moringa). Although it's served as a main dish, I always prefer to have them as a side starch over the ubiquitous pancit.
94-366 Pupupuhi Street, Waipahu, (808) 677-0443, thelmasrestaurant.com
Oxtail kare-kare at Elena's
Of all the meat and veggie stews, kare-kare is my top choice. Eggplant and long beans give texture variance to this creamy, peanut-based dish also from Pampanga. Elena's large portion ($25.99) has a lot of oxtail knuckles, each one wrought with pockets of unctuous fall-apart meat and tendon. It's easy to go overboard with peanut, but here it's balanced between richness and umami thanks to a careful hand with patis (fish sauce). Touches of bagoong (fermented shrimp paste) on the fork before taking a bite add another layer of salt if you crave it.
94-866 Moloalo St, (808) 676-8005, elenasrestaurant.com, @elenasfilipino
Lumpia from J&S Lumpia Spot
Despite it being one of my most cherished foods, lumpia is often an afterthought when served at restaurants. Leave it to the experts at J & S Lumpia Spot to solve that problem. Filled with a tasty mixture of pork and egg, J & S's lumpia Shanghai (Six for $8.50) is the star of the menu. Each piece is perfectly rolled and fried to ultimate golden brown deliciousness. Get both garlic vinegar and sweet chile sauces to alternate between bites. I promise you, once you try one, you won't be able to stop.
J & S also makes a fabulous turón or banana lumpia. Brown sugar-coated bananas and jackfruit are swaddled in a crunchy exterior and fried until bubbles of caramelized sugar appear on the outside. Eat them hot and crispy or drown them in vanilla ice cream for maximum effect.
4369 Lawehana St A-1, (808) 400-1855, jslumpiaspot.com, @jslumpiaspot
---
---
Ube ensaymada from Beyond Pastry Studio
If I'm ever in hot water with mom, I can count on an ensaymada to flip the script. Usually, I grab one from my neighborhood market, but the day I brought her an ube ensaymada ($5) made by Cristina Nishioka was a really good day. In the Philippines, ensaymadas are smeared with copious amounts of butter, sugar and often shredded cheddar cheese. While many ube-flavored confections are made with a concentrate or enhanced with artificial colors, Nishioka uses local ube she processes from scratch. Nishioka's buns are finessed with fluffy dough shrouding a creamy and delicately sweet mixture of cream cheese and real ube. The slightly gooey texture is a perfect match for the soft little bun that has the power to bring about big smiles.
1067 Alakea St, beyondpastrystudio.com, @beyondpastrystudio
---
---
Halo-halo at Magnolia Ice Cream and Treats
Ever since small kid time, I would hunt down coconut jellies and tender pieces of buko (young coconut) swimming in my halo-halo and slurp them up with delight. So, it's no surprise that my favorite kind of halo-halo is the one made with buko pandan ($7.58)—something I discovered at Magnolia Ice Cream and Treats in Waipahu. Whichever version of this iconic layered dessert is your favorite, I think its preparation is also best left to the professionals. Magnolia has served up supreme halo-halos with their rich ice creams on O'ahu since 2015. Besides the bouncy green pandan jellies, the finely shaved ice soaked in sweetened condensed milk is key to the slushy-type dessert that begs you to mix-mix.
Multiple locations, magnoliatreats.com, @magnoliaicecreamtreats
---
---
Polvorone from Ever Chocolate
One of the treats I always ask my mom to bring back from the Philippines is polvorone—either from my aunt's neighbor who makes them or if all else fails, Goldilocks Bakery at the Manila airport. I grew up savoring these sweet little cookies as they literally crumbled in my hands. On O'ahu, Ever Chocolate makes polvorone from scratch (8 for $11 or 22 for $30). Not much bigger than a USB drive, Ever Chocolate's polvorone come in a rotating combination of both signature and classic flavors. My favorites are cookies and cream and original—you can even get them dipped in chocolate! The crumb of these cookies is coarser than the mass-produced version but they are still light and decadent with subtle flavoring and the same feeling of home.
linktr.ee/evercho.co808, @evercho.co
Ginataan bilo-bilo from Filipino Express
Whenever we go to Thelma's we make a point to swing by Filipino Express two doors down for ginataan bilo-bilo ($5.75). This thick coconut soup is warm and full of young jackfruit, apple banana, cooked taro, tapioca pearls and large mochi balls. It's coveted in my house so I slurp it up as quickly as I can. Its aroma brings me back to small kid time as I dig for the mochi balls before my mom can catch me.
94-366 Pupupani St, (808) 676-8788
Honorable mention:
Longsilog from Julie'z
Not much beats a freshly cooked plate of garlic rice, longanisa and fried eggs ($9.25). At Julie'z in Kapolei, you can count on rice that's firm with a deep garlic flavor balanced with salt. Longanisa sausages are split and grilled inside out; they seep crimson oil onto the plate and over the rice. I like to chop everything up and bathe each bite in the yolk from the two over-easy eggs. Add raw onion and tomato with patis for freshness and there you have the breakfast of champions.
590 Farrington Hwy #532, (808) 693-8778