Sweet and Savory Lumpia From a New Spot is Just What We Need
J & S Lumpia Spot opened at the perfect time for those of us craving comfort.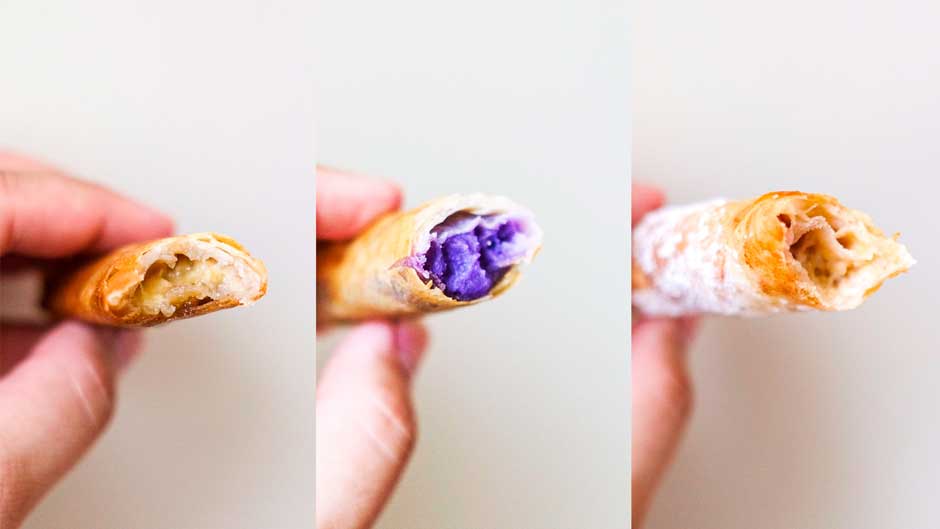 Update: J & S Lumpia Spot moved from the original location referenced in this article. The new address is reflected in its contact info at the bottom of this post.
Oh, lumpia. The many ways you comfort cannot be counted. In my family, the kids would get a call on their birthday to come over to Grandma and Papa's house where warm pans of pancit bihon and bags of freshly rolled lumpia were waiting. Of course, they were also frying up a batch as you walked in the door because you couldn't spend five minutes at their house without food in your hand. I miss that.
You know how Korean families have fridges dedicated to kimchee? My grandparents had a lumpia freezer and it was well stocked. Oh, yeah. So that's probably why it's SO HARD to find a place that just does lumpia.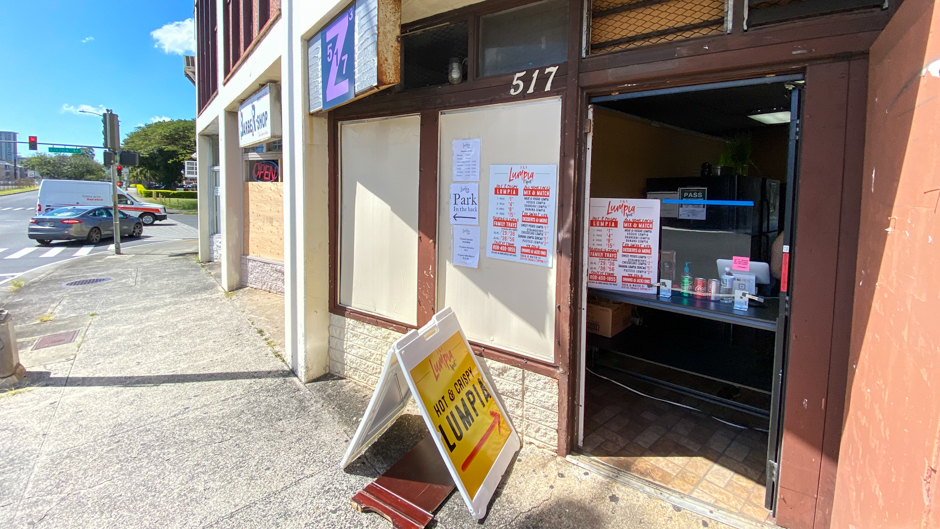 J & S Lumpia Spot, named after owners Janine Unciano and Susan Eladnani, did the impossible and opened during a pandemic shutdown. Located on the Ewa corner of Liliha Street and Vineyard Boulevard, their spot is just a kitchen and you order at the door where the menu is prominently posted. If you can't find it, look for the bright yellow sandwich board sign pointing you toward hot and crispy lumpia. Masarap!
Let me break down the menu for you. You can mix and match quantities of the following lumpia: meat and vegetable, vegetable, Shanghai, and banana. One piece is $1.50, three pieces for $4.30, six pieces for $8.50 and 12 pieces for $15.75. You can also pre-order trays of 25 and 40 pieces with either all banana ($29 and $38) or mix and match of the fillings above ($36 and $56). They also have a list of specialty lumpia including Okinawan sweet potato ($1.50), pastele ($2.50) and strawberry cheesecake ($2.75). Drinks are a dollar each and you can add ice cream for $1.75.
Lastly, a banana lumpia sundae will run you $5.95.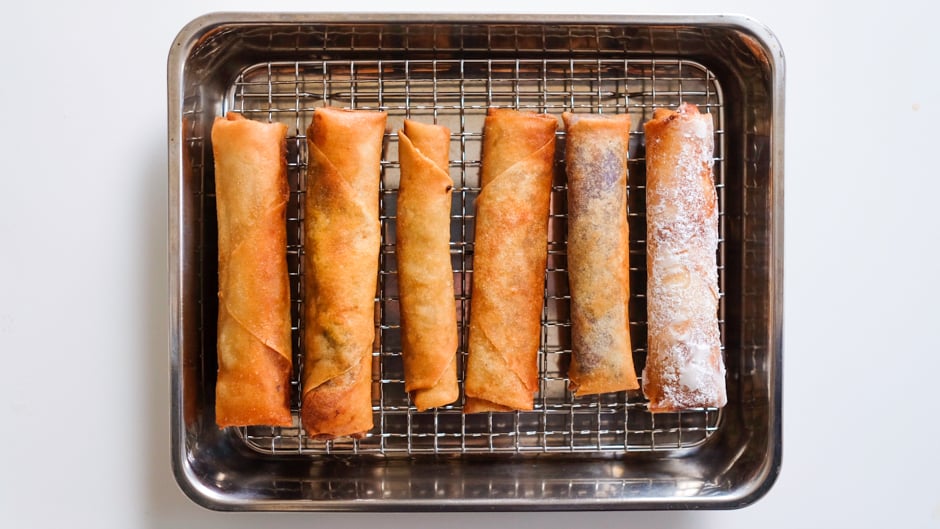 Lumpia are fried fresh to order, so if you don't like waiting for five to 10 minutes, call or text your order in before driving over. Wait times could vary depending on if there are orders ahead of you. I ordered and paid at the door and was told I could wait in my car in the parking lot out back where they would bring my order out to me — super nice! It's a small lot with a very narrow exit so don't bring your lifted Tacoma.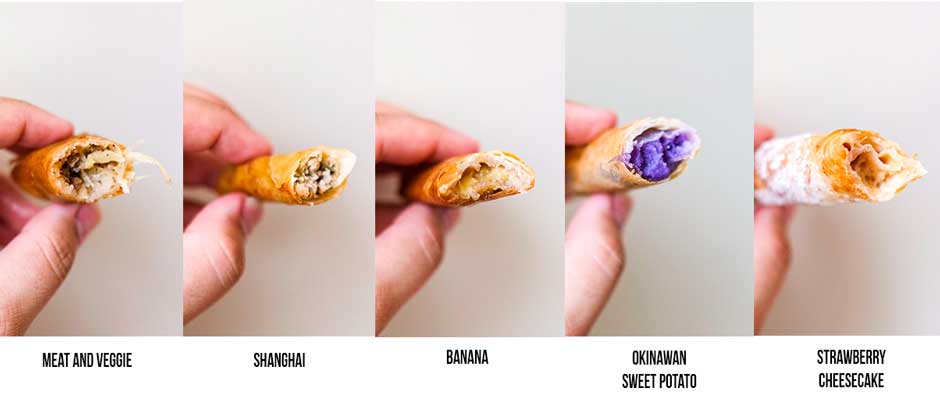 Although not pictured (because I ate it too fast), the pastele lumpia ended up being my favorite savory lumpia. While a tad underseasoned, I thought it was still really good for a lumpia with a non-traditional filling. It has that signature adobo-y achiote flavor with a hint of spice on the end. My particular lumpia had a small amount of pork but I didn't miss more meat. The Shanghai lumpia, which is considerably skinnier than the rest of its cousins, is full of meat filling that's held together with beaten egg. When dipped with the garlicky vinegar, it's tasty and so easy to eat way more than you intended. The meat and veggie is good too, but you know, it doesn't beat Grandma's. Never.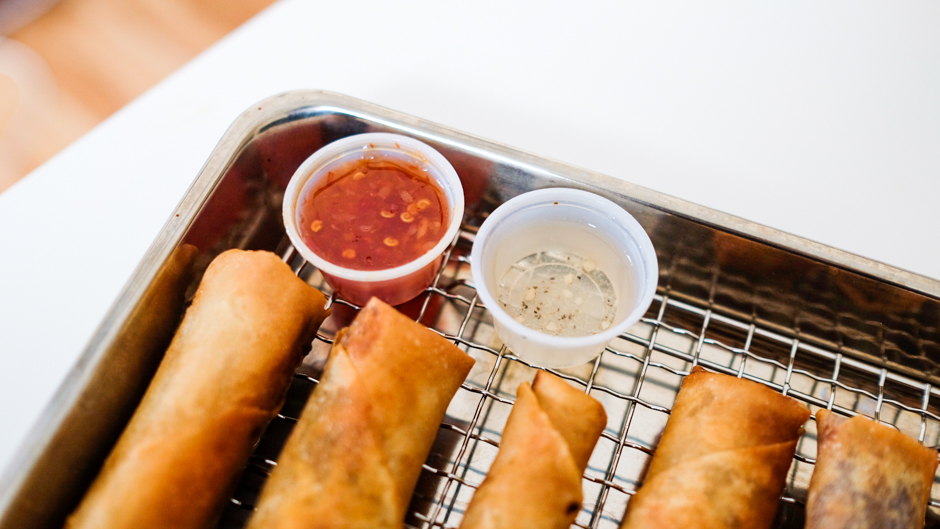 I kept having to tell myself, "Just because you can eat nine lumpia, doesn't mean you should." I ate them anyway.
The purple sweet potato lumpia happens to be the best of them all. It's simple and mildly sweet with that smooth, buttery texture inside the crisp wrapper. This and the pastele lumpia tend to sell out first so get your orders in early. The strawberry cheesecake lumpia is indulgent, dusted with confectioners sugar and full of sweet, sweet cheesecake filling. It's not for me per se but I know a few sweet tooths who would hit it.
Comfort food is what we're seeking out these days and lumpia is one of mine. J and S opening their Lumpia Spot during this stay-at-home order actually couldn't have been better timing.
4369 Lawehana St. Call or text orders to (808) 400-1855. @jslumpiaspot