Ice Cream, Doughnuts, Jelly and More: Here Are 5 Ways to Try Pandan in Honolulu
Pandan-monium.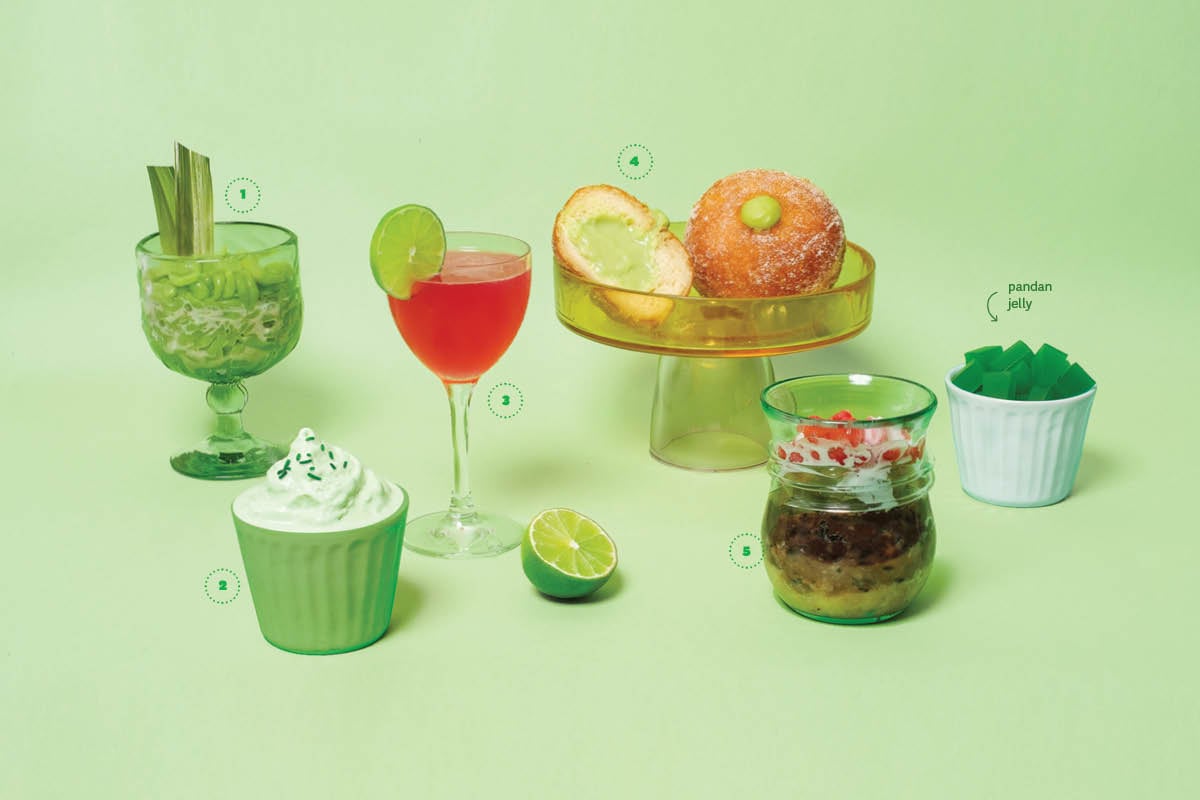 Its scent is subtly seductive, of fresh cooked rice, almonds and toast. In Southeast and South Asia, the long narrow leaves are wrapped around meats, stewed in curries, cooked with rice, or steeped in water to make a bright green extract to flavor drinks and sweets. Given how well pandan grows in Hawai'i (the plant is related to the hala tree), it's surprising how little it's known in the Islands, outside of Southeast Asian communities. But that's changing: Taste it in these sweets and a cocktail.
1. Lod xong from Olay's Thai Lao Cuisine
These pandan squiggles bathed in coconut cream and palm sugar syrup taste like salted caramel pudding.
$4.95, 66 N. Hotel St., (808) 536-5300, olaysthaihawaii.com, @olays_thai_lao_cuisine
---
SEE ALSO: Chinatown's Best Hidden Courtyard Is a Thai-Laotian Gem
---
2. Pandan buko ice cream from Magnolia Ice Cream & Treats
Pandan's aroma, lilting toward coconut, is accentuated in Magnolia's pandan buko (buko is Tagalog for "young coconut") ice cream. Try it on the halo halo instead of the standard ube.
$3.99 a scoop, multiple locations, magnoliatreats.com, @magnoliaicecreamtreats
---
SEE ALSO: My 8 Favorite Filipino Foods on O'ahu Right Now
---
3. Le Daiquiri from The Pig & The Lady
Inspired by an ube pandan ice cream, this cocktail combines lime, Kō Hana rum infused with Okinawan sweet potato, and pandan simple syrup.
$12, 83 N. King St., (808) 585-8255, thepigandthelady.com, @pigandthelady
---
4. Pandan doughnut from Wallflour Bake Shop
A luscious pandan cream fills an airy brioche doughnut; its fragrance hits you as soon as you open the pastry box.
$5, wallflourbakeshop.com, @wallflourbakeshop
---
SEE ALSO: Honolulu's New Wallflour Bake Shop Combines Ancient Grains and Local Fruits
---
5. Che ba mau from Pho Que Huong
In this dessert drink, like a Vietnamese halo halo, crushed ice and coconut milk top pandan jelly and three types of beans (mung beans, red beans and black-eyed peas).
$6, 1160 Maunakea St., (808) 528-3663
---
Find pandan leaves at Chinatown Hawaiian Market and infuse it into everything from your water to your cakes.
---