From Einkorn to Liliko'i, Honolulu's New Wallflour Bake Shop Combines Ancient Grains and Local Fruits
Find sourdough, brioche donuts and tarts at this new farmers market and pop-up bakery.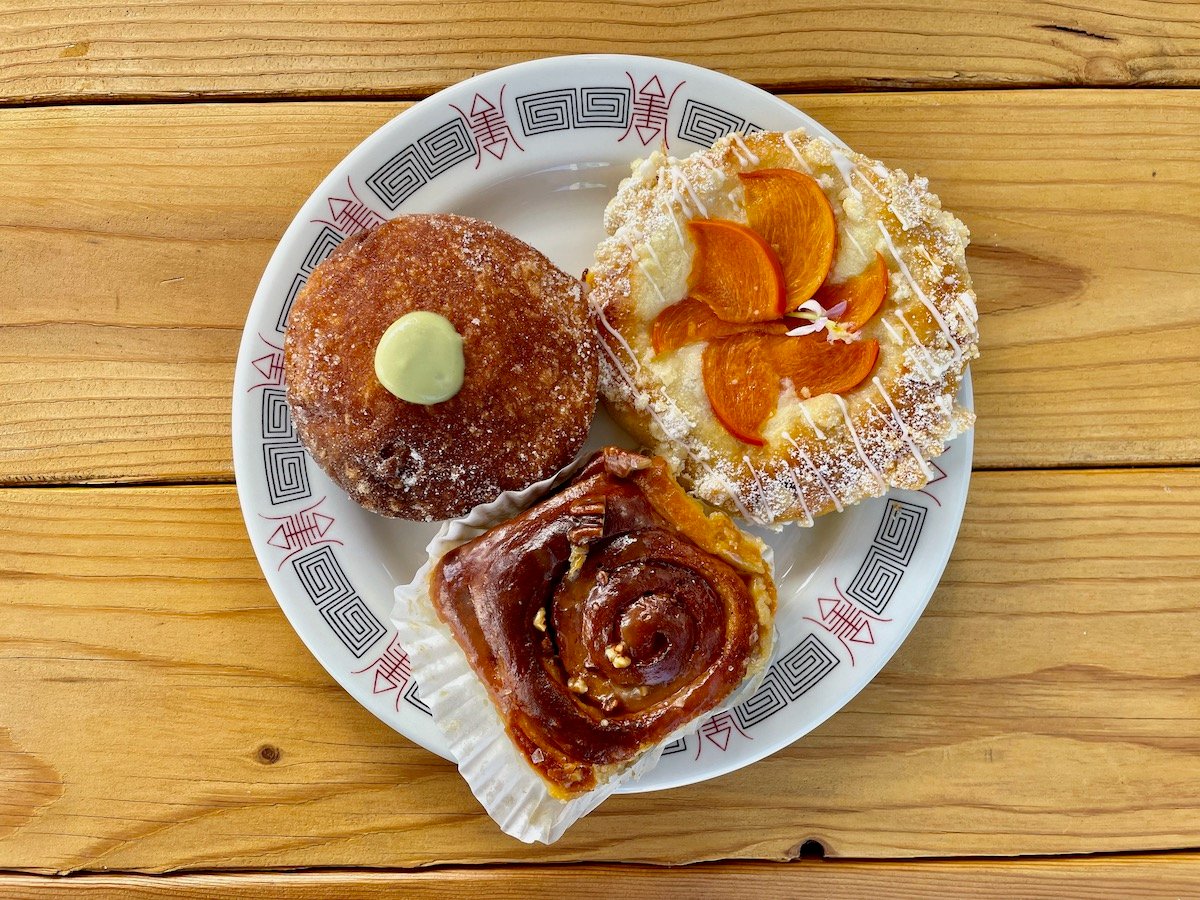 We've entered a glorious new era of bakeries and sweets in Honolulu. The latest: Wallflour Bake Shop, serving up a coconut and matcha Parisian flan just barely set on a flaky crust, brioche donuts filled with a luscious pandan or black sesame custard, and a miso sourdough studded with pickled papaya.
We haven't lacked for bakeries in Hawai'i (happy 105th birthday, Komoda Store & Bakery!), but what's happening now is new and wonderful.
Five years ago, you could easily find Filipino ube cream cheese pandesal, Chinese sponge cakes and Japanese anpan and shokupan, which it seems only now the rest of the continent has discovered. And the quality and variety of our European-style breads and pastries were beginning to, ahem, rise, with La Tour expanding its line and Breadshop establishing a brick-and-mortar devoted to croissants and naturally leavened bread.
SEE ALSO: First Look: Beyond Pastry Studio's Pastries and Modern Take on Filipino Breads
Suddenly, in the middle of the pandemic, it's like those two strains of bakeries, Asian and European (with a little of San Francisco's Tartine), are mixing in Hawai'i to develop new and unique styles. There's The Local General Store, with its longanisa croissants and coconut sticky rolls reminiscent of Chinese coconut buns, and Beyond Pastry Studio's pineapple Spanish rolls and Portuguese sausage and furikake biscuits.
And now, Wallflour, by Ellen Stavro, who has worked in the pastry departments of Marea and Eleven Madison Park in New York, and Javier Flores, who worked at the Wynn and Encore Resorts in Las Vegas. The two met in a bakery in Brooklyn and learned more about sourdough in San Francisco before coming to Honolulu a little over a year ago.
What I appreciate the most about Wallflour, beyond Stavro and Flores' meticulous execution, such as the silky texture of their flan, is the way they highlight overlooked and ancient ingredients. Take pandan, ubiquitous in Southeast Asian cooking for its fragrance of rice and almonds—Stavro says she was surprised that so many people ask her what it is, given how well it grows here. The couple is also currently experimenting with kiawe flour to lend a molasses-y sweetness to sourdough, in line with their interest in the flavors of ancient grains and flours. Einkorn, the oldest known species of wheat, finds its way into a biscuit with guava jam and honey butter, while khorasan, which originated in the ancient province of Khorasan in northern Iran and part of Afghanistan, adds a nuttiness highlighted by brown butter in Wallflour's financiers. Rye, a more familiar grain, spikes a sourdough with Mānoa Chocolate cacao nibs.
SEE ALSO: Try Coffee Is an Oasis in Kaka'ako
Stavro and Flores currently bake out of 'Ili'ili Cash & Carry, and their breads and pastries are available at sporadic pop-ups at that pizza shop and more regularly at the Saturday Kaka'ako Farmers Market. Pro tip: Go early on Saturday to grab your pastries and bread (Wallflour often sells out of everything), and then head to Try Coffee's welcoming lanai to enjoy your spoils with a cup of coffee.