Remember When Our Moms Used the Same Island Cookbooks
This series of Favorite Island Cookery books is still the go-to for simple to make dishes that are part of nostalgic local family traditions.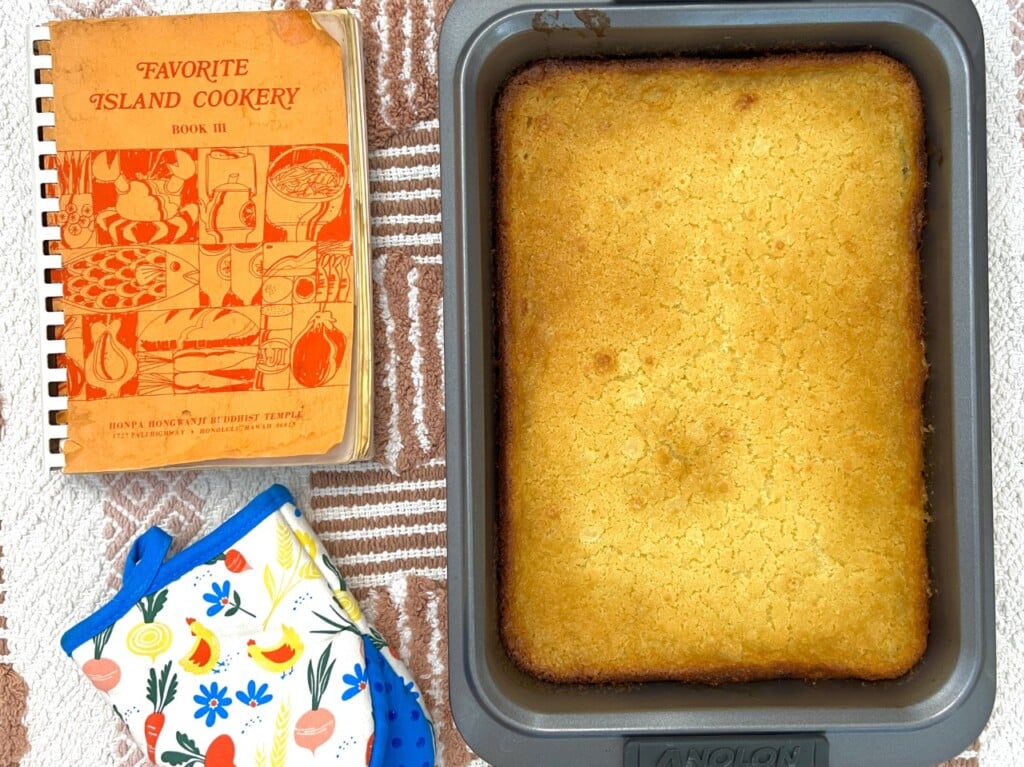 Membah wen … Hongwanji cookbooks were the 'it' cookbooks? It was the culinary bible for most local moms back in the day. Including mine. Recently, I moved and did the whole purge thing. The only cookbook I treasured (and wanted to save) was an orange covered Hongwanji paperback, passed down to me from my mom.
It's splattered with stains from shoyu chicken sauce and strawberry Jell-O syrup, but it's the closest I'll get to my mom's own recipes. She's an amazing cook; I'm not. (I inherited her high cheekbones, not her kitchen skills). Every time I attempt to make something new and make it like my mom's, my daughter forces a smile and says, "It's good, but not like grandmas."
Then, when I call my mom for help. Her immediate response is, "just taste it. I do it by taste." Right. Would I be calling you if I could do it by taste?! She dishes out: if it's too sweet, add more shoyu or salt; if it's too salty, add sugar; if there's not enough sauce add water or chicken broth; if it's watery, add cornstarch. There are no exact measurements, just commands. By the end, my nishime or beef sukiyaki is a hot mess of unbalanced umami-ness.
My mother was never one to hide secret recipes, that's not the reason for her elusiveness in her directions. Growing up me and my sisters watched her cook, and she did most things "by taste." But every so often, she would buss out a Hongwanji cookbook. The yellow or orange-covered versions. If that was her authority, surely it could help, an older, bitter me.
The book I have (there are multiple versions) is home to over 400 recipes—vetted by the ladies of the Honpa Hongwanji Buddhist Temple. The recipes are simple: no need-to-buy new gadgets and the prep process, for most, is a short order. Some local favorites include: mochiko chicken, chili pepper water, Portuguese bean soup, Korean hamburger, pork hash, seven-layer Jell-O, easy prune cake, mango chutney and more. There are some mystery title recipes that piqued my interest: porcupine tempura, mock chicken legs, cowboy hot cake and McKinley Special—a corned beef stew. Not my taste but sounds comforting.
Front of the book, there's a brief summary of the temple's mission and the religious holidays they celebrate. In back, a glossary of foods and ingredients commonly found in Hawai'i is super handy, especially if you want to gift it as an omiyage.
Recently, I made butter mochi for a party. The recipe came from a quick Google search, it's always hit or miss when copying something online. This flopped. The mochi didn't have that brown, crackly top and a dip developed in the mid-section. People eat with their eyes, so I wasn't surprised when my (sometimes too honest) family said, "what happened?"
I did redeem myself. My friends were coming over for dinner, and I made the brave choice to make mochi again. This time, I reached for the Hongwanji cookcook. Boom! Best mochi I ever made. The golden brown, crispy top, edges were bubbly and buttery, and the custard…oh-so sweet and creamy—there were no leftovers or mean comments.
Of course, I admit, it wasn't as good as mom's. And I accept things I make might fall flat. But I'll throw my toque in the ring, as long as I have her and her bible guiding me.