In Wahiawā, Hawaiian Vinegar Co. Makes Local Shrubs and Mocktails
The power couple behind the Eat the Street food truck rallies have opened The Vinegary tasting room on Kilani Avenue.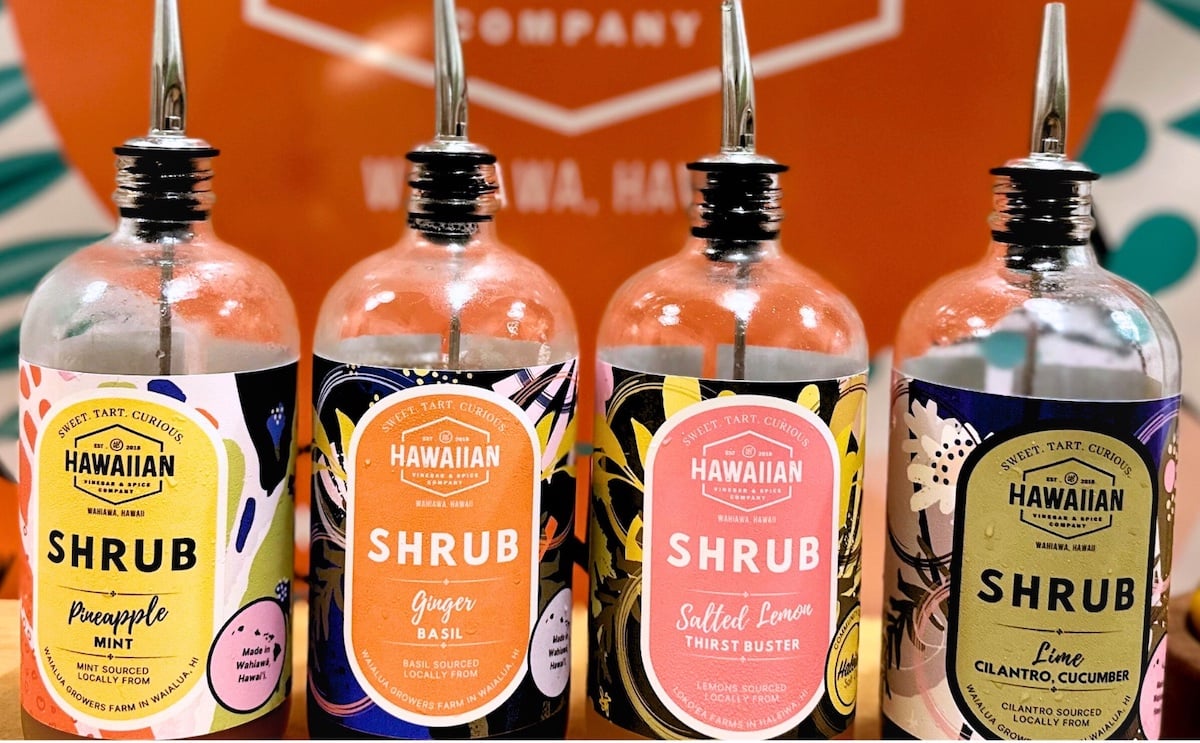 If you grew up Portuguese in Hawai'i, you know the importance of vinegar. From a young age, Portuguese keiki are told that vinegar is the wonder elixir that tenderizes meat and cleans floors, counters and windows. For the hardcore Pochos, a pure shot of apple cider vinegar is the remedy that fixes heartburn, regulates gut health and keeps gout at bay. Magical stuff.
Poni Askew learned those lessons well. When she and her husband Brandon were brainstorming their next entrepreneurial project a few years ago, they drew inspiration from their roots—she as a Wahiawā girl steeped in the traditions of Portuguese and Hawaiian cultures, and he as a self-taught homebrewer who'd been fermenting and brewing and concocting for most of his adult life. Artisan vinegar seemed like the right choice. Perhaps not the obvious choice, but then again, the more they thought about it, the more obvious it became.
---
SEE ALSO: Wahiawā Kilani Avenue Food Crawl
---
"At first I was thinking along the lines of a wine-tasting room or something like that," says Poni. "But I really didn't want to have to deal with everything that goes along with selling alcohol—liquor licenses and the liability and all that. As we thought about it, we thought, why not vinegar? It's kind of like wine, just older." In December of last year, they officially opened for business as The Hawaiian Vinegar Co.
As the power couple behind the wildly successful Eat the Street events that turned Honolulu parking lots and public school yards into massive food truck rallies attended by thousands, the Askews know how to launch projects. But more important: They know how to mobilize communities. While they'd been supporting local small businesses for years as planners of food retail events, they'd never actually produced food themselves. Now they wanted to be makers, and brewing vinegar was the thing that fit them best. They would use overstock that local farmers can't sell to stores and restaurants (not all tomatoes look cute, so they're not sellable) to create something new from food that would otherwise be wasted, something that would support local agriculture while being good and good for you. This is where the Portuguese indoctrination, er, wisdom comes in: Vinegar is all things good. And the Askews know good vinegar.
Poni is the flavor genius, Brandon is the master brewer, and in their tiny shop on Kilani Avenue in Wahiawā, they concoct and brew artisan vinegars ($8.50) that range from sweet (dragonfruit, tangerine) to savory (coffee cherry) to extra bright and tart (Hawaiian honey). The flavors change with the seasonality of local agriculture, and while that means you might not get every flavor you want whenever you want it, the joy is in the hunt for your new favorite vinegar obsession. (We're more than mildly obsessed with Brandon's chocolate whiskey vinegar that is still in its testing phase.)
The shop's biggest sellers are Poni's scratch-made shrubs ($22.50), or drinking vinegars, made from vinegar, fruit juice or purée and spices or herbs. Shrubs are typically added to cocktails or used to make non-alcoholic sodas (think old-fashioned fountain sodas that are mixed to order). The Meyer Lemon Cardamom Mint shrub is bright and tart with a warm finish thanks to the cardamom, and makes a mean whisky sour. The Tangerine Turmeric is a bright yellow hit of sweet, earthy citrus that, when topped with a float of sparkling water, makes the best bougie soda—minus all the bad soda stuff. Portuguese wellness mamas for the win.
---
SEE ALSO: Mānoa Meadery Offers Hive-to-Mead Tours and Now, Durian Mead
---
Pop in to the shop and let Poni guide you through a tasting of vinegars and shrubs, much like a vintner guides tasters through a flight of wine. Brew geeks and fermentation nerds can chat up Brandon, who's always ready with the science, while Poni shakes up a few mocktails to show off the versatility of a good shrub. And just between us, a michelada made with her Tomato Herb shrub, a glug of Clamato juice (yes, it must be Clamato, with the clam juice. Trust us) and then finished off with about 6 ounces of Mexican lager is the brunch cocktail to beat.
The Hawaiian Vinegar Co.'s tasting room is called The Vinegary, and the vinegar curious can book mocktail tastings online ($50 for two), or really, just wander in and let the Askews do their thing.
Open Thursday to Sunday from 12 to 5 p.m. and by appointment, 672 Kilani Ave., Wahiawā, hawaiianvinegarco.com, @hawaiianvinegar