Mānoa Meadery Offers Hive-to-Mead Tours and Now, Durian Mead
Mānoa Honey & Mead launches new guided tours and a line of traditional-style meads that defy tradition.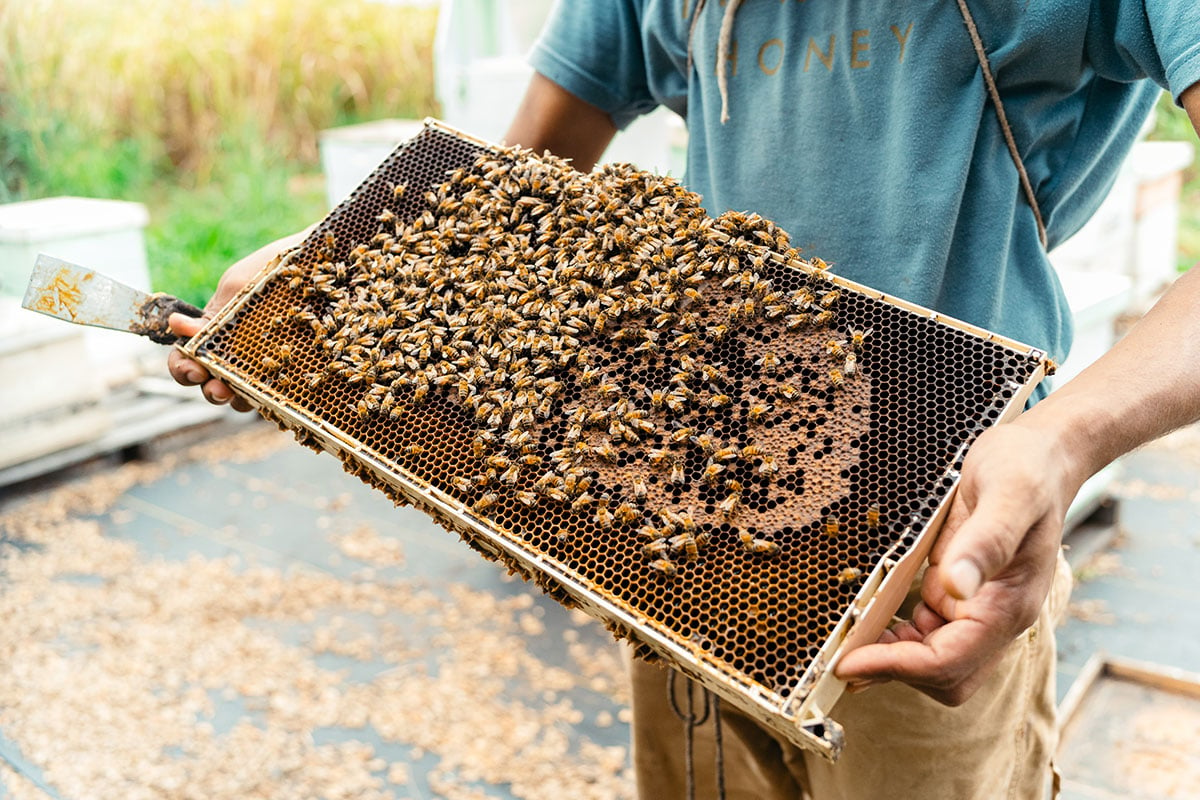 Yuki Uzuhashi flew onto our radar when he started making mead. The Osaka native bought Mānoa Honey (founded in Mānoa Valley) from its original owner and took things a step further by turning its golden wares into a line of carbonated, low-alcohol meads in flavors like liliko'i, pineapple and fruit punch.
As if that weren't buzzworthy enough, he launched tastings at Mānoa Honey & Mead's "honey house" next to its production facility in Wahiawā, expanded offerings recently with a Bees to Mead tour that starts at its hives in a nearby field, and has now debuted a line of uncarbonated meads that are closer in style to traditional mead that's been made for millennia—if that style includes durian, that is.
---
Learn more: manoahoney.com, @manoahoneymead
---
Yes, durian mead. The pungent fruit is one of three new flavors that also include Pō, Uzuhashi's homage to ancient mead; and Slee Ping Potion, made with Christmas-berry honey and botanicals. None are as sweet as you would expect, a reflection of the tastes of their maker. "We're enjoying the flip of people's expectations—first, coming to Wahiawā and this alley, really?" he says of the meadery's unexpected locale at the end of a modest dead-end road. "And then the mead—it's sparkling, like Champagne. Now the durian—oh! This is drinkable!"
An art student in college, Uzuhashi's conversion from sculpture to honey was sealed long ago in Jamaica. He was staying with a friend who, intent on exacting revenge on bees that had stung him, handed Uzuhashi some window screening for protection and set off with him for the hives. Uzuhashi watched in awe as his friend destroyed the honeycomb, bees buzzing everywhere as translucent drips glinted in the sunlight.
It was primal and awful and beautiful. He saw in the world of movement the opposite of sculpture, which captures a single moment for eternity. That's how he came to see all of it—bees, honey, durian mead—as expressions of art.
"Sometimes you make art from a piece of metal you pick up off the ground. You add value to it," he says. Mead starts with honey and "contains terroir, water, cultures, flora around us. It makes a story. You drink it and enjoy it and feel connected to the land. How can we elevate the status of mead to a higher level, and from there how can we elevate it more?" It sounds like there'll be a lot more worth watching.
---
SEE ALSO: We Tried It: Liliko'i, Pineapple and Java Plum Mead from Mānoa Honey Co.
---