You Voted: Here's Your Top 5 Classic Loco Mocos
Readers had lots of opinions about Our Top 5 loco mocos, so we asked you to name your faves.
You might think with a simple dish like loco moco, it would be difficult to tell the best from the rest. As we learned with Jason Chin's post, nailing each component—beef patty, eggs, rice, gravy—is key to crafting a seriously good loco moco. Tasting them side by side reveals nuances that clearly define the best classic versions of a dish that's 50 shades of brown.
Given the barrage of dissenting opinions each time we share the Best Loco Mocos in Hawai'i: Our Top 5 post on our social media, we felt it was time to put it to a vote. Here are the results: Frolic readers' Top 5 classic loco mocos.
No. 5: The Alley Restaurant
The Alley is known for its massive burgers, sweet-garlicky Crazy Chicken and towering pumpkin crunch, but its loco moco with fresh gravy ($13.95 for a bowl, $16.95 a plate) edged its way onto the ranking despite being a write-in suggestion. It earned 6% of the total vote.
99-115 'Aiea Heights Drive, 'Aiea, (808) 488-6854, @aieabowl
No. 4: Cafe 100
Just as on Our Top 5 ranking, Cafe 100 placed fourth with 8% of the vote. This Hilo loco moco from the source of all loco mocos (many say Cafe 100 invented the dish generations ago) is no-frills, overflowing a clamshell with brown gravy goodness on the cheap ($3.50). Of the 30 loco moco varieties on the menu, the original is as close as you'll get to the original.
969 Kīlauea Ave., Hilo, @cafe100hilo
---
SEE ALSO: You Voted: Here's Your Top 5 Poke Shops
---
No. 3: Pancakes & Waffles
This cafe might be experts with its namesake pancakes and waffles, but don't overlook the savory plates of fried chicken, country fried steak and fried rice. And with 11% of the vote, passing on the loco moco ($7.95) would be a big mistake too.
1284 Kalani St., D100, Kalihi, @pancakesandwaffleshawaii
98-1277 Ka'ahumanu St., #103, Waimalu
---
SEE ALSO: Best Meat Jun: Our Top 5
---
No. 2: Rainbow Drive-In
Mounds of rice, burger patties, eggs and brown gravy spilling over the edge is the way to go for 14% of voters. That loco moco plate ($9.25), tucked away inside a white box, is of course from Rainbow Drive-In.
Multiple locations, @rainbowdrivein
---
SEE ALSO: Poll Results: Here's Your Top 5 Crispy Gau Gee
---
No. 1: Liliha Bakery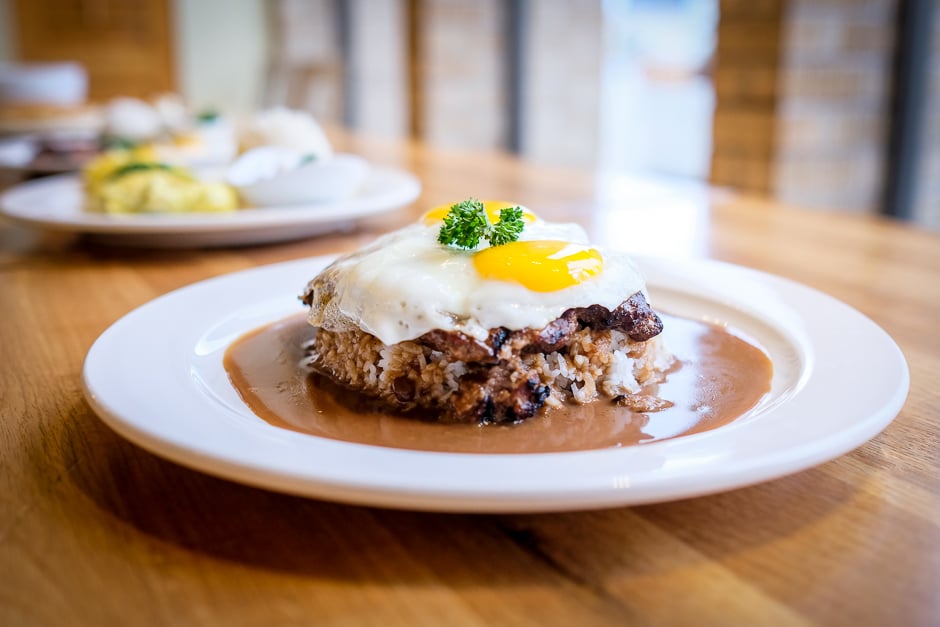 And finally, with 21% of the total vote, Liliha Bakery takes the top spot for the best classic local moco. Despite our differences in opinion, Frolic and the biggest portion of our readers can both agree that Liliha Bakery's charbroiled patty and comforting blanket of rich brown gravy make it the top dog loco moco ($9.99, 5-ounce patty; $12.95, 7-ounce patty) in Hawai'i.
Multiple locations, @lilihabakery