You Voted: Here's Your Top 5 Poke Shops
The results may surprise you.
Inamona, rock salt, limu seaweed. This OG mix of seasonings has flavored cuts of raw fish in Hawai'i for centuries. It's still a popular choice and will never go out of style. But through the years, our local poke shops have ushered in new flavors that appeal to virtually all taste buds—from Thai chile spicy to ume-shiso tart coating everything from 'ahi and tako to beets and tofu.
We asked you to vote for your favorite poke shop. The results were pretty surprising no matter which way we sliced it, with a good number of write-in votes. More than 50 shops and stores from Pokai Bay to Sandy Beach got your votes. Here's Your Top 5.
No. 5: Tamura's Market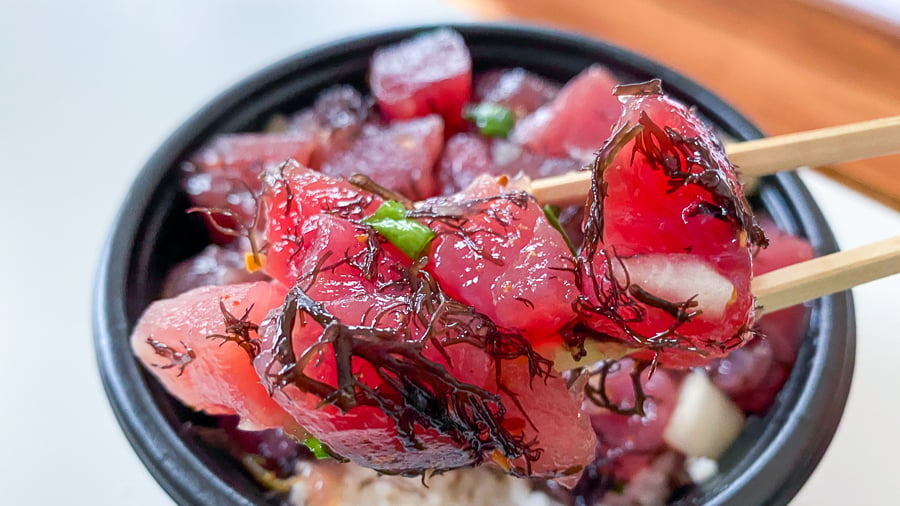 Tamura's always-fresh 'ahi poke secured the most write-in votes to place fifth. In its nearly 100-year history, Tamura's has grown from humble beginnings as a market in Wai'anae into a well-known chain of supermarkets, well-stocked liquor stores and poke bars on O'ahu and Maui. You can expect to find Tamura's 'ono poke at any local family gathering.
Various locations • (808) 735-7100 • tamurasmarket.com
No. 4: 'Ono Seafood
Ono Seafood's glistening poke is a must for tourists and locals heading to or from a day on the Gold Coast. Our readers, who voted 'Onos their fourth most popular poke shop, seem more than willing to brave the tiny parking lot to load their bowls of white rice with mounds of wasabi, miso and spicy 'ahi pokes. The more adventurous can head to 'Ono's Sandy Beach outpost in Kalama Valley or search for their roving red poke patrol food truck.
747 Kapahulu Ave. • Kapahulu • (808) 732-4806
No. 3: Off the Hook Poke Market
Off the Hook brings in whole 'ahi fresh from Honolulu's fish auction and breaks it down for their classic and Asian-inspired poke creations. Our readers' votes land them in the top three. They're best known for the cold ginger 'ahi poke, which uses a good helping of ginger scallion sauce, and the Japan Deluxe, which mixes cubes of fresh 'ahi with a unique mix of sweet miso, ginger and shiso. That makes miso hungry!
2908 E. Mānoa Road • Mānoa • (808) 800-6865
No. 2: Tanioka's Seafoods and Catering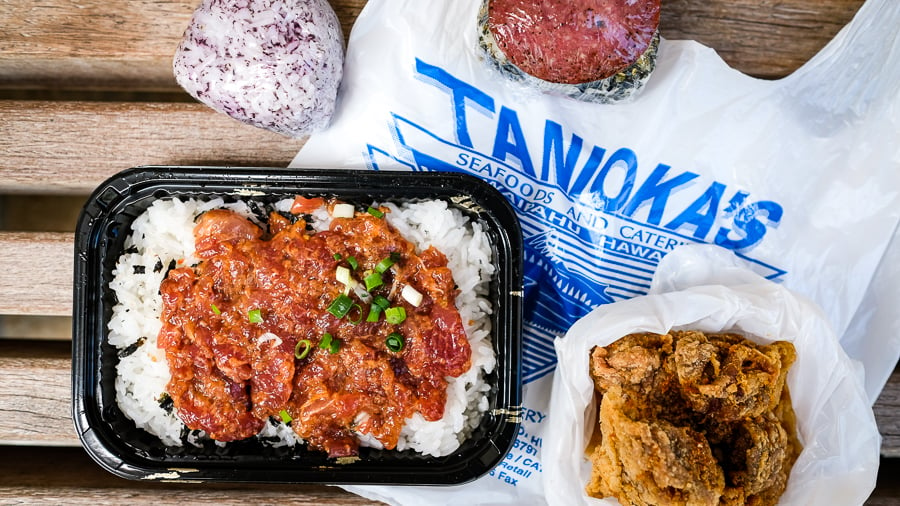 Leeward O'ahu is represented on Your Top 5 with Tanioka's coming in second. A poke institution, Tanioka's offers more than just fresh 'ahi and aku poke, with a smorgasbord of specialty noms like inari sushi, maki rolls, musubi, fried chicken and so much more. Just be ready to brave the line that snakes through the store and try not to order everything in one pass.
94-903 Farrington Highway • Waipahu • (808) 671-3779 • taniokas.com
No. 1: 'Ahi Assassins (switched to online)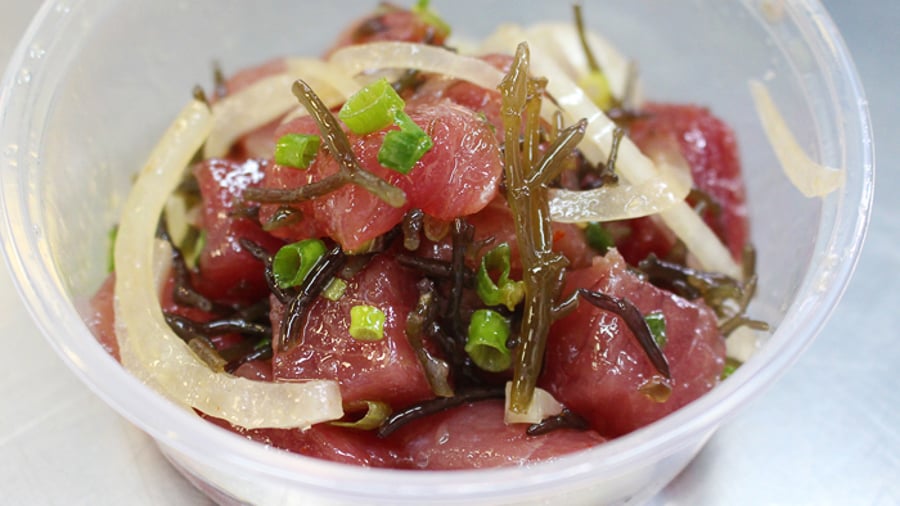 Note: 'Ahi Assassins' Mō'ili'ili shop closed in 2020, but some of its poke is now online at ahiassassins.com.

Owners Josh Schade and Erika Luna not only break down whole 'ahi and make their own poke, they do all the fishing, too. What started in 2014 in response to pleas from friends and family to sell their fresh line-caught 'ahi sashimi and poke has grown into a full-fledged business with two successful shops in Honolulu. The poke is fresher than fresh and the hot specials shouldn't be overlooked.

The full ranking below:
'Ahi Assassins
Tanioka's Seafoods and Catering
Off the Hook Poke Market
'Ono Seafood
Tamura's
Fresh Catch
Foodland
Tamashiro Market
Alicia's Market
Fort Ruger Market
Red Fish Poke
Nico's Pier 38
Kahiau Jerky & Provisions
Ke'eaumoku Seafood
Poke on da Run
Aloha Cones
Poke by the Pound
Aloha Poke Co.
Maguro Brothers
Poke and Box
Kahuku Superette
Yama's
Hibachi
21 Mart
Ocean Taste Hawai'i
Times Supermarket
Poke for the People
Kaohu Store
Wai'anae Store
'Ahi & Vegetable
Poke Bar
Monarch Seafood
Poke Stop
Marukai
Pokeway
Poke to Your Taste
Ala Moana Fish Market
Poke Shack
Poke Bros.
Costco
Masa & Joyce
Paina Café
Superb Sushi
Kozo
Suisan
Safeway
Poke Market (Hilo)
Ishihara Market
Marujyu Market
Don Quijote
Sack n Save