Worth the Splurge: This $24 Prime Rib Plate in Downtown Honolulu
It's not your ordinary weekday lunch—but Prime Roast Cafe's salt-and-rosemary-crusted prime rib is not your ordinary roast.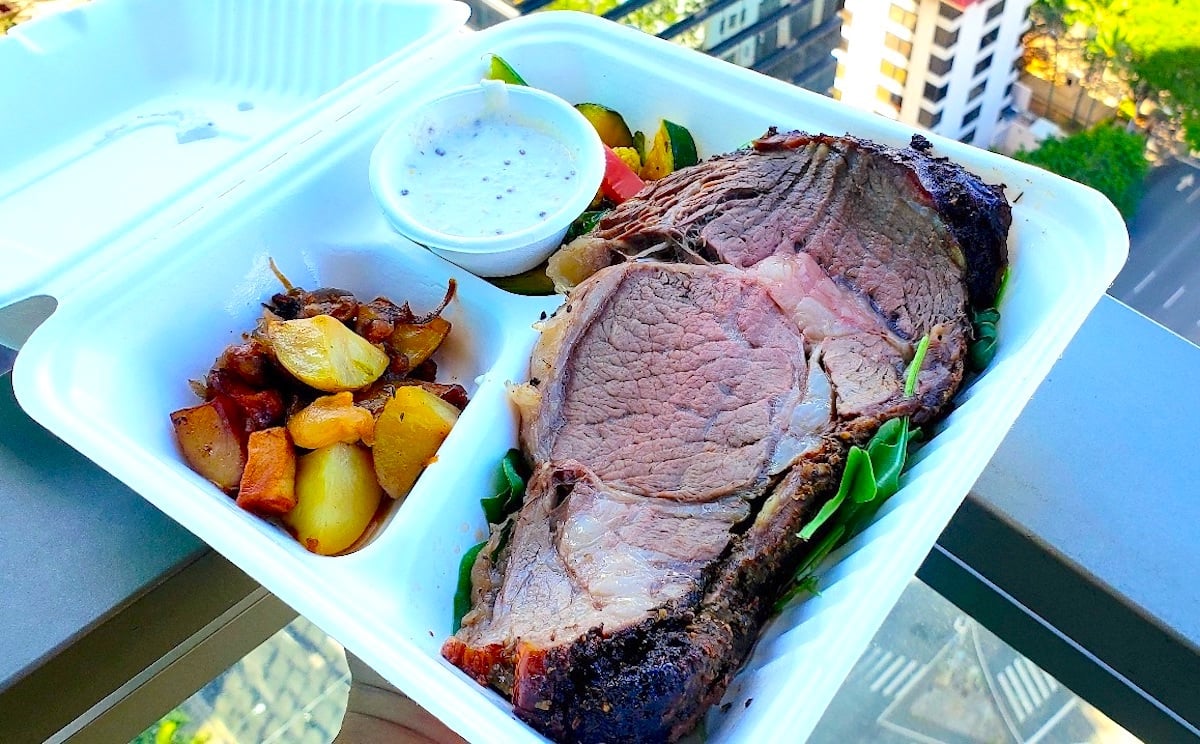 Update: As of fall 2022, the price of the prime rib plate was closer to $28.
When I think of prime rib it's usually in the context of wedding banquets, Sunday brunches or Vegas buffets. It's a luxe dish that does not come to mind when I'm thinking about what to eat during the workweek. And while Ray's Café has been putting out brilliant prime rib plates for a long time, for those who work Downtown, have you been to Prime Roast Café yet?
Today the craving for beef hits me particularly hard. I find a parking spot at the post office and walk two minutes down Merchant Street toward the corner of Alakea. On the counter of the new eatery, a large rib roast sits on a cutting board. Ignoring the other items on the menu, I order the $23.99 prime rib plate without a moment's hesitation.
SEE ALSO: You Voted: Here's Your Top 5 Oxtail Soups on O'ahu
The first bite rewards me with beefy juices perfumed with rosemary and salt from the savory crust, and a peppery tickle at the back of my throat. What's really impressive is how consistent every bite is. From the first morsel to the last, the beef is soft and yielding, with the aromatics permeating into the center. The sides of steamed vegetables and roasted potatoes with deeply caramelized onions are done well, but I find myself wanting more to match the heftiness of the 8- to 10-ounce prime rib.
Those not laser-focused on the prime rib plate will find a selection of hot sandwiches from about $11 to $15, including a prime rib panini and a cheesesteak, as well as a turkey sandwich and salads. Specials on this day are a sauteed New Zealand king salmon plate and a pork rillette panini.
SEE ALSO: Worth the Splurge: Da Garlic King Crab Poke Dat Costs $36 a Pound
If you, like me, thought of prime rib as a special occasion dish, it might be time to change up that perception. Please note that the hours have been changing, so it might be best to call before you go.
Open Monday to Friday from 10 a.m. to 2 p.m., 212 Merchant St., (808) 521-7777, primeroastcafe.com, @primeroastcafe