Where Are They Going? Fave Eateries at Kaka'ako's 'Ohana Hale Marketplace
Doors close for good April 16 on this experimental tiny-business incubator. We checked in with as many as we could to find out their plans.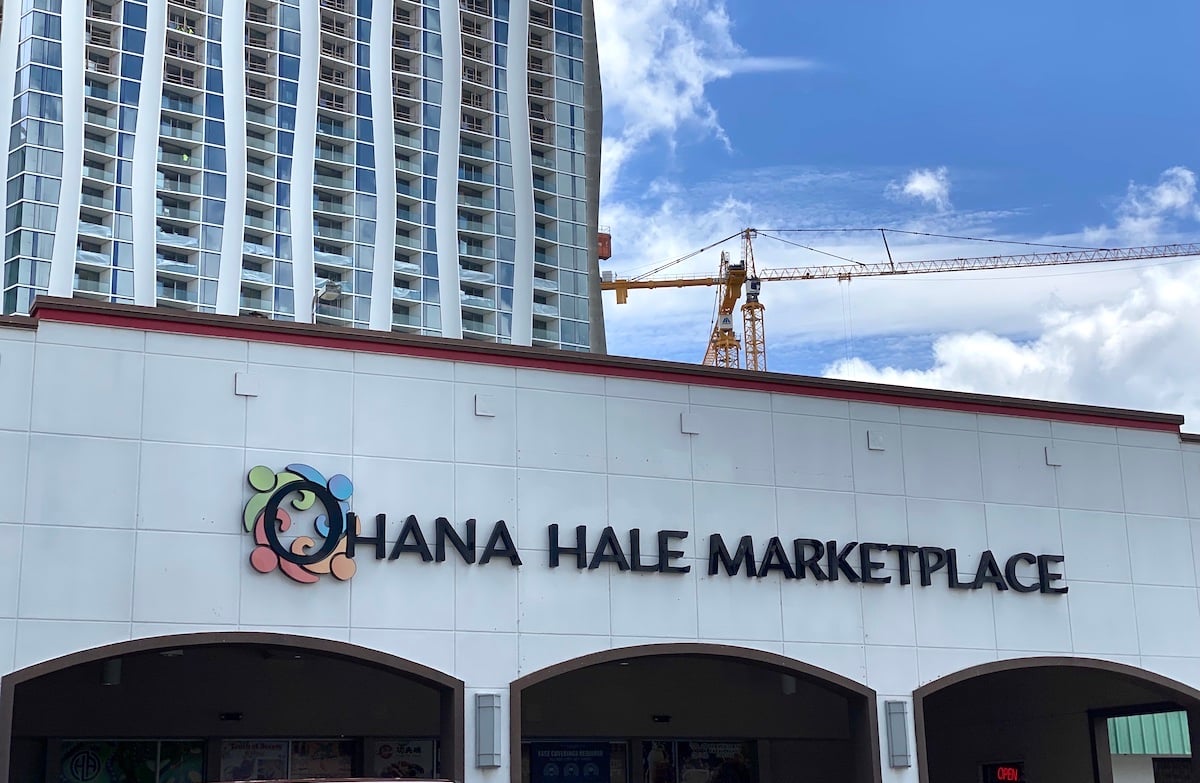 Here's another story about another collection of small businesses making way for redevelopment—only 'Ohana Hale Marketplace was on borrowed time from the start. At one point more than 140 kiosks lined the interior of the former GEM / Sports Authority / Honolulu Biennial space, selling everything from 'ukulele and phone cases to tonkatsu and dosas. Now that the marketplace is closing April 16, that number is down to around 40, owner Chris Ulu estimates.
He says he's close to securing a lease for a space in Halawa. If he succeeds, the new 'Ohana Hale Marketplace could be ready for business by the end of the year. "We have some [vendors who] say they want to hold off and wait [for OHM to reopen] and that's great but we're not pushing them. We have storage for everybody that's gonna wait," Ulu says. He calls the Halawa space "a diamond in the rough. It's a real good location, a real good area. I'm looking forward. I'm excited. And I'm so grateful to Howard Hughes Corp. for giving us the opportunity to start a new concept, Hawai'i's greatest indoor marketplace."
SEE ALSO: The Story Behind the "Swap Meet With Upgrades" That Has Become a Destination for Local Entrepreneurs Looking to Set Up (a Small) Shop
Not everyone can wait eight months to reopen. Eateries that can afford it have begun moving into new places or are actively looking. Those that can't—'Ohana Hale's monthly leases for food sellers reportedly only cost about $1,500—are weighing their options.
We tracked down as many eateries as we could to find out their plans. Scroll below to see who's found a new home and who's still looking.
$5 Bento
Will take a break when OHM closes, then TBD. May reopen at the new OHM, according to owner, but pandemic price increases may force a rebrand as $6 or $7 Bento.
---
@sushi
Pop-ups in April, then a reported new location at Waterfront Plaza from May. (808) 358-4593, @atsushibv
Update: Atsushi expects its brick-and-mortar restaurant to open at Waterfront Plaza in August.
---
SEE ALSO: Try Upscale Sushi in 'Ohana Hale Marketplace at @Sushi
---
Azabu Sushi
TBD. (808) 728-7780, @azabusushi_hawaii
---
Bibihana
TBD. (808) 797-7277, @bibihana808
---
Bo's Kitchen
Moved to old Tai Sei Ramen space. 800 S. Beretania St., (808) 367-7283, boskitchens.com, @bo.s.kitchen
---
Cafe Moana
TBD. @cafemoanahawaii
---
Hawaiian Fresh Roast
Moving to Fort Shafter, with public access. hawaiianfreshroast.com, @hawaiian_fresh_roast
---
Honolulu Bistro
TBD but "currently in the process of finalizing all of the details" on a new location, say the owners. @honolulubistro
---
KC Waffle Dog
Taking a break, then TBD. Plans to appear at various events around O'ahu. @kcwaffledog
---
K-Snowman
Taking a break for a while, then TBD. @ksnowman808
---
Kung Fu Bowl
TBD. (808) 666-3680, @kungfubowlusa
---
L&K Pho & Sandwiches
TBD.
---
La Bekk
Moved to McCully Shopping Center's second-floor test kitchen. 1960 Kapiolani Blvd., @la_bekk
---
Luisa's Kusina
TBD.
---
Mam's Bread & Butter
TBD but "definitely close," according to owners. (808) 429-6798, mamsbreadandbutter.com, @mamsmeatpies
Update: Mam's is online and has announced plans to open in a brick-and-mortar location this summer.
---
SEE ALSO: New Zealand-Style Meat Pies in Kaka'ako Are the Buttery Hug Your Soul Needs
---
Ocean Taste
Moved to old Gazen izakaya space, where former OHM tenant Yoas sorbet has relocated with a mix of concepts. 2840 Kapiolani Blvd., (808) 636-0877, @oceantastehawaii
---
'Ohana Poke House
TBD. @ohanapokehousellc
---
Smashed
Owner says an announcement about a new location in Kaka'ako is coming. @smashedhawaii
---
SEE ALSO: Smashed Hawai'i Is the Newest Smash Burger to Hit Honolulu
---
Sole Sammich
TBD.
---
Street Corn
TBD.
---
Tacoholics
Last day at OHM will be March 31; after that TBD. @tacoholicshi
---
Tess Kitchen
May appear at Aloha Stadium Swap Meet with sweet and savory crepes; waiting for new OHM to open. @tesskitchen.ohana
---
Toshi Sushi
Moving to Kalihi and rebranding as Omakase-Ya, with omakase sushi courses starting at $100 a person plus izakaya dishes and barbecued meats. 1724 Hoe St., (808) 321-9985
---
SEE ALSO: A Sushi Bar for Every Mood: Three Places Inside 'Ohana Hale Marketplace
---
Wacky Bakery
Announced it is closing with no set reopening date. @wackybakery
---
Waffle & Berry
Moved to McCully Shopping Center's second-floor test kitchen. 1960 Kapiolani Blvd., @waffleandberry
---
Yoas Sorbet & Aquascapes
Moved to old Gazen izakaya space with Ocean Taste and other concepts. 2836 Kapiolani Blvd., (808) 670-5533, @yoas_hawaii