Jan. 31 Will Mark the End for a Whole Block of Ke'eaumoku Eateries. Here's Where They're Going
Sorabol, Menchanko-Tei, Yogurstory, Ireh are giving way to—you guessed it—a new condo development.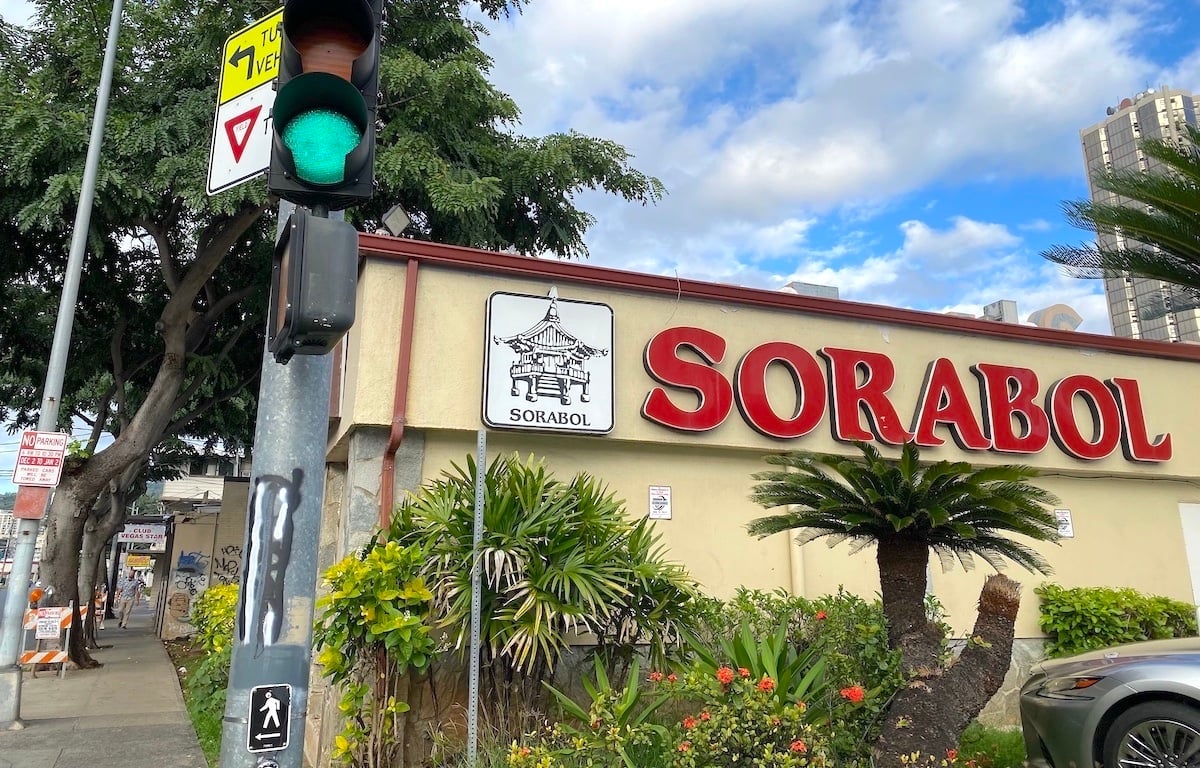 It was bound to come, the day the random and ramshackle stretch of Ke'eaumoku Street between Liona and Rycroft would be slated for redevelopment. Sorabol, Yogurstory, Asahi Grill, Ireh, Menchanko-Tei—well over a dozen eateries, markets and other small businesses—have until Jan. 31 to wind down, if they haven't closed already. Coming in their place: two massive condo towers with shops, restaurants, a half-acre park and 12-story parking structure, the latest in an ongoing slew of residential high-rise developments around Ala Moana Center.
If you remember when Ke'eaumoku Street was known as Koreamoku, this concentration of mainly Korean eateries had a lot to do with that. Sorabol, with its private dining rooms and massive good luck fish. Yakiniku Don Day, the open-air Korean yakiniku restaurant at the edge of a parking lot. Tiny Ke'eaumoku Produce, a mom-and-pop where house-made banchan still lines one wall and selections of kim chee line another. But there is good news: The combination of pandemic closures and new development has opened up nearby spaces that many will move to, keeping many of our favorite eats in the same neighborhood.
We went to each business to find out their plans. Here's what we found.
88 Supermarket
Closed since Jan. 8. A sign on the door says the Korean market will reopen in August at Azure Ala Moana condo tower at the corner of Ke'eaumoku and Makaloa streets.
835 Ke'eaumoku St., (808) 941-1300, @88supermarkethawaii
---
Asahi Grill
View this post on Instagram
Update: Asahi Grill reopened in early May in Kaimukī at 3008 Wai'alae Ave.
815 Ke'eaumoku St., (808) 744-9067, @asahi_grill_keeaumoku
---
Ben Dong Bistro
The Taiwanese street food takeout spot is still looking for a new location.
835 Ke'eaumoku St., (808) 475-7577, @bendongbistro
---
Chicken Factory
Hoping to move to Waipahu, though nothing is finalized yet. Check Instagram for updates.
94-673 Kupuohi St., (808) 680-0005, @steveschicks_hawaii
Update: The business has rebranded as Steve's Chicks and is open in Kunia.

---
Chogajib
No plan announced about whether or where this small restaurant with solid lunch specials will relocate.
815 Ke'eaumoku St., (808) 744-9067
---
Don e Don
No decision yet about a new location.
919 Ke'eaumoku St., (808) 379-1993
SEE ALSO: Don e Don: A Korean Restaurant with Unrivaled Pork Dishes
En Hakkore Cafe
The quirky cafe in 88 Supermarket with Korean snacks and arguably the city's best, most giant Korean shave ice (it could feed three) has closed. RIP.
825 Ke'eaumoku St.
---
Ireh
Original Ireh opened in this spot more than a decade ago with lighter, healthier Korean fare and a killer selection of jook including black sesame, red bean, chlorella and abalone. The owner says it will reopen with same menu at Azure Ala Moana in August. Meanwhile, much of the same menu, including jook and other cooked-to-order dishes, is available at Ireh Kitchen at nearby 808 Center on Sheridan Street.
911 Ke'eaumoku St., (808) 943-6000
SEE ALSO: When Rice = Comfort Food: 6 Steaming Bowls from Around the World
Ke'eaumoku Produce
Owner says the tiny mom-and-pop shop is moving to Like Like Plaza at the corner of Ke'eaumoku and Rycroft streets. Expected opening is this spring, with no changes expected in the lineup of house-made ban chan, kim chee, mandoo and weekly delivery of Kamiya papayas and fresh Waianae eggs.
905 Ke'eaumoku St., (808) 955-9788
---
Menchanko-Tei
The popular ramen and Japanese comfort food restaurant closed Jan. 16 to relocate to Ward Village with the same menu—minus the Menchanko bowls—and a new name, Tonkatsu Sangi. No reopening date has been specified.
Update: Tonkatsu Sangi announced in April that plans to reopen in Ward had fallen through. They're seeking a new location.
903 Ke'eaumoku St.
---
Sorabol
The longtime Korean food destination, the largest restaurant on the block, is moving across the street and into Pagoda Hotel, with full seating and the same menu this spring.
Update: Sorabol reopened at the Pagoda on March 18.
805 Ke'eaumoku St., (808) 947-3113, sorabolhawaii.com
---
Yakiniku Don Day
The outdoor Korean yakiniku eatery, a rarity, is still looking for a new place.
905 Ke'eaumoku St., (808) 951-1004
---
Yogurstory
Unconfirmed reports say the popular two-story brunch eatery, home of ube pancakes, is moving a stone's throw away. We're trying to confirm them.
Update: Yogurstory opened in the old Like Like Drive Inn space across the street on March 1 with the same menu as the original location.
815 Ke'eaumoku St., (808) 942-0505