Smashed Hawai'i Is the Newest Smash Burger to Hit Honolulu
Ten out of 10, would smash these smash burgers again—if you can catch them when they're open.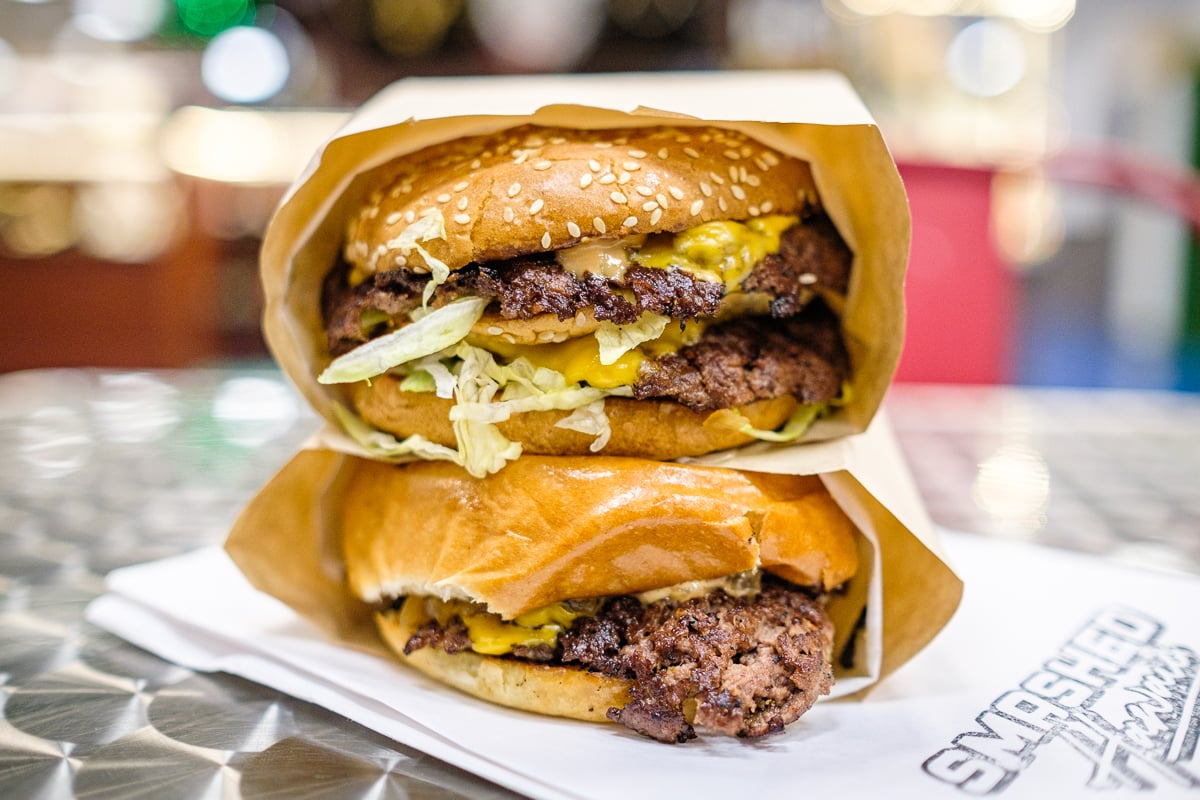 'Ohana Hale Marketplace is home to a dizzying number of new retail and food hits, the newest of which is looking like a literal smash hit. Smashed Hawai'i made its debut over the weekend in the sprawling indoor market's quiet Diamond Head makai corner.
The menu is straightforward with four burgers, a couple of loaded fries and over a dozen lemonades and iced teas. I'm immediately drawn to two that really stand out: an Oklahoma fried onion burger ($9 for one patty, $13 for two, $17 for three) and a hot take on McDonald's signature burger called the Big Smash ($13).
---
SEE ALSO: You May Want to Eat at Chinatown's New Burger Bar Daley
---
A cooking technique that entails flattening a ball of ground meat onto a hot flattop grill makes a smash burger a smash burger. The result is a seared patty with crisp edges. Smash burgers are relatively simple, limited to meat, bun, cheese and very little veg, if any. They're a huge departure from towering gourmet behemoths that stuff everything under the sun between pretzel buns. And while beautiful to admire, I gladly leave those big boys behind in favor of ugly ingredient-focused burgers with intense flavors.
I try the Oklahoma fried onion burger first for the novelty—it's a regional specialty I know nothing about. A little digging reveals it originated at a burger stand in southern Oklahoma around 1920. It was a response to expensive beef and an abundance of cheap onions amid rising demand for burgers. Shaved paper-thin, salted and squeezed of all excess water, the onions are mounded over thin beef smash patties and caramelized. American cheese is added and they're served on soft potato buns.
---
SEE ALSO: HONOLULU Staff Favorites: The 12 Best Meaty and Meatless Burgers on O'ahu
---
Smashed completes its version with a tangy burger sauce and pickles. The aroma of sweating onions permeates the whole sandwich. Tucking in, you'll find the layer of soft, translucent rings just below the meat. Their sweetness bolsters the savory beef with hints of char throughout.
On another visit, I go for the Big Smash with two all-beef patties, special sauce, lettuce, cheese pickles on a sesame seed bun. While it looks like a Big Mac (in its rebellious, edgy teenage years) it's actually not a Big Mess and eats rather neatly in its paper wrapper.
To my surprise, it's a stunner. It's their best burger, but only by a slim margin. The ratios of bun, meat, cheese and veggies are spot-on for a burger's burger. Does it cost as much as two Big Macs? It sure does. Is it worth two Big Macs? Without a doubt. But at the end of the day, the cheaper $9 fried onion burger earns my business more often than the Big Smash.
The Classic Smash ($8 for one patty, $11.50 for two, $15 for three) is going to be your standard option along with the vegetarian Beyond Smash burger ($11 for one patty, $15 for two). These are most similar to what you can get at The Daley and Chubbies right outside. Unlike the Oklahoma and Big Smash, these can be customized with add-ons like lettuce (25 cents), tomato (50 cents), onion (50 cents), or jalapeño chiles (50 cents to $1).
---
SEE ALSO: 3 We Tried: In Search of the Best Smash Burger in Honolulu
---
My only gripe at this point is that Smashed can't sell fries because they lack a fry cook. I miss the fry sidekick to my burger hero, but I suppose that's the untold beauty of being at OHM. You can back your meal up with some legit nigiri, Hong Kong-style dumplings, an 'ahi poke bowl or all three.
---
SEE ALSO: The Story Behind the "Swap Meet With Upgrades" That Has Become a Destination for Local Entrepreneurs Looking to Set Up (a Small) Shop
---
I've been a loyal fan of The Daley's offerings in Chinatown since Day 1, but Smashed is only five minutes away from me with free parking. These two factors carry a ton of weight with my limited schedule.
From what I've tasted during Smashed's soft opening, I'll be rolling down Ward Avenue for these smash burgers. Three days into service, Smashed is still in soft opening mode and publishes operating days and hours on its Instagram bio and story. They'll next open this Thursday, Sept. 2 from 11 a.m. to 6 p.m. Though not committed to a full schedule yet, they plan to open five days a week from 11 a.m. to 6 p.m. until they can find a permanent home.
333 Ward Avenue #25, @smashedhawaii